Why Bangladesh needs to set price floor for garments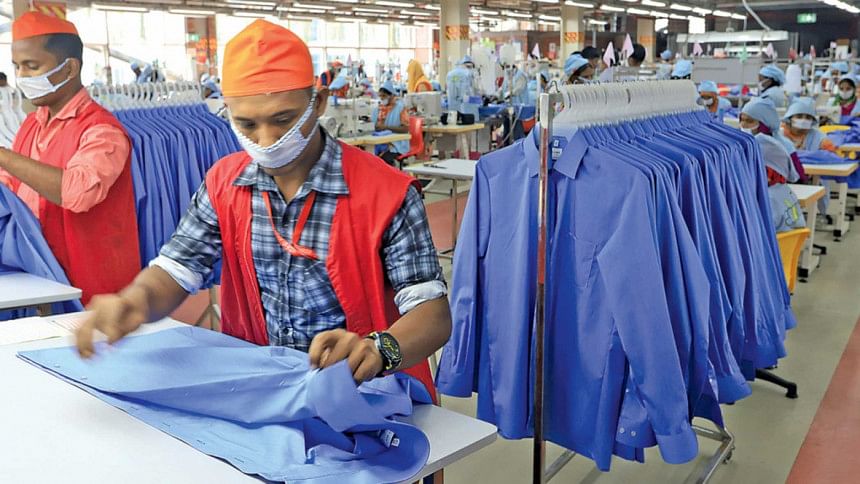 The US government has passed well-documented "anti-dumping laws" aimed at providing a level playing field and protection for the local industries. These laws have been enforced with regards to the textile industry several times in recent years, when polyester producers from outside the US "dumped" their product on the US market at prices that were substantially below the market rate.
The US authorities take a hard-line stance on dumping and have issued anti-dumping tariffs as high as 50 percent to some external businesses selling polyester in the US market.
I am beginning to wonder whether we need our own internal anti-dumping laws in Bangladesh when it comes to cotton apparel.
Confused? Well, allow me to explain.
As a ready-made garment manufacturing hub, we have been trapped in a spiral of declining unit prices for years. There are many theories as to why it is so. People often make the link between the end price of clothing and the prices paid to apparel makers. It is also argued that too many suppliers are chasing too many buyers in Bangladesh, and that these supply-demand dynamics force the prices downwards—with buyers taking advantage of the market situation.
I believe there is some truth in both these theories. However, perhaps it is time to start looking inwards as garment manufacturers if we wish to resolve this issue for the benefit of all. At present, we are seeing relatively healthy orders in Bangladesh's RMG sector as the market bounces back, thanks to the reopening of economies in Europe and the US.
In theory, this should mean that prices would hold relatively firm. But this is not the case now and, indeed, it has not been the case on previous occasions, when demand has been robust. Instead, we continue to see a tendency of some manufacturers to offer products at way below the prevailing market rates. In effect, such manufacturers are "dumping" products on the domestic market in the same way that polyester exporters to the US were dumping their product in the situation I highlighted earlier.
Is dumping too strong a word? Perhaps it is, but there is no doubt that some manufacturers are selling at or below the cost in some circumstances. This is madness. It creates problems for us all, and risks dragging us down into a perpetual race to the bottom.
Are other garment production hubs like this? The picture is varied; however, as an example of where garment makers have a stronger reputation for offering "take it or leave it" prices, one needs to look no further than China. Chinese factories appear better equipped when it comes to negotiation, and hold their ground where pricing is concerned. There seems to be more collaboration and a collective understanding that it is not in the interests of any manufacturer to have a glut of under-priced products flooding the domestic market.
I hear anecdotes from our own industry about manufacturers taking orders at prices below the cost—even at a time when the market is strong. This suggests to me that this problem will always be with us unless it is tackled head-on.
The issue with accepting such low prices is that it is not sustainable. The people who suffer are, of course, the garment workers. It is also unrealistic to think that one can run a sustainable operation in a market where prices are continuously being dragged down by factories, which are happy to offload garment products for next to nothing.
I believe our industry needs to take action—and by that I mean the Bangladesh Garment Manufacturers and Exporters Association (BGMEA), and perhaps the Ministry of Commerce as well. Shipping and customs declaration records would provide a means by which to gain an insight into what is being shipped and for what prices.
Surely as an industry we have to consider some kind of minimum pricing, with warnings for factories that do not comply and potentially the removal of export licences for repeated offenders.
If this sounds draconian, consider again the anti-dumping laws cited earlier. Minimum prices are simply a way of protecting our industry as well as raising standards across the board. Better prices will also enable factory owners to take a more long-term view of sustainability issues, which all buyers are demanding right now. This, in turn, could lead to more orders for all of us.
It would be for the BGMEA and other industry leaders to decide whether such an initiative would merit being implemented and what form it might take.
For my own part, I would add a few final thoughts. The first is that we cannot, as an industry, continue to blame buyers for requesting lower prices or consumers for demanding cheaper fashion. We have been complaining about such issues for far too long when, in reality, we have to ask if there is anything we can do to make our industry more stable, professional, and sustainable.
The second is that perhaps it is time to think more collaboratively and look at the bigger picture as an industry. Obviously, there will always be intense local competition, and this is one of the factors that makes us such a popular choice for buyers and ensures that the quality standards remain high. But the "race to the bottom" prices help none of us and only serve to tarnish us all with the "cheap and cheerful" brush, ruining our industry's image. We are better than that.
Mostafiz Uddin is the managing director of Denim Expert Limited. He is also the founder and CEO of Bangladesh Denim Expo and Bangladesh Apparel Exchange (BAE).