Storytelling can help Bangladeshi RMG makers stand out
How many times have you sat down with a group of friends and shared stories? You might have told them the story of how you met your better half, how you overcame a recent personal challenge or how you ended up in your current job or career. People always tell stories; they are a vital part of our daily communication.
Increasingly, people are recognising the value of storytelling in business. When implemented effectively, storytelling can drive customer loyalty by improving the authenticity of a business. People do business with people, and businesses that can communicate via engaging storytelling will be able to increase trust among their present and potential customers.
I believe RMG makers in Bangladesh have a compelling story to tell. And there is no better time to start doing it than now.
But how do you do that? Is storytelling in business simply an act of marketing and public relations? I would say storytelling falls broadly under marketing, because it is about engaging with an audience and ensuring that your business stands out. Effective storytelling strategies subtly win over customers, creating empathy and establishing shared values and mutual understanding. In this way, they can be effective at breaking down barriers with potential clients.
I have used storytelling in my own business, and I want to share some of the tactics I have used and also seen other businesses use successfully.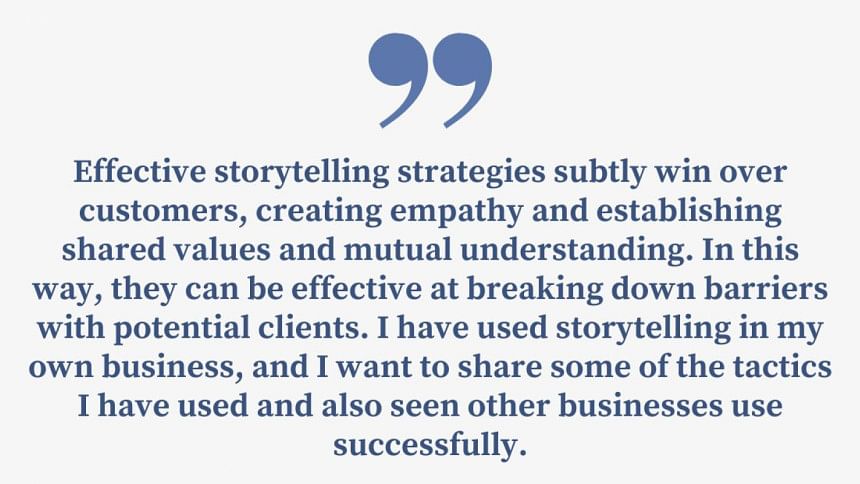 One strategy is to tell the story of the idea behind your business. Your clients will be interested in this. There is a saying in marketing: "Sell the sizzle, not the sausage." By this, we mean don't tell people what something is – show them what it does. Bring your business to life by telling the story behind it. Yours might be an apparel business that aims to tackle recycling issues. Or it might be a business that's keen to give something back to the local community. Tell this story and provide the context so your customers and stakeholders understand why your product is worth buying.
By using storytelling this way, you can develop a rapport with your audience, helping clients to connect with you so they trust you, the human, and consequently, they trust the brand. It goes back to that phrase: People work with people, so you need to bring your business to life and give it a personality. This is especially the case when the story is relatable. So, for instance, if the story you tell is about your passion for supporting local communities, a client might see that and be touched on a personal level. They might then wonder: How can I get on board and work with this business?
Another benefit of storytelling is that stories can be very engaging. For instance, if you are using a story in a pitch, or on a social media post, you are less likely to lose your audience's attention. People have very short attention spans these days. Being able to grab attention via storytelling is becoming more important than ever. Of course, storytelling can become a powerful branch of a company's marketing strategy. The reason for this is that stories evoke emotions. They foster warmth and relatability with a business, almost encouraging audiences to see a business like a long, lost friend. Corporate giants like Apple have been storytelling for years. By doing so, they have fostered remarkable levels of brand loyalty. People see such businesses as an everyday part of their lives – they are proud to own the latest iPhone.
It is important to remember that all parties within a business can be involved in storytelling. In this way, storytelling encourages team-building and can boost company morale. Storytelling can be an internal tool to drive staff loyalty and create a stronger sense of purpose. For instance, as a business owner, you may wish to share stories with your employees about your company's history, its struggles, values and goals. Share what's important with your employees and explain how this might impact them. This way, you give your employees a greater sense of meaning. Further develop this by allowing your employees to share their own stories.
Ultimately, any business needs to consider storytelling from the angle of "why should people care?" Why should they wish to purchase your products? In this sense, storytelling is about humanising a business, making it less corporate and more personable.
This is especially important for Bangladeshi RMG makers. So many are competing for orders, and it can be hard to make your business be seen in a crowded field.
There is a good story behind every successful business, but this story won't tell itself. It is your job as a business owner to make sure that the outside world knows exactly what your business stands for. After all, we all love a great story, right?
Mostafiz Uddin is the managing director of Denim Expert Limited. He is also the founder and CEO of Bangladesh Denim Expo and Bangladesh Apparel Exchange (BAE).