Modi-Priyanka duel: Anti-climax to a frenzied build-up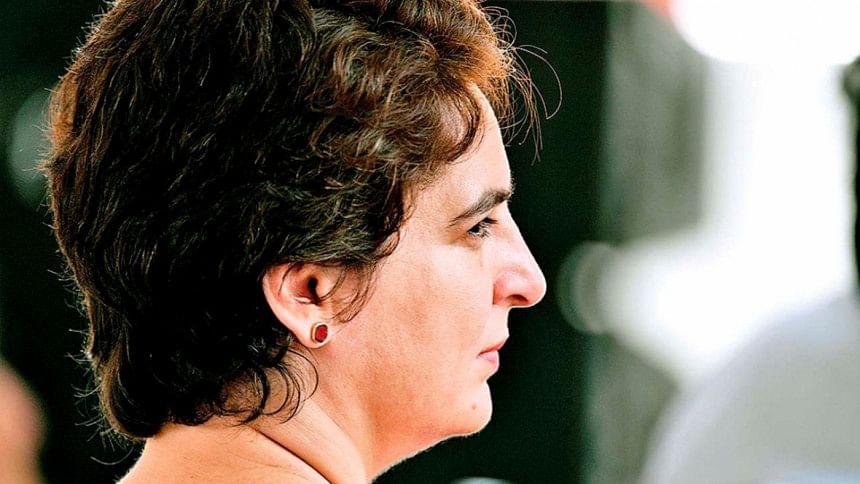 The month-long feverish speculations about Congress Party General Secretary Priyanka Gandhi Vadra contesting against Prime Minister Narendra Modi in Varanasi parliamentary constituency has come to an anti-climactic end. Had it come about, it would have been the show-stopper of the most riveting wrap-up of the marathon polling process that began on April 11.
It was Priyanka who set off the speculations on March 28 in the media as well as political circles when the Congress workers urged her to fight the election from Rae Bareli, the bastion of the Gandhi dynasty in India's electorally most crucial state Uttar Pradesh, and pat came her reply: "Why not Varanasi?" A smile had flashed across Priyanka's face when she gave that cryptic reply. One could easily read it as a chuckle without risking misreading.
But as is common with a Gandhi family member's remark, it seldom refused to go away. The intrepid media persisted with dogged tenacity and did not let go of any opportunity to ask Priyanka again and again at different places if she will contest against Modi in Varanasi. Recently, she said in reply to questions from journalists that she was willing to face the Prime Minister in the electoral battle if her brother and Congress President Rahul Gandhi asked to do so. Then came her husband Robert Vadra's comment to the media that his wife would be a strong candidate against Modi. A few days later, Rahul, on being asked by reporters if his sister would be fielded against Modi, remarked: "It's good to keep up the suspense." Like his sister, a smile also floated across Rahul's face. There was no mistaking that Rahul too chuckled while uttering the word "suspense".
What, however, the comments by the siblings and Robert Vadra did was to contribute to the frenzied build-up in the media with its insatiable quest for something new, about the possibility of a Modi-Priyanka electoral face-off. It was not just the media. Barring the party's apex leadership, the Congress circles down the line have always remained rife with speculations about Priyanka contesting the elections ever since she was drafted into the party and given the onerous responsibility of General Secretary in charge of the eastern part of Uttar Pradesh. That is but natural, given that many in the Congress regard Priyanka, with an ability to establish a rapport with the people much like Indira Gandhi, as more charismatic than Rahul.
There were two schools of thought in the Congress about the desirability of fielding Priyanka as a candidate. One view was that it would have had an electrifying effect on the party rank and file and infuse them with fresh energy in Uttar Pradesh, where the Congress has been organisationally not-so-healthy and forced to the sidelines by the BJP and Samajwadi Party-Bahujan Samaj Party combine. The other opinion within the party was regarding whether it would have been worthwhile to risk Priyanka's fledgling political career by asking her to take up the nearly-impossible task of defeating Modi in Varanasi, particularly when she has a chance to contest from a safe seat to make a successful electoral debut.
Those in the Congress who disfavoured Priyanka as a candidate against Modi contended that this would have kept her bogged down almost entirely in Varanasi preventing her from what she is doing now—campaigning for the party across the country. Some analysts believe that had Priyanka contested against Modi, even a defeat after a close fight would have gone in her favour. But one must not forget that Priyanka does not need such a short-cut and quick access to political capital given the political family she belongs to. When she took the formal plunge in politics in January this year, it must have been a very well-thought-out move with a long-term view. The counter-view was that pitting her in such a tough battle would have been politically unwise. Priyanka does not need bravado to cement her place in the Congress or in politics and discretion is the better part of valour. There are reports in a section of the Indian media that Rahul and Sonia Gandhi did not want Priyanka's electoral career to begin with a loss and Priyanka acceded to their decision. After all, Priyanka has a chance to have a much easier electoral outing from Amethi, where her brother is in fray as an additional constituency—provided Rahul wins it and then decides to vacate it and retain the Wayanad seat.
A fall-out of the tame end to the spiralling speculations about Priyanka-Modi contest is that it has given the Congress' main rival, the Bharatiya Janata Party, a handle to attack her. No sooner the Congress announced that its candidate against Modi in Varanasi would be Ajai Rai, who had finished a distant third in the previous poll in Varanasi five years ago, Finance Minister Arun Jaitley took to his blog to write that Priyanka "quietly chickened out of the contest" in Varanasi and the "myths" about her "stand eroded."
So, how will the Congress' decision to not let Priyanka fight against Modi be viewed? As a "self-goal"? Or will it dissipate the growing perception about her ability to revive the party as a powerful force against the organisational might of the BJP and the social combination of SP-BSP alliance? We will have to wait for May 29 to get the answer when votes in Indian national polls will be counted.
Pallab Bhattacharya is a special correspondent for The Daily Star.