Leading by inspiration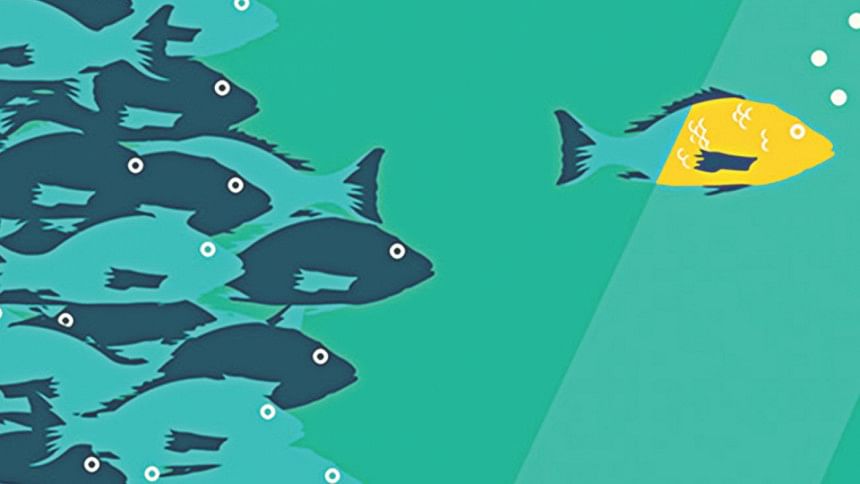 "Great leaders lead by example and inspiration"
The nation is now in the grips of another approaching election. A flickering hope among many is for an inspirational leadership that energises, enthuses, and leads competently, and with good intentions to touch the lives of the people of Bangladesh. According to Lenos, "Inspiration has blazed a trail of extraordinary accomplishments across the pages of history. It is the breath of the divine that fills the sails of human creativity and passion, driving forward into a hopeful future."
It is indeed a time of mixed emotions where the euphoria and enthusiasm of the voters—rooting for their chosen candidate or party—is coupled with apathy and anxiety caused by the uncertainty of looming violence and a disruptive tussle for power and control. The soul of the nation is divided today, with groups of varying ideologies vying for voter approval. Whatever the outcome, however, it is a time of expectations, a time for hope—that the future will be better than the past.
Inspiration in Bangladesh has often been clouded by how the nation has been portrayed at various times. It has been listed as one of the most corrupt nations for successive years. Things have improved, but not to the extent expected. The state of political rivalry, as well as misrule and unbridled opportunism in various sectors, has not been exactly inspiring, threatening to rend the basic fabric of trust concerning various entities: the politicians, the bureaucracy, law enforcers, media, bankers, educators, businessmen, health personnel, courts of law, and various service providers—public and private.
Fortunately, inspiration has not been completely lost on the nation: The language movement remains a beacon from which the world has gained the International Mother Language Day—a day to cherish and honour. The surge of inspiration to vanquish an oppressive regime and its collaborators during the liberation movement was so intense that people were willing to pay the ultimate price. Even a victory in a hard-fought game of international cricket has inspired the young and the old to soaring heights, making them think, feel and act like winners.
Inspiration need not always be grandiose. Day-to-day incidents can also be uplifting: a policeman steps in bravely to deflect harm to a citizen; a judge takes a courageous stand against a corrupt and powerful politician; or a disabled child from a remote village beats the odds to pass a crucial exam. Good, honest, and decent citizenship can be inspiring.
Acts of inspiration can be contagious, like a candle lighting other candles to create an ever-brighter glow. And as more people are drawn into the inspirational ambit, things become palpably better. As someone once said, "There is real magic in [inspiration]. It spells the difference between mediocrity and accomplishment."
Bangladesh, today, has a large reservoir of talent waiting to be inspired and set free. Signs of vitality and vibrancy are just about everywhere. People want to do new things, make changes, and vie for the best. There is a potency among them that is unmistakable and must be effectively and skilfully used. The leadership must recognise the vital signs, feel the energy, provide the space, mobilise resources, and provide encouragement to this bubbling energy to generate a contagious enthusiasm for a glorious future. 
Four ideals played an inspiring role when Bangladesh was instilled with the spirits of democracy, nationalism, secularism, and socialism. Although the last was never really practiced, it is about redistribution of wealth, a crying need of the day that must be pursued doggedly for the nation to progress with equity and justice. Making statements about the ideals, however, will not be enough; they must be demonstrated in every act of the imminent leadership—an inspired, just, and enlightened leadership—that values, nurtures, and emancipates its people and guides its collective energies. 
Inspiring leaders blaze trails where others want to follow. When the nation feels inspired and enthused, standing confidently on the bedrock of justice, rule of law, human rights, democratic values, inclusiveness and good governance, scaling new heights can be so much easier.
This is a time of renewed expectations based on promises made; the leadership must not fail to deliver on their promises, otherwise disillusionment will quickly set in with grave consequences. Importantly, the leaders must become better role models that others would want to emulate. In that role, they must inspire the nation to become more self-reliant, more confident, and more proud but humble. It would provide the impetus for Bangladesh to soar toward the promised dream: Shonar Bangla.   
Even more uplifting would be to witness inspirational leadership cascading down to other levels. When parents inspire their children, teachers their students, bosses their employees, social workers their charges, or factory managers their workers, the nation's spirit of enthusiasm and positive energy can be raised another notch.
Let's hope the New Year will usher in a leadership that will build a more kind, gentle, and strong nation where we will see less hate, less violence, less greed, less corruption, and less cruelty. In their place, let's hope to see a more caring, capable, creative, and inclusive ambiance where strength of character, humility, graciousness, civility, empathy, courage, and service to the nation will reign supreme. Let's hope the new leadership will craft an optimistic vision, instil imaginative ideas, and inspire excellence all around.
---
Dr Syed Saad Andaleeb is Distinguished Professor (Emeritus), Pennsylvania State University; Editor, Journal of Bangladesh Studies; and Vice Chair, Foundation for Learning Teaching and Research.
---
Follow

The Daily Star Opinion

on Facebook for the latest opinions, commentaries and analyses by experts and professionals.
To contribute your article or letter to The Daily Star Opinion, see our

guidelines for submission

.
---