Four takeaways from the 2018 election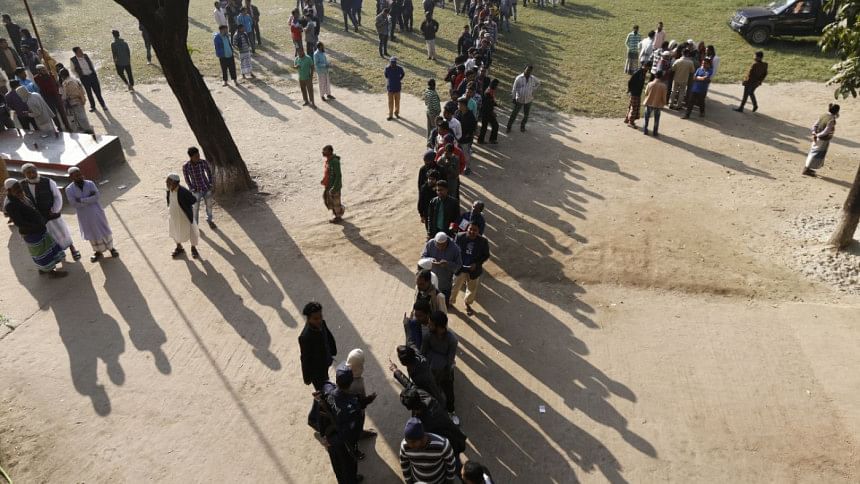 THE 11th parliamentary election of Bangladesh will go down in history as the election of simultaneously many firsts and many contrasts. Billed as the country's first "participatory" election in a decade, it gave the incumbent Awami League a landslide victory—and reduced its arch-rival BNP, once again, to irrelevance. While an Awami League win was largely expected, the margin of victory surprised even its most hardcore supporters. To an outsider, an account of the whole electoral spectacle might read like the script of a Jason Statham movie in which there are twists and turns every step of the way, but in the end, it's the bad guy who always gets punished. In Bangladesh's politics, however, the "bad guy" is a relative term that has the same ideological elasticity as the "good guy". This kind of fluidity fuels the confusion with which the many conflicting details of this election were met.
That said, the 2018 election will remain statistically significant. It saw the confluence of a number of electoral records: it was the election in which ex-enclave voters were able to exercise their franchise for the first time; it also won Awami League a record third consecutive term in office, and fourth since democracy was "reinstated" in 1991; Awami League as a party has set a new bar for election victory after 259 out of its 262 candidates won their seats—with an incredible 98.85 percent success rate—which surpassed the 97.66 success rate registered in the 1973 election in which Awami League fielded 300 candidates and fetched 293 wins. On a personal level, AL chief Sheikh Hasina is set to rewrite a personal history as she becomes prime minister again, her third in a row. There were also several other records in terms of voter number, victory margin for the winning candidates, seats won by female and minority candidates, and so on.
These firsts, however, were closely intertwined with the contrasts that dogged the election. Consider, for example, how discussions on the pre-poll atmosphere attracted diametrically opposed views from opposite ends of the political spectrum: one calling the environment "the most peaceful" in the history of Bangladesh, while another rejecting it as the worst that was ever seen. Again, after the election, the AL coalition embraced its result wholeheartedly while the opposition Jatiya Oikyafront coalition rejected it as "farcical", calling for a fresh election. Such contrasting views followed nearly all critical situations as Awami League and BNP painted very different pictures of them. And the scarcity of reliable media reports, which could shed light on them, has created a situation in which an authentic appraisal of the situation has become very difficult.
Between these many firsts and many contrasts, however, there are a few points that merit scrutiny as we try to make sense of an immensely complicated electoral scenario.
How fair was the election?
Perhaps the more pertinent question is, how unfair was it? Or, was there anything approaching unfairness? And how participatory was it? Is an election still "participatory" if large numbers of candidates withdraw from the race midway through it? Or, more importantly, does mere (formal) participation of all parties lend credibility to an election? There are many questions but few, if any, answers. When it comes to elections, there seems to be a dangerous trend to use these words—"fair" and "participatory"—interchangeably, as also was done during this election, although both have distinct requirements. In his post-election briefing, the chief election commissioner appeared satisfied as he said that the 2018 election was a "free, fair, and credible" one. "Nothing happened to feel ashamed of during the election," he claimed. Well, some things did happen, including the deaths of at least 18 people and injuries of over 200 in election-related violence. If this still doesn't qualify as "unfair", it must be the most dangerous form of fairness. According to various media reports, there were also allegations of vote rigging, ballot stuffing, intimidation, and many other irregularities in various constituencies across the country. But the EC continues to bury its head in the proverbial sand, ignoring even legitimate calls for investigation. Its refusal to take action or even investigate the crimes has set a dangerous precedent for election management.
A throwback to 2014 election
Before the election, Awami League had stressed that it didn't want a repeat of the controversial 2014 election. The three key highlights of that election were violence, low turnout and opposition boycott. While the 2014 and 2018 elections should be judged on their own merits, one wonders if they were cut from the same cloth. Like 2018, the 2014 election also saw 18 deaths on the Election Day. Of course, voters came out in larger numbers this time and there was no pre-poll boycott either, but there were large-scale opposition withdrawals on the Election Day, which was preceded by a record number of nomination papers, mostly from the opposition camp, being rejected by the EC and over a dozen BNP contenders being disqualified by the High Court. Not to mention, the results of both elections were rejected by the opposition, and fresh elections were sought. Parallels can also be drawn in terms of the massive victory margin for the ruling party and the artificial make-up of parliamentary opposition (Jatiya Party may again sail on two boats by joining the government and keeping the opposition status at the same time). All in all, it appears Awami League will have to bear its 2014 legacy for a few more years.
What's now for BNP?
Never before has BNP looked so vulnerable than it does after its humiliating defeat in the election, winning a measly five seats and looking set to be out of power for a total of 17 years, which is enough for the disintegration of a party. BNP has been progressively dwarfed by its rival, whether in strategic and tactical planning or in building up a political resistance. While it is expected that politicians will play fair, the fact is, fairness works insofar as everyone has an equal regard for it. Playing by a rulebook of "hook, crook and ballot"—as The Economist summed up the strategy behind Awami League's landslide win—is what wins elections these days. BNP paid dearly for its failure to lead, organise and sustain on its own, and for its questionable association with Jamaat-e-Islami. True, with Awami League using the full might of the state to suppress it, it had few choices but the BNP didn't appear as organised or desperate to win as its powerful counterpart, and couldn't judiciously use the support that it still commands at home or abroad.
Back to square one
With the opposition rejecting its results, the 11th parliamentary election has failed to initiate the process of a return to a functional multi-party democracy with a fully functional parliament, which means that we are back to square one—the "post-2014 days" of one party calling all the shots in parliament. On the plus side, the election gave Awami League an unprecedented mandate—a feat unmatched in Bangladesh's politics. This is simultaneously a huge challenge and a unique opportunity to effect change should the party decide to do so. Importantly, the party has pledged electoral reforms in its manifesto. It will be interesting to see how it does that. But bringing electoral reforms is no easy task. It will require a strong political will at the highest level of the party, a consensus across the political spectrum on issues such as the constitution of an EC or the poll-time government—and no small amount of sacrifice on the part of those who directly or indirectly benefit from a dysfunctional electoral system.
---
Badiuzzaman Bay is a member of the editorial team at The Daily Star. Email: [email protected]
---
Follow

The Daily Star Opinion

on Facebook for the latest opinions, commentaries and analyses by experts and professionals.
To contribute your article or letter to The Daily Star Opinion, see our

guidelines for submission

.
---