Ban on rickshaw: How logical is it?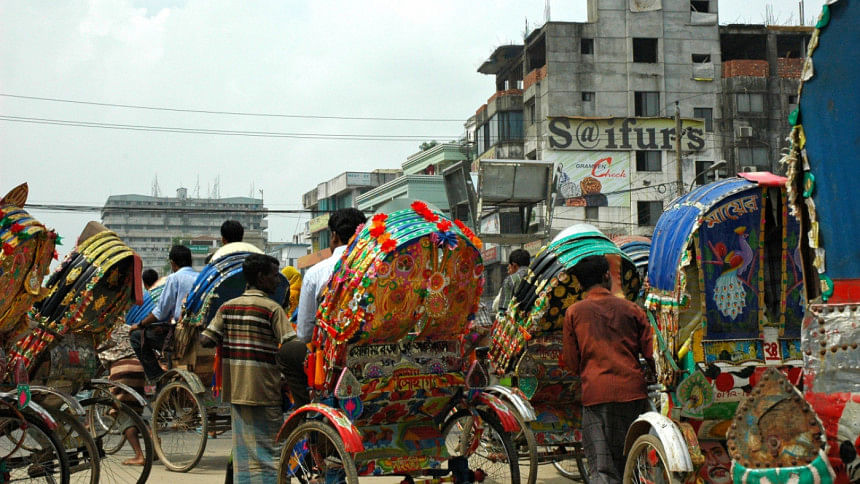 What is the most readily available transport in the megacity of Dhaka? Without batting an eye, anyone would say that it is the rickshaw. Rickshaws are so common in the country that if anyone steps outside their home, one or more rickshaws, with their little silver tinkling bells, will appear within a minute or so.
In Dhaka, the popularity of rickshaws far exceeds that of all other modes of transport. Rickshaws mostly ply on lanes and narrow roads. The size of the middle-class is expanding and so is the number of passengers using rickshaws. As a result, rickshaws have emerged as one of the most common and popular modes of transport for the people of Dhaka.
One of the reasons why rickshaws are so convenient for the city dwellers is that Dhaka is not a walkable city. Footpaths are occupied by hawkers and are often strewn with garbage, making it extremely hard for people to use the footpaths which should ideally be free to use for pedestrians. Moreover, people here do not have the habit of walking—even more so when they have to walk quite a bit carrying some luggage. Then there is the lack of adequate public transport. Anyone who commutes to work or school on a day-to-day basis knows just how hard it is for public transport users to catch the bus on a busy morning or afternoon. These are just some of the many reasons why rickshaws are so popular.
If the outright banning of rickshaws—stemming from our tendency to opt for a ban to address any problem—continues on a wider scale, it could spell disaster for the livelihoods of many.
Rickshaws have a long history in Bangladesh. They have even carved out a space for themselves in Bangladesh's tradition. According to Banglapedia, Dhaka city had only 37 rickshaws in 1941 and 181 in 1947. Before 1947, Dhaka was a district town, which had a population of 62,469 only, according to the 1951 census. But now, the situation is beyond one's imagination. According to unofficial and conservative estimates, for more than 1.5 crore people, there are now more than one million rickshaws in Dhaka.
Dhaka is one of the most densely populated cities in the world. It is also one of the most polluted cities. There are few things that portray Dhaka in a good light around the world. But rickshaws are a source of pride for us. Dhaka is in the Guinness Book of World Records for the most cycle rickshaws in one city. This was revealed in the Guinness Book of World Records of 2015 under the title "Most cycle rickshaws in one city" in the chapter "Urban Transport".
Recently, the two city corporations in Dhaka decided to ban rickshaws on three major thoroughfares in an effort to address the problem of traffic congestion. These routes are: Progoti Sarani from Kuril to Sayedabad via Rampura and Khilgaon; Mirpur Road from Gabtoli to Azimpur via Asad Gate; and Elephant Road from Science Laboratory Intersection to Shahbagh Intersection.
This sudden decision of the authorities has raised hue and cry among the people. Are rickshaws one of the key reasons for traffic congestion in Dhaka?
Let's have a look at some statistics. Firstly, for more than 1.5 crore people, there are around 8,000 public buses and 283,617 private cars in Dhaka. These cars are one of the main reasons behind traffic congestion in the capital because private cars oftentimes carry only one passenger but take up 2.5 times more space than a rickshaw. Moreover, a private car occupies a lot of space when it is parked on the streets while rickshaws remain on the move most of the time. At least 3.5 million trips are made on Dhaka streets a day with rickshaws accounting for 40 percent of them.
Secondly, rickshaws are one of the biggest sources of employment in Bangladesh. Every year a huge number of people join the labour market but there are not enough jobs for all of them. The situation is worse for those who are illiterate or do not have adequate educational qualifications for better paying jobs. For these people rickshaws are one of the most readily available jobs as it does not require any deposit, investment, lobbying or previous experience. Although pulling a rickshaw all day long is backbreaking, people choose it as their profession because of a regular flow of income and because they have full liberty over their working hours and routes.
This sudden decision by the city corporations to ban rickshaws on the said routes may turn out to be a nightmare for some rickshaw-pullers as a section of them may end up losing their jobs. If the outright banning of rickshaws—stemming from our tendency to opt for a ban to address any problem—continues on a wider scale, it could spell disaster for the livelihoods of many. The decision to ban rickshaws may seem trivial, but its implications are multidimensional.
Rickshaws are not a single industry; rather there are 41 other related industries which employ a good number of people. Apart from rickshaw-pullers and their families, there are repair workers (mistry), owners, makers, shopkeepers (selling rickshaw parts, spare parts and other materials), and many others who survive on the rickshaw business. Many housemaids living in the city's slums are married to rickshaw-pullers. If rickshaw-pullers end up losing their job and leaving Dhaka, then there might be a crisis of domestic workers too.
Thirdly, burning fossil fuel is one of the key factors behind global warming. Globally, scientists and activists are putting emphasis on non-motorised vehicles and electric vehicles. But it seems that Bangladesh, one of the worst victims of climate change, is heading in the reverse direction. By placing a ban, we seem to be discouraging the use of environment-friendly modes of transport like rickshaws. Rickshaws don't emit harmful carbon dioxide or carbon monoxide into the air.
Yes, it is true that non-motorised vehicles slow down the speed of motorised vehicles. But is banning the former the way to address the problem of traffic congestion? If we keep driving out rickshaws without providing any viable substitute, it will only increase the sufferings of the people and certainly spike up people's transport expenditures too.
To some people, the use of rickshaws is a symbol of poverty and to others, it is the best mode of transport for commuting. For some, it creates nuisance in the streets, clogging up traffic in the city, while for others, it is the only source of livelihood.
Rickshaw-pullers have no muscle power. They neither have a voice in society nor a platform where they can protest policy decisions that affect them adversely. Perhaps, that's why it's easy for the authorities to take such decisions on a whim—because no one will protest.
---
Mohammad Al-Masum Molla is a senior staff correspondent at The Daily Star.
---
Follow The Daily Star Opinion on Facebook for the latest opinions, commentaries and analyses by experts and professionals.
To contribute your article or letter to The Daily Star Opinion, see our guidelines for submission.
---