Why we need a policy framework for displaced people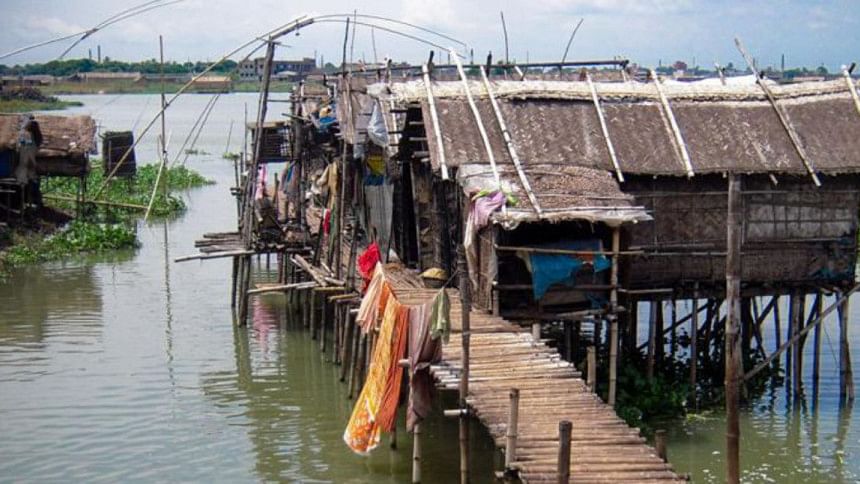 In more than 50 countries around the world, some 40.3 million individuals have been uprooted from their homes and displaced in their own countries as a result of conflict or human rights violations. Natural disasters, meanwhile, have caused the displacement of millions more.
The coastal zone of Bangladesh covers 19 out of its 64 districts. Twelve of those districts are lagging behind in their capacity to deal with climate change.
A large percentage of our population live in coastal areas where they mostly depend on fishery, agriculture, forest, local transportation, salt production and so on for their lives and livelihoods. Bangladesh is already vulnerable to the gradual effects of climate change and extreme events related to it. The condition of the coastal belt is worse. The International Organization for Migration (IOM) confirms Bangladesh's vulnerability: "Sea level rise is the most often cited cause of predicted mass-displacement within Bangladesh as a result of climate change. Widely quoted figures range from 13 million to 40 million people displaced, generally based on assumptions of a one metre rise in sea levels."
The annual report 2017 of Internal Displacement Monitoring Center shows that Bangladesh has 946,000 internally displaced people. This number is mounting as 50,000 people are becoming homeless due to natural disasters every year. The Intergovernmental Panel on Climate Change predicts that within 2050, Bangladesh will lose 17.5 percent of its land, which includes 30 percent of land used for food production. This is undoubtedly a major threat to the country from the perspective of its economy, employment, food, agricultural resources, national harmony and livestock. And will additionally exert severe pressure on cities like Dhaka and Chattogram.
Environmental problems, in the present discourse, has been identified as a predominant driver of displacement. However, Bangladesh has a set of policies, plans and institutional initiatives that both directly and indirectly address sudden-onset events and slow-onset processes of climate change, its potential impacts and adaptive measures. Even zone-specific policy and development strategy highlight the main adverse effects of climate change and identify adaptation needs. For instance, Coastal Zone Policy (2005) and Coastal Development Strategy (2006) include climate related issues. In 2005, the Government of Bangladesh launched its National Adaptation Programme of Action (NAPA), which marked the beginning of a long journey to addressing the adverse impacts of climate stimuli including variability and extreme events and promoting sustainable development in the country.
Bangladesh also has a Climate Change Strategy and Action Plan (2009-2018), which acknowledges the issue of environmental displacement. Proposed programmes have been undertaken for monitoring internal and external migration that have adversely impacted population, and to provide them with support through capacity building for rehabilitation in new environments. Nevertheless, the programmes do not indicate how such people will be identified and how their needs or rights will be assessed. Unfortunately, there is a lack of adequate and reliable data on climate induced forced migration in Bangladesh—as well as shortage of comprehensive national data, union or sub-district based accurate data, and data on the exact trends that concern rural-urban migration in Bangladesh.
Bangladesh prepared its Disaster Management Policy-2015 for reducing vulnerability to natural, environmental and human-induced disaster at a manageable and acceptable level. Focus on community level preparedness, response, recovery, and rehabilitation, have been prioritised. Mainstreaming disaster risk reduction and climate change adaptation in all the sectoral policies and plans have been addressed in this policy. But it does not address the issue of displacement, or the indicative measures for rehabilitation of displaced people.
National Health Policy-2011 sets 19 specific objectives for quality healthcare. Significant issues and concerns like accessibility to disadvantaged people, gender equity, immunisation, family planning, mobile clinic, climate-change induced diseases and e-health have been addressed. Resource constraints, weak management, climate change, and unplanned urbanisation are some major challenges. Though this policy focuses on many aspects, it does not clearly explain health rights, psychosocial support, and reproductive health of displaced people.
National Education Policy-2010 has been widely accepted as a comprehensive guideline. It has been designed through a consultative process. Major objectives of education have been well defined. And education policy especially emphasises quality education, value-based learning, environment, gender, provisions for the hard-to-reach areas and mainstreaming education for displaced children.
The Seventh Five Year Plan (2016-2020) has included environment, climate change and disaster management for sustainable development under separate chapters. This plan acknowledges that climate-induced coastal submergence will be one of the major causes of population displacement. Though this plan has set some project terms, such as rehabilitation of climate victims, char development and settlement; implementation of such initiatives is very slow and may take displaced people a long time to access.
Bangladesh adopted and reformed a number of policies and some are still being worked on. For example, the "Education Policy 2010" has been extensively appreciated. But there is no national policy that comprehensively addresses the issue of displacement. To some extent, a few sectoral policies merely indicate some courses of action for rehabilitation of displaced people rather than explicitly laying out comprehensive protection measures. That is why the government of Bangladesh should conform to the UNHCR 1998 Guiding Principles by developing a national policy to protect internally displaced persons (IDPs), with particular emphasis on the dignity, social, economic, and cultural rights of climate victims.
Mohammed Mamun Rashid is Programme Manager, Civic Engagement, Transparency International Bangladesh (TIB).

E-mail: [email protected]