No one to own up to chikungunya, measles, but the victims?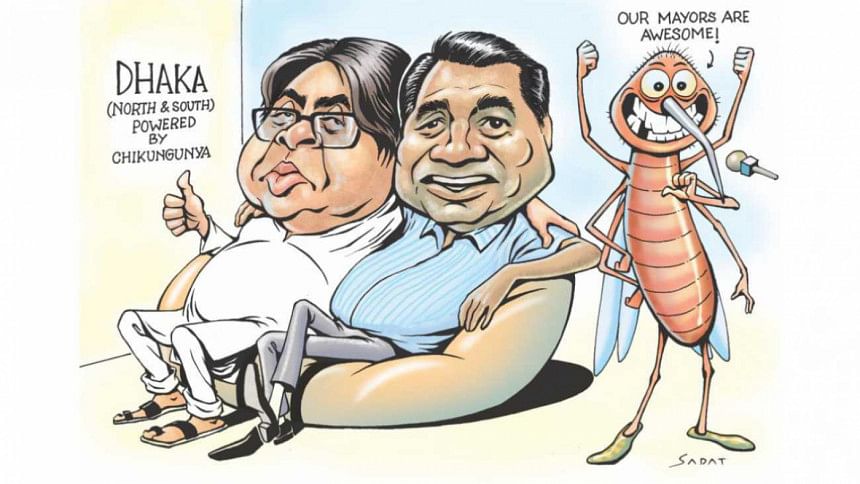 Chikun-gunya in Dhaka and measles in Sitakunda, Chittagong have combined to highlight public health mismanagement at its height. 
A retired judge strongly expressed his disproval of the civic body's role in its management of chikungunya. The state minister for health reportedly endorsed a similar viewpoint. The DNCC mayor who initially set the ball rolling to the citizens' homes in terms of responsibility to combat chikungunya later regretted if any public misgiving had been created by his comment. Saying "sorry", he added that he fully empathised with the sufferers. 
The reappearance of measles even on a small scale at Sitakunda is astonishing in the wake of claims of a hundred percent success rate in child immunisation programmes. Some vaccination officials have been sent out on "punishment" posting. But isn't there a footprint of dereliction of duties by higher, supervisory authorities having regard to these facts: First, the inoculation drive had ceased to be undertaken in the area for the last seven years! How could it have happened under the watch of the designated officials? Secondly, it has been claimed that the intended beneficiaries were resistant to the vaccination drive. The question arises as to what was done to sensitise the parents of children about a life and death issue concerning their wards?
Rampant undernourishment has been reported from the area. In fact there are pockets of malnutrition or undernourishment in the country. They must be identified and brought under safety nets on a priority basis.
For all its strange and exotic phonetic, chikungunya is perhaps the most pronounced word in Bangladesh today. Not obviously for any amusing ring to the name but for the scary consequences it holds out to the victim. Originating in a dialect spoken by a small ethnic community of Tanzania in Africa, chikungunya literally means cramping pain. But surely the etymology of the word would have been of the  least academic interest had it not  travelled inter-continentally over to Dhaka creating a public health crisis for us. 
But importantly it has occurred neither suddenly nor without any notice. Alarm bells have been ringing for half a decade to obliterate the grounds where carriers of the viral disease spawned.   Looking at the Institute of Epidemiology and Disease Control Research (IEDCR) website, you will find that in 2011 chikungunya struck Dohar in Dhaka and Shibganj in Chapainawabganj districts, respectively. Blood samples taken from 640 persons at Dohar indicated a 25 percent incidence while the survey at Shibganj showed the rate of infection at 20 percent. 
In the following year, in 2012, a joint survey by ICDDR'B and IEDCR in Tangail put the incidence  at 18 percent. Subsequently, based on a study carried out in 2013 at Sutrapur, Dhanmondi, Motijheel and Adabar thanas  in Dhaka, experts  prophesied that ten percent of Dhakaites run the risk of contracting the disease.
It is common knowledge that the WHO keeps its antenna high on any massive public health disaster in the making and it predicted last year that a chikungunya epidemic would hit Bangladesh.
The results of ignoring such warnings are before us. A Prothom Alo online survey has pointed out that if chikungunya enters a home it will attack another inmate. Of the families surveyed, those afflicted reported an incidence of about two persons per family.
This data is attributed to the pace and girth of the spread: The Aedes mosquito, of a strain that causes the disease, has a life cycle of some three-four  months but it requires fresh blood every three days to survive. So as the carrier bites a person, it draws fresh blood from the bitten one. Then off it goes to prey on another person—the cycle goes on and on till the end of its 2-4 weeks longevity.     
The virus fearfully has no anti-dote. So the high fever and excruciating joint-pain or just trauma will have to be endured   between six and eight weeks or more, in some cases. Standard pain killers are used for relief but in case of unremitting pain steroid may have to applied though for not more than three weeks .The caveat must be respected to keep out of harm's way.
The Aedes mosquito, which causes chikungunya, thrives in clean water collected in pots and cans, tyres, flower tubs or the back-side of air conditioners and fridges.
The construction sites around many buildings are so full of tiny pockets of water. Some people are also apt to collect rain water.
While  a new surge of attention to detail  needs to be spurred on  and precautions put in place ,the revelation that 59 percent of those contacted online said they didn't see any anti-mosquito spraying activity in the last two months, requires a clarification from the city corporations. More than that a fair measure of redemption ought to be there.
To end on an interesting note, chikungunya has not been reported from the countryside. One hopes that this remains a tribute to the rural environment.
Shah Husain Imam is an analyst on current affairs and former Associate Editor, The Daily Star.

Email: [email protected]