Nomination cauldron bubbling away, electioneering heat awaited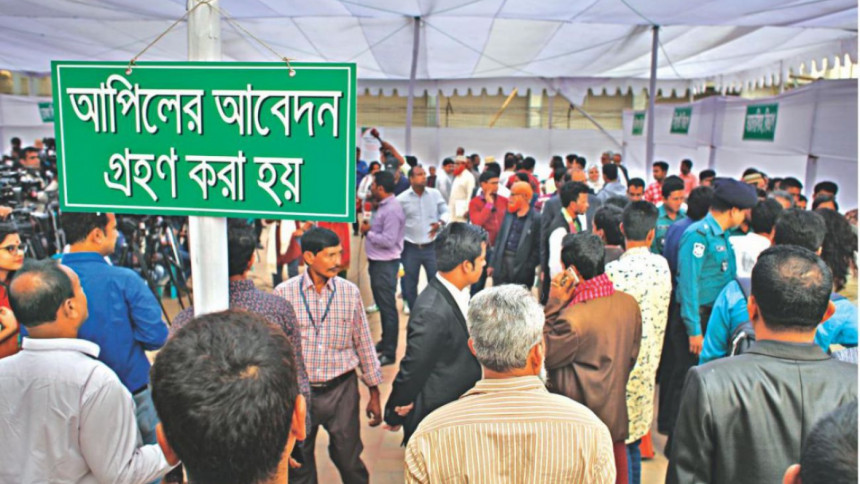 It was for the BNP leaders "a strategy" of filing multiple sets of nomination papers to cover the contingency of rejections. This came in the way of 141 party nominees out of 696 who had applied to the EC for a go-ahead. It appears such a tactic may stand them in good stead after all! But in the eye of Obaidul Quader, the AL secretary general however, this amounted to "nomination business" on the BNP's part.
For all one knows, a scramble sets in for the ticket of a major political party with the result that a combination of "winnability" and how deep the pocket of a candidate is becomes the clincher of a slot. And why not? The explosion of aspirations is understandable—the double to 10 times wealth acquisition over two tenures served by MPs and ministers, even the erstwhile sets of them, regardless of party affiliations bear testimony to a transformative nature of politics. It has become not so much an instrument of public service as that of big business.
Interestingly, the RPO-stipulated requirement of grassroots participation in the selection of a panel of candidates for a party high command to choose from has at any rate been side-lined, if it at all resorted to.
Given a high number of nomination-seekers in the opposition BNP—having been elected out of power during 2008-2013 and having missed a full election cycle subsequently—the BNP leadership was extra considerate to the aspirants. Thus, we see them giving nominations in excess of total number of seats. Of course, the rejectionist sweep applied by the returning officers based on an overly cautious attention to detail that included trifle amusing trivialities, left six constituencies without any BNP candidate to contest from.
Nevertheless, BNP is faced with a surplus of nominees topped up by those who might win the appeal to add to 555 nominees who had received EC's clearance. The candidates to be eventually dropped may be frustrated, if not disgruntled.
Another dicey aspect of electoral politics centres on seat-sharing between components of major political alliances being kept close to the chest of the principal party until the last moment! This will hopefully be done once the appeals on rejected nomination applications are disposed of, seat-sharing formulae have been agreed to, withdrawal of excess nominees have taken place and symbols assigned to the participating parties and contestants.
This arithmetic paradigm of voters makes a wholesome reading. The total number of voters is 10 crore 41 lakh 90 thousand 480. First-time-voters comprise 11.80 percent i.e. one crore 23 lakh. In fact, the number of voters aged 18-28 constitutes 22 percent representing one-fourth of the total electorate. Most of the 23-28 age group did not vote in 2013. In other words, we are looking at 25 million new young voters who will cast their ballot for the first time.
If we divide 25 million new voters by 300 parliamentary constituencies multiplied by five contestants each, 12,000-16,000 new voters will have cast their ballot in the election of a single MP. This means the average is worked out taking into account the differences in the size of the constituencies.
The vote margin between the winner and the loser in the national elections has been mostly less than 10,000. So with their number ranging from 12,000 to 16,000, the young voters can make a decisive difference in the electoral fortune of a youth-friendly and serving party. They are tech savvy, IT using, supply chain-oriented, globe girdling thinkers raring to compete for excellence. They need research facilities, start-up money, infrastructure and creative environment to blossom.
Women voters will have to be nurtured with special campaign promises to raise their status by a tangible recognition of their unpaid work along with income parity and workplace security accorded to them. Quite to the point, their enthusiastic and sizable turnouts at the polling booths are such a huge value addition to the sinews of a participatory democratic system.
As for women candidates for direct election, their number has reached a modicum of respectability reaching 85, all of them having been accepted for the race. The breakdown is interesting: BNP: 33, AL:18, JP: 8, Independent: 5 and other political parties: 21. It rhymes with the minimalist standard of women representation of 20 percent in the working of political parties.
One final word. The Electoral Inquiry Committee consisting of district level judges is being tasked to oversee 122 constituencies focused on attending to complaints and giving decisions over electoral offences on the ground and so has its job cut out. It will work towards prompt disposal of conflicts without looking up to the headquarters.
Shah Husain Imam is Adjunct Faculty at East West University, a commentator on current affairs, and former Associate Editor, The Daily Star.
Email: shahhusainimam@gmail.com