Prognosis of polls in Pakistan
Imran Khan, the prime minister-in-waiting?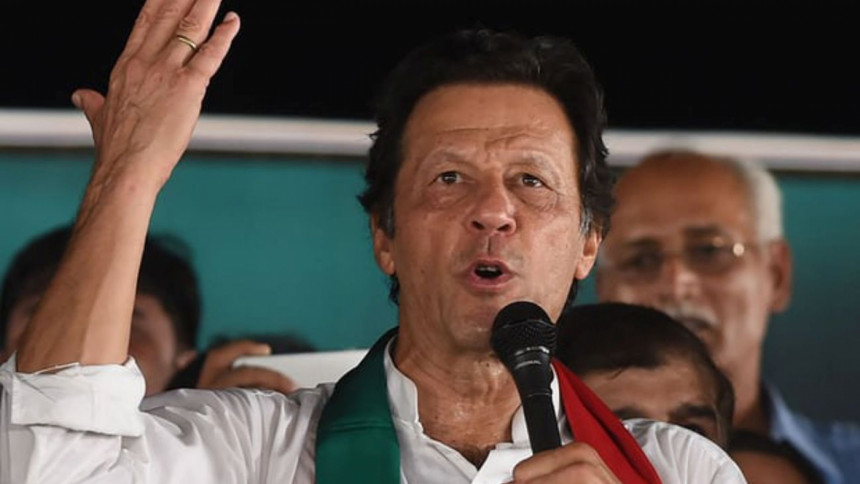 As one heads towards the elections in Pakistan on July 25, the main question in concerned minds is whether Imran Khan, the leader of the Pakistan Tehreek-e-Insaf (PTI), is going to be Pakistan's next prime minister. Mr Khan has much going for him. He is a refreshingly fresh face in high political office untainted by corruption with rivals whose reputations stand in stark contrast. He is the blue-eyed boy of Pakistan's "angels"—also known as the military establishment—who see themselves as the "mirror image" of the Pakistani society with scant respect for civilian political leaders drawn from feudal and business backgrounds, most of whom they accuse of having exploited the people. And finally, for a nation that thirsts for glory that has generally eluded it, Mr Khan is someone who earned huge admiration by winning for his people the World Cup in cricket, the holy grail of recognition in South Asia. Undeniably, Mr Khan has also toiled long and hard for victory at the polls. Is he going to get it? The question merits analysis.
Imran Khan's party, the PTI, has two main rivals. The Pakistan Muslim League (Nawaz), led by Nawaz Sharif, a former prime minister, currently in jail on charges of corruption; PML (N) is said to be the most popular party in Pakistan's largest province, Punjab. The other is the Pakistan Peoples Party (PPP), jointly headed by the father-son combination of Messrs Asif Zardari and Bilawal Bhutto, which holds sway in the province of Sindh (though not in its principal urban centre, Karachi). The PTI currently rules Khyber Pakhtunkhwa (KP), where Mr Khan continues to enjoy massive popularity. Finally, in Balochistan, the principal political players known as "electables" are those who are tribal leaders with assured electoral seats, who are more likely to be influenced by offers in kinds than by any ideological predilections.
Now to look at numbers. The distribution of seats in the 272 contested constituencies (60 more are reserved for women and non-Muslims) in the Parliament (called the National Assembly) is as follows: Punjab 141, augmented by 3 in Islamabad the capital, which geographically lies within the province; Sindh 61 (including 21 for Karachi); Khyber Pakhtunkhwa 39; Balochistan 16; and Federally Administered Tribal Areas 12. So, the magic number to secure an overall majority is 137. Simply put, the party that wins that number gets to provide the prime minister. It would be stretching facts to say that the fiercely fought electoral battle is being conducted on a perfectly level playing field. Partly because of their past performance, or lack of it, in office and partly because of their poor relations with the military, the "angels", with aid and comfort from the higher judiciary, surprisingly activist in Pakistan, both PML-N and PPP are left ploughing a difficult furrow on the political ground. This gives Mr Khan a decent leg-up. But can he, in the end, bring home the bacon—or in this case—the beef?
As of now, he is likely to win a huge majority in KP. In Sindh, he can pick up a few seats in Karachi, particularly as the influence of the earlier dominant Muttahida Qaumi Movement (MQM) comprising Urdu-speaking refugees from India is on the wane. In rural Sindh, where the PPP generally calls the shots, Mr Khan has articulated, at least at stated levels, sufficient religiosity to earn him blessings of some right-wingers, now organised as Grand Democratic Alliance (GDA). This can be converted into a few more seats. The Balochi "electables" will give him, a fellow Pathan, succour and solace, should he win. But to win, the battleground he will need to triumph in is Punjab. He has made significant inroads into the less developed southern part of the province, which has 45 seats. But in central and northern Punjab, which commands 95 seats, the PML-N, who currently govern at provincial level and claim some credits in development deliveries, are clear favourites.
So Mr Khan will have to rely on the 25 or so independent candidates for whom purse and perks can be major attractions to clinch the requisite majority. In all, should Mr Khan manage 110 or so of those numbers, he may have fortune smile on him. In that case, the president, who incidentally is a PML-N member but with the army looking over his shoulders (in this case, the act of "looking" may be accompanied by a modicum of "gentle pressure"), would have to offer him the first bite at office. If that happens, the number of parliamentary supporters is likely to swell because belonging to the government party always brings along certain welcome advantages.
But that remains, at least as of now, quite an "if". There is always the possibility that immediately following the polls, the PML-N and PPP could join hands and demand to form government. Of course, by doing so, they would risk the ire of the "angels" and the possibility of their leaders following Mr Sharif into jail at some point in time. But the immediate temptation of office can boost audacity even against unsavoury odds. While this scenario is not far-fetched, right now Mr Imran Khan increasingly seems to be assuming the aura of a prime minister-in-waiting. It is true that given his internationally recognised charm and charisma, his appointment will make global headlines. But of course, Mr Khan himself more than most would know that just as in a game of cricket, politics is fraught with uncertainties. He surely understands that there is many a slip between the cup and the lip, and in this particular case, it would have to be "a cup that cheers but does not inebriate" (with power, that is!)
---
Dr Iftekhar Ahmed Chowdhury is a former foreign adviser to a caretaker government of Bangladesh and is currently Principal Research Fellow at the Institute of South Asian Studies, National University of Singapore.
---
Follow

The Daily Star Opinion

on Facebook for the latest opinions, commentaries and analyses by experts and professionals.
To contribute your article or letter to The Daily Star Opinion, see our

guidelines for submission

.
---