Pakistani war criminals must be tried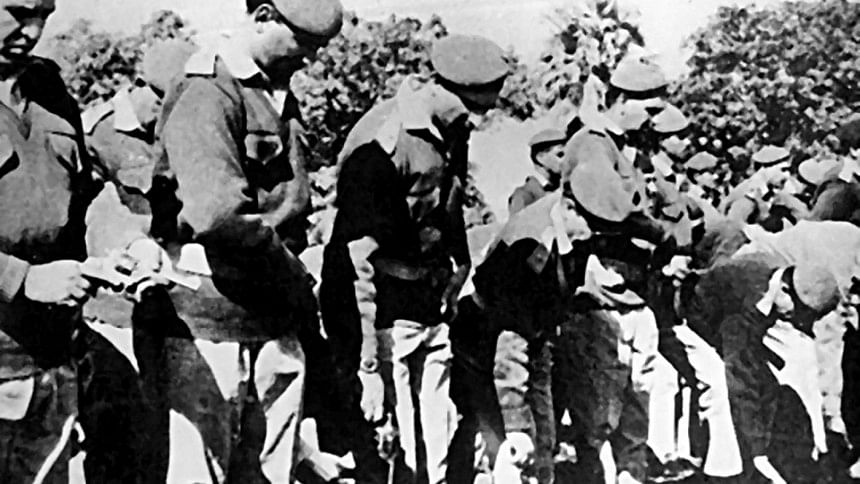 The Centre for Genocide-Torture and Liberation War Studies (CGTLWS) Khulna, in collaboration with Bangladesh History Congress, is organising an international seminar on "Genocide-Torture and Liberation War 1971"on November 25-26, 2017 in Dhaka. During the seminar, atrocities of the Pakistan army on innocent, unarmed civilians are likely to be highlighted. Millions of Bangladeshis had lost their lives during the war. Hundreds of thousands of women were raped. According to international aid and relief agencies, more than 70,000 war babies were born after the Liberation War. About 10 million refugees had to flee to India to escape the genocide. Old men and women were forced to witness the killing of their sons and raping of their daughters and daughters-in-law. Babies were flung in the air by the Pakistani soldiers and pierced by the bayonets. Valuables were looted and houses torched. The brutalities of the Pakistani soldiers had crossed all limits.
The Pakistani armed forces surrendered to the Joint Command of India and Bangladesh on December 16,1971. Bangladesh government had identified 194 Pakistan army personnel and three each from its Air Force and Navy as the main war criminals, out of which five POW were let off on humanitarian grounds. Sheikh Mujibur Rahman, immediately after his return from Pakistani captivity, initiated a formal process of war crimes trial. On March 29,1972, the government announced a formal plan to try some 1,100 Pakistani military prisoners, including AAK Niazi and Rao Farman Ali Khan. On June 14,India agreed to initially deliver 150 POWs, including Niazi. On June 19, ten days before the Simla meeting between Zulfikar Ali Bhutto and Indira Gandhi, Sheikh Mujibur Rahman reaffirmed his commitment to try the war criminals.
Contrary to what some people believe, the Simla Agreement signed on July 2, 1972 had nothing to do with the Pakistani POW that Bangladesh wanted to prosecute because it was an issue between Dhaka and Islamabad. But Bhutto played his devilish card by making the 400,000 Bangladeshis who lived in West Pakistan hostage. He wanted to use them as a bargaining chip to free the Pakistani war criminals. Bangladeshi army officers who were serving in West Pakistan were also put in "concentration camps."
At a press conference on August 10, 1972, Bhutto said that if Bangladesh believed that "it had a kind of veto over the release of our prisoners, there is a veto in our hands also." He requested China to use its veto power to bar Bangladesh from becoming a member of the United Nations. Beijing castits first veto in the Security Council on August 25 to bar Bangladesh's membership. Bhutto insisted that Pakistan would recognise Bangladesh only after Pakistani prisoners were released. In November 1972, Bangladesh and India decided to repatriate some 6,000 family members of Pakistani POW. In response, Pakistan agreed to release 10,000 Bangladeshi women and children. However, the fate of most Bangladeshis trapped in Pakistan remained uncertain. On April 17, 1973, after four days of bilateral talks, Bangladesh and India announced a "simultaneous repatriation" initiative to end the prisoner deadlock. Bangladesh, however, made it clear that India would not release any of the war criminals that it would try along with their local collaborators.
Bhutto furiously refused Bangladesh's contention of trying the accused Pakistanis in Bangladesh. He threatened that if Bangladesh carried out the trial, Islamabad would also hold similar tribunals against the Bangladeshis trapped in Pakistan. In an interview on May 27,1973, Bhutto said: "Public opinion will demand trials (of Bangladeshis) here… We know that Bengalis passed on information during the war. There will be specific charges. How many will be tried, I cannot say." To prove that it was not just an empty threat, Pakistan government quickly seized 203 Bengalis as "virtual hostages." Bhutto argued that if Bangladesh tried its POWs, Pakistanis who were already "terribly upset" would topple Pakistan's political leadership. He claimed that his government had already arrested some high-ranking military officials for conspiracy.
On August 28,1973, India and Pakistan signed the Delhi Accord, which followed the Bangladesh-India "simultaneous repatriation" proposal. This allowed the release of most of the stranded Bengalis and Pakistanis held in Pakistan and India respectively for almost two years. The tripartite repatriation began on September 18. Pakistan and India agreed that the issue of 195 accused Pakistanis would be settled between Bangladesh and Pakistan. Pakistan kept the 203 Bangladeshis out of the repatriation process. In the last week of April 1973, Pakistan issued a statement saying, "Pakistani government rejects the right of the authorities in Dhaka to try any among the prisoners of war on criminal charges, because the alleged criminal acts were committed in a part of Pakistan by citizens of Pakistan. But Pakistan expresses its readiness to constitute a judicial tribunal of such character and composition as will inspire international confidence to try the persons charged with offenses."
After about one year, Bangladesh finally accepted Pakistan's proposal, fearing for the fate of Bengalis trapped in Pakistan and to gain the much-needed access to the UN. With faith that Pakistan would hold the trial of the Pakistanis involved in wartime atrocities, Bangladesh withdrew its demand for trying the Pakistanis in Dhaka. As part of a formal understanding, the last group of 203 detained Bangladeshis was allowed to return home on March 24,1974. Bangladesh's position was formalised on April 10,1974 through a tripartite agreement among Bangladesh, India, and Pakistan. Pakistan offered apology to Bangladesh on the same day. The agreement noted that Bhutto would visit Bangladesh and "appeal to the people of Bangladesh to forgive and forget the mistakes of the past in order to promote reconciliation."
Pakistan has not fulfilled its commitment to try the war criminals yet. More than 100 war criminals are still alive and leading luxurious lives on the loot from Bangladesh. It is time for the right-minded citizens to build consensus through different means including social media for starting the trial process for them. Bangladesh government's hands are tied due to the Tripartite Agreement of April 10,1974. Therefore, the citizens will have to build world opinion. If Nazis could be tried as late as in 2016 and the Japanese could be forced to apologise and pay compensation to Korean sex slaves 70 years after the end of World War II, then a similar trial of the war criminals and apology and compensation to the Bangladeshi victims of Pak genocide just after 46 years are indeed possible. The seminar organised by CGTLWS should initiate the process during its two-day deliberations.
---
Brig RP Singh, VSM is a retired Brigadier General of the Indian Army. He participated in the Liberation War of Bangladesh.
---
Follow

The Daily Star Opinion

on Facebook for the latest opinions, commentaries and analyses by experts and professionals.
To contribute your article or letter to The Daily Star Opinion, see our

guidelines for submission

.
---