The city is a letter that arrives late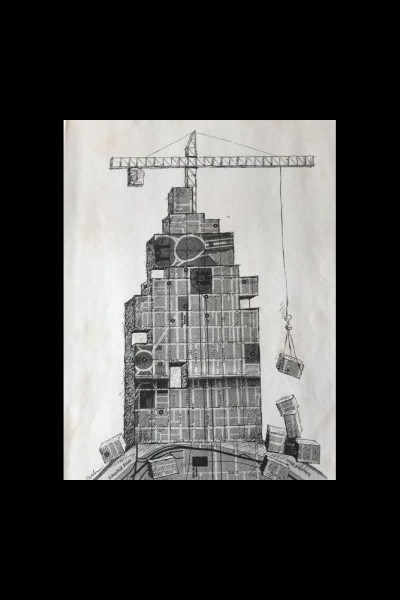 I have known for a long time that one does not go anywhere. It is the cities of the countries that come or do not come to you. Cities are fateful letters. They only arrive lost. They only arrive posthumously."
Helene Cixous, Ex-Cities (2006)
Dhaka city remains the object of our abject imagination. I first began writing in newspapers on Dhaka city with a variety of emotions—outrage, ire, and certainly disenchantment. Dhaka was an easy target for criticism, and the tone of those first articles, some twenty years ago, was deprecatory and disapproving. Arguing that it was not spectacular buildings and swanky automobiles but the public realm that made a city, which Dhaka largely lacked, I titled an early piece: "Dhaka is not a city". Even my nephew, twelve-year old at that time, was not pleased with what he read as a negativity, perhaps even a betrayal. It was not that I disliked Dhaka, but I wanted to love her, intensely and now.
Most newspaper features and reports on Dhaka city are about its gloomy side—the pollution, the traffic, the accidents, the land grabs. At some point, I decided I will not write on negative things, for which there are many arbiters, but on what is possible. I am an architect, and will write as an architect by not succumbing to the gloom all around, but anticipating something better, something waiting to arrive. Like the sketch of a building plan in which the building is yet to happen, I hoped what I write becomes a sketch of the upcoming.
The condition is a paradox though. While I see Dhaka that is yet to be, the city shows me what it is. But it is in that flux, I discover "the politics of the possible," articulating the really real that can be achieved against the present that only appears as the irrefutably real. Designing Dhaka: A Manifesto for a Better City, published in 2012, as a collection of my newspaper articles, was solely dedicated to a Dhaka that does not exist yet, the city of the really real.
In vacillating between the present and the future of Dhaka, I have come to love cities. I try to understand what kind of relationships are set up with places that we call cities, and how they are set up. I have written before in Designing Dhaka:
"Cities are strange things, they are neither given to us as found objects like a shell on the beach nor are they conjured up in a dream out of thin air. We are not certain of finding them if we go looking for them, yet they don't leave us even when if we don't think about them. In the Latin literary classic The Aeneid, the hero of Troy, Aeneas, leaves home on an odyssey with an entourage to found a new city that came to be known as Rome. The Aztecs founded the city of Tenochtitlan on a lake that became Mexico City, after wandering over mountains and forests following a sacred sign for that city. And, in the Bangla Candi-mangal, Kalaketu builds a new city following carefully a visionary plan, and the city becomes a successful sociological and architectural experiment of community harmony. In short, it takes a prolonged wandering, and bit of a sustained effort, to finally find a city that one is looking for."
It's tough to fall for a place as Dhaka but then there are loves that are tougher. I was born and grew up in this city. My childhood relocations are like the northward thrust of the city—Armenitola, Bakshi Bazar, Kachukhet, and Banani. If condensed into a time-lapse imagery, it will appear as a slow progression from a literally tight-knit neighbourhood to an increasingly fissured social and urban pattern.
As I moved up the north arc of the city through its diverse neighbourhoods, I don't know when I acknowledged that Dhaka is a hometown for me. That one is born in a place and it becomes a "hometown" may seem like an obvious fact but sometimes the obvious needs to be confessed and restated.
In Bangla, there is no word for "hometown," as it is used with so much affiliative intensity in the English language, especially in the American imagination. With "homeland" translated as matribhumi, the closest approximation for hometown may be matrinagar. While we sing so many songs for the homeland and weave dreams of the national future, we have no such stances for the places we routinely and physically inhabit. For many such a place of routine inhabitation is the city, such as Dhaka.
In fact, the term "metropolis" may be more authentically approximated for matrinagar. The term "metro" refers to mother, and metropolis to a matriarchal affiliation for the polis, the city. This is borne out in such ancient Greek practices of creating new cities outside Greece where the fire from the main hearth of a home-city was used to make a new altar in the colony city. Only after setting up the fire from the home-city could the new city begin—be inhabited.
Without ancient rituals, there is no easy answer to when a place—a city—becomes a hometown in our times. If matribhumi articulates our fidelity and affiliation for the nation, that is, the country at large, matrinagar may do the same for the city, perhaps with a greater immediacy. After all, cities and towns are where we are most authentically, that is, bodily and intimately, and in our practiced existences.
My incessant writing on Dhaka betrayed something—a love perhaps. A friend once asked me bluntly: Why am I attached to Dhaka? What is the nature of my affiliation? It would be too simple to characterise it as part of nationalism. Affiliation to a city is different than the one to a nation. If nationalism is a political, ideological condition, reckoned mostly by various abstract means, there is something more emotive and immediate being in a city. First, you are there bodily. You can traverse the place and take it in by seeing, walking, touching, tasting, and feeling; these are the processes that makes it a metropolis, a matrinagar. It is there we walk, we quarrel, we make love, we pay our bills, we wait on a rainy street trying to catch a CNG, we run out to the street when we are aggrieved about an event, or overjoyed.
But you can be only in one place at a time. You can imagine being in another or more, but you can be in only one place. While I was living abroad for most part, my mother chastised me about whether one can live in two places (to complicate matters, I had lived in three: Honolulu, Philadelphia, and Dhaka). The famed American singer Josephine Baker, living in Paris in the 1930s, made well known her love for two places in her famous song "J'aideux amours": "I have two loves—my country and Paris…". The writer Italo Calvino, deeply fond of two cities he had lived in, imagined inhabiting one that fused the different geometrical patterns of both. With greater mobility and movements, a constant recalibration with places has now become commonplace. In the movement from—or rather between—the originating village and the city, the Indian writer Ashis Nandy identifies an uneasiness—he calls it "oscillation"—in which one is no longer at home in a place. Affiliation has become portable but for many there is always the matrinagar to fall back to whether one is in love or a disquiet with it.
I have often wondered what is it about Dhaka that makes me want to write. Perhaps I wish to immobilise the oscillation of feelings, between a love and disquiet. Perhaps to desperately arrive at the really real. But perhaps the motivation to write is more fundamental, and literally projective and constructive.
As an architect I should be devoted to buildings, or at least, the magical craft of drawing. Drawings become buildings. What could be more magical than that?
I am an architect, and I have often been asked—I have often asked myself—why write. Building, drawing and writing do not mix well. But I also write.
Yes, I write—not just about Dhaka but architecture in the country, and sometimes about other random things—because it has to be written, not so much thinking what will come out of it, and one is never hopeful about what is coming out of it, but one writes because it has to be written. Then letters are mailed. As if, if one keeps on writing on this pixelated screen, or sheaf of papers, if one keeps on mounting words after words, layering lines over lines, incessantly and relentlessly, words will become bricks and semi-colons will become mortars, and texts will have become buildings and spaces, then even if the city does not write back there will be those spaces that then can be inhabited. The really real. That's all an architect who writes can hope for.
---
Kazi Khaleed Ashraf is an architect, and directs Bengal Institute for Architecture, Landscapes and Settlements.
---
Follow

The Daily Star Opinion

on Facebook for the latest opinions, commentaries and analyses by experts and professionals.
To contribute your article or letter to The Daily Star Opinion, see our

guidelines for submission

.
---