Sexual Violence: Looking inward and thinking out loud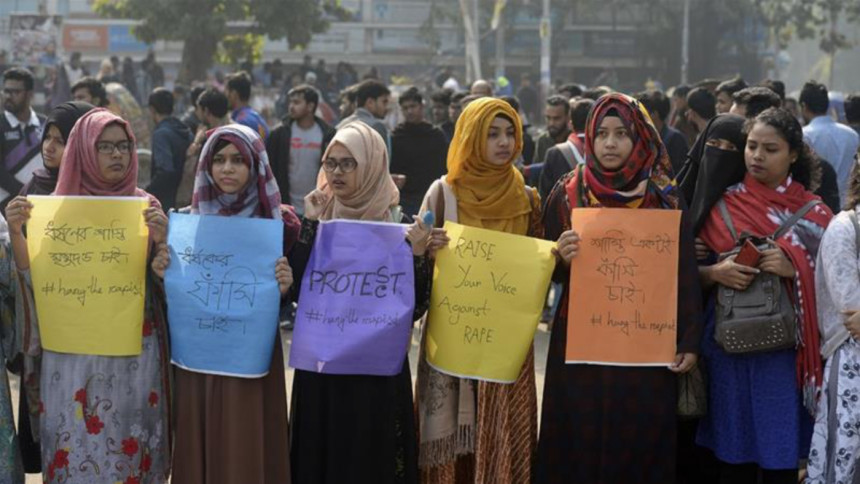 Every single day, a rapist is reported. Every. Single. Day. Let that sink in.
I usually speak fairly quickly. My grandfather is the one who made me conscious of it. But he also provided a rationale: "it's because you think quickly." I always appreciated that positive reframe; that's rare for grandfathers of his generation, particularly in Bangladesh. But all that is beside the point. The point is, now is the time to slow down, and make sense of what is happening in this world at a time when we see unprecedented levels of, well, everything—but in particular, progress, that is paralleled only by stupendous levels of human suffering of all kinds.
Poverty levels in Bangladesh are apparently lower than ever before, including extreme poverty. Girls' enrolment in schools, particularly primary school, is almost ubiquitous. We now see some children, not hundreds of children, selling trinkets or books on the streets—possibly on behalf of parents or dalals. We rarely see unclothed people roaming around; almost everyone can afford a pair of pants, barring the phokir who threatens you with scatological terror if you refuse him money. These are (mostly) good signs for a nation with aspirations to become a middle-income country in the foreseeable future. But, amid such encouraging notions, we have found ourselves in a world in which we know that women are violated by men at extremely high rates. This is hardly new; but given historical under-reporting of violence, particularly sexual violence, and normalisation of marital rape, it is only now that we hear about reports of violence. On a daily basis.
Exactly how prevalent is sexual harassment? In a recent study with K. A. S. Murshid from the Bangladesh Institute of Development Studies (BIDS), we found that sexual harassment was reported by almost 65 percent of youth in the study. This is exceptionally high, if you take social desirability bias into account. In a country where sex is taboo, sexual crimes are taboo as well. People don't admit sexual crimes because it is conflated with sex. In addition, those who experience sexual violence can hardly trust the system to both believe them and then do something about it. It is not a coincidence that we see high numbers of rapes being reported, while everyday experiences of sexual harassment are rarely reported to authorities. We are justifiably indignant about rape-murders, as we focus on the innocent victim—while those who get away alive are somehow held responsible for their own rapes. In the name of protection, we call on patriarchal tropes that blame victims and police their bodies. What is perhaps most crucial is that the pervasive nature of sexual violence and the everyday experience of it makes it as banal as the intrepid conversations about rape. Clearly, there is a hierarchy of oppression— which the youngsters today call Oppression Olympics—and only certain kinds of violence is worthy of our collective rage; the really violent kind that involves rape and murder. We ignore the more subtle forms of sexual violence: when an employer makes sexual comments in the guise of a compliment; when women in public buses are groped; when anyone is made to listen to explicit sexual content without their consent; when married men force themselves upon their wives because that's their "right." These happen, and these happen often. We never talk about them.
Back to our study—unsurprisingly, for those of us who conducted the study, a large number of boys reported sexual harassment. In a culture that is hyper-sexualised amid sexual repression, boys are imminent victims of sexual harassment. Amid patriarchy, boys are more likely to be in locations that girls are not in—and thus become easy prey. And because boys are not culturally viewed as sexual objects in the way girls are, thanks to advertising gurus across the world, they are hyper visible to predators who find boys more accessible, and amenable to being shamed into silence. Boys—and men—hardly report violence that they experience, knowing that people wouldn't believe them, because our culture has boys buying into the idea that they have to "man up" and take what is thrown at them, instead of being a female sexual organ; even though why a female organ has to be used to indicate weakness is beyond me—particularly the one that delivers babies like a champion.
Why is any of this important beyond the moral imperative to foster a world in which people are free from violence? Because early exposure to violence is connected to a host of consequences. Those who are violated experience mental health, physical health and reproductive health concerns because of the violence they experience—ranging from depression and anxiety to sexually transmitted diseases, and a greater likelihood of using coping mechanisms that have lasting harmful effects, including substance use and risky sex.   
What can we do? Think about it. Carefully. Think about how we contribute to creating a culture of violence (and ours IS that; let us not mince words here). And then think about how we can undo this. Let's live up to that neoliberal mantra of personal responsibility that capitalism has fed us and think about how our individual actions—as educators, policymakers, parents, children, workers, capitalists, whatever-have-you—have created the world in which we live.
And then, maybe, think about how our individual actions are connected to the structure through policies, social norms, and tradition.
And ask the age old question: which came first?
Nadine Shaanta Murshid, PhD, is Assistant Professor at the School of Social Work, University at Buffalo.