Rifles, but no bullets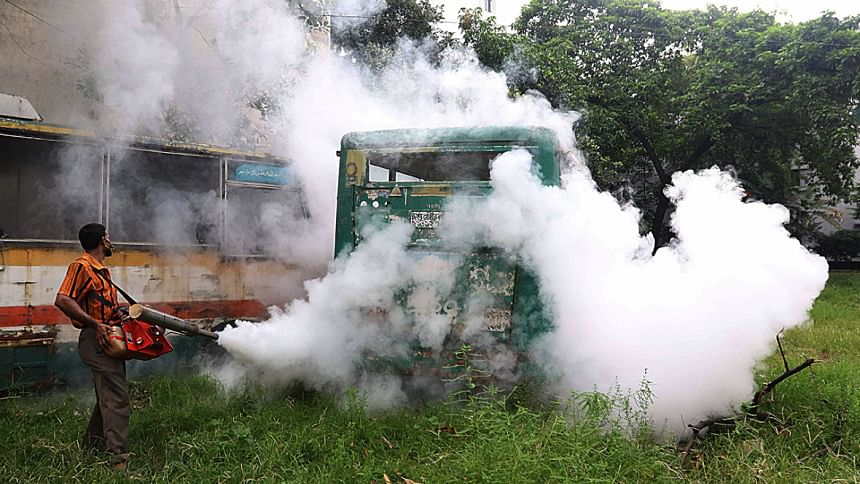 If I were the type to actually pour the unholy sherbet of bleaching powder and Harpic down my sink, I would at least keep mum about it. Unshakable faith in the Devil's Rooh Afza is nothing to be proud of.  
I'd also keep a low profile if I were the kind of person who suspected fake news to be an elaborately planned, and timed, marketing gimmick. Because such people clearly understand neither conspiracy-theories, nor marketing.
Yet, an astonishingly high number of netizens around us seem to be both those things, and unabashedly, inordinately vocal about it too.  
In case you haven't heard: the Facebook rumour mill's latest communiqué is asking all citizens to simultaneously pour bleach-laced Harpic (aka the Devil's Rooh Afza) down their sinks. The resulting chemical deluge will—according to this viral text—flow into drains, sewers and canals, and destroy all fourteen generations of the dengue-spreading Aedes aegypti mosquito.
The formula is not only ineffective, but also potentially hazardous to health and environment. The toilet-bowl cleaner is primarily hydrochloric acid, while bleach is roughly sodium hypochlorite. Mix them, and you get: NaOCl + 2 HCl --> NaCl + Cl2 + H2O. The chemical reaction produces life-saving water, and life-threatening chlorine gas. Please don't try this at home. If you must know, there's a YouTube video called "What Will Happen If You Mix Bleach and Harpic?" Watch it. Some things are better learnt by viewing than by doing.  
Clearly, persons or groups peddling such a hazardous idea are anything but well-meaning. Just like in the bizarre matter of "Bridges, Kidnappers and Lynching," there are parties out there peddling dangerous misinformation.
"Why? What's their motive?" you ask? Well… in the words of Lord Petyr "Littlefinger" Baelish: "Chaos. A gaping pit. Waiting to swallow us all. Chaos isn't a pit. Chaos is a ladder."
With faceless agent provocateurs toiling away, we need to gauge why their propaganda is finding pockets of acceptance. Therefore, we turn our attention to the many communication and response strategies employed by our authorities. What follows is essentially a lighthearted take on the various strategies deployed to shape public opinion around the current outbreak and its media fallout.
***
Strategy I: Deny, Deny, Deny
The first resort of any administration worth its salt, this solution entails broadband denial, e.g. completely denying the existence of dengue cases, and if need be, the existence of the virus itself. If neither is feasible, the next best option is to deny the extent of the outbreak. This strategy, however, is not effective if your co-workers leak to international news networks that Bangladesh has been hit by the worst dengue outbreak on record.
Strategy II: Go Bollywood on Aedes
This involves mounting two or more spray guns on top of SUVs, and riding around town, spraying clouds of fumes. The effect is heightened with slow-motion videos of demigod-like officials standing between gunners, and occasionally pointing towards undefined threats in the horizon. While recirculating the same video every year does nothing to control mosquitoes, it does make for a rather "filmy" experience.
Strategy III: Shame Aedes into Submission
If the Bollywood stunt falls flat, another option is to stem the reproduction of Aedes mosquitoes. Apparently, this may be achieved by publicly comparing the breeding capacity of Aedes mosquitoes to that of certain Forcibly Displaced Illegal Nationals. The thinking is, perhaps, that such comparisons will shame both into behaving more conservatively. From the looks of it, the response has little utility other than revealing deep-set racist attitudes.  
Strategy IV: Organise Colourful Rallies
A suitable response for any problem, anytime, anywhere—colourful rallies are also good for media coverage. Especially rallies featuring "colourful balloons, banners and placards," and attended by celebrity actors and singers, are known to have high news value. For maximum impact, block important roads and cross-sections. The presence of colour—regardless of how bleak the situation is—is central to success. So, don't expect the same results from monochrome or lackluster rallies.
Strategy V: Promise Impending Change
When stunts or rallies don't work, it may be time to publicly announce impending change. In the case of the annual dengue outbreaks, changes in administration, in equipment and in chemicals are standard responses. If you go back to 2018 newspapers, you'll find reports that city corporations are lamenting ineffective insecticides, and will change up their game soon. Every year, these "changes" keep public spirits buoyant. However, there is an expiry date on the utility of the same old promises, and at one point, the cover will be blown.
Strategy VI: Impress the Fools
In times of outbreaks and crises, citizens want to be comforted. They want to see action (just not in colourful rallies). So, if nothing else, giving them the impression of frantic activity is a perfectly viable response strategy. For example, if Aedes situation gets out of control, frantically spraying chemicals used to fight Culex mosquitoes can convey the right impression. The downside is that the highest judicial bodies may sometimes say things like, "It's like you have rifles, but no bullets!"   
Strategy VII: Hang the Fools
While citizens wait for change, in this response strategy, all blame is promptly attributed to private actors, leaving public agencies and officials all blameless and immaculate. To enforce this, authorities can arrest and imprison landlords and homeowners on whose premises Aedes mosquitoes are found. These concrete actions convey an illusion of justice. The strategy works best when coupled with PR coverage to serve as fodder for media-trials. This strategy's weakness lies in its responsibility-shifting, victim-blaming nature.
Strategy VIII: Preempt the Predictable Threat
A lesser-known strategy is to closely track both hospital records and accumulation of stagnant water, by mobilising local staff and community volunteers. Taking a ward-based approach, authorities can combine clinical, pest-control, and community-outreach interventions, with central monitoring systems. There are regional instances of cities more or less eliminating dengue cases within a matter of years. However, one drawback is with dengue under control, there'll be one less colourful rally on the streets.
***
All of the solutions mentioned above have been attempted, albeit with varying degrees of success. However, the people have clearly been left wanting. And that is precisely why fake news is spreading faster than Aedes.
There's no doubt our leaders are faced with a tough public-health challenge. But let's face it: dengue was a crisis long before it became a PR crisis. And it is years of inaction and half-measures that have brought us to this point.  
So, if the authorities are smart, they will come clean and address the root causes of the recurring outbreaks, and not just the symptoms. To use the High Court's analogy: they will wield their rifles, and have the right ammunition too. Otherwise, it's just a matter of time before the mob chooses to trust a smart idiot over a stupid genius.
Adnan R Amin is CEO at Purplewood, a strategic and behaviour change communications agency. He can be reached at [email protected].