Life lesson in Sylhet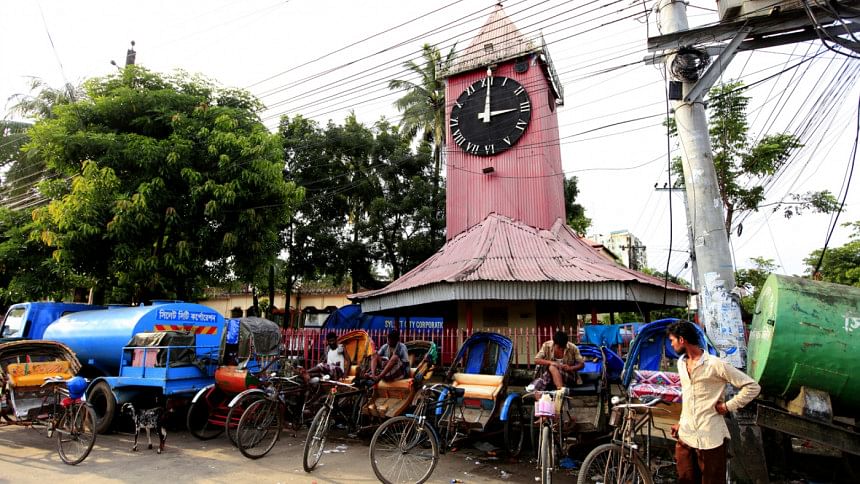 Away from the news. Away from the enormity of a planet on the brink. Away from inner restlessness there is yet life. It's what I learnt in Sylhet.
It was morning, it was sweltering. Still, I was fortunate to be back after several years. Sylhet's precinct along the northern bank of the Surma River, alongside the Keane Bridge and Amjad Ali's clock tower, is one of those iconic adda spots that live on in the mind. Unknowingly about to get a little life lesson, or a gentle reminder of that sort which Bangladesh is expert to give, I sat for tea.
I was feeling restless. Restless in the way I think most people feel some of the time, that restlessness born of the modern world, when we read headlines and despair at the litany of violence, bigotry, environmental collapse and pointless power grabs. Restless about life's passing, that usual wondering if one is on the best path. Amjad Ali chimed the hour.
Nobody is only ever the one thing—and I promise I'll get to the point promptly. But the thing is, as much as I left it behind a long time ago a part of me is still the Sydneysider, and a part of growing up in that fast-paced impersonal city is the usual penchant to complain—a ten-minute late train is a big deal—to never truly be satisfied, to always want more, to want deeper. Truth be told, I felt that kind of restlessness too, an unreasonable almost-genetic restlessness.
Mid cup of tea, a young man sat on the tea stall bench beside me. Predictably, curiosity willed him to strike a conversation. At first I was unsure if I really wished to answer the standard form questions, if I wished to be disturbed from my self-centred jungle of thoughts. But he was polite.
The young man, originally from Hili in Dinajpur, was on his way to work, he said. He worked in a juice bar which he said he liked.
I'd come to Sylhet by plane—he asked that—and of course with adventure's twinkle in my eye I suggested he could save up, bit by little bit, and one distant day splurge on a flight to Dhaka, just the once, to experience air travel.
Later, I learnt that he works twelve-hour shifts with no holidays. Without a hint of complaint in his voice he said too that he'd completed second year of college but was unable to sit for his exam because his father couldn't afford it. His father is a rickshaw driver. He has a younger sister at school and the family relies on his meagre earnings. A pre-shift cup of tea must have been a ritual indulgence for him.
His is not an unusual life story for Bangladesh, I know.
We spoke of the difficulties graduates face in getting a decent job—common knowledge—that even with a Master's degree he might still work as a waiter.
And then I heard myself counselling him, as a sort of elder brother or uncle might, in just the way any Bengali would—no, I'm not only that Sydneysider anymore!—to try to finish his college anyway, if not now then later, whenever circumstances allowed. Maybe only after his college graduation he could start saving for that plane ride.
When it came time to pay for his tea I told him not to worry about it, but he was insistent. He pulled out some taka and said, "See! I have money!" And instinctively—Bengali instinctively, I grabbed him by the arms and pushed him back a little so he couldn't give the money to the shopkeeper. I told the shopkeeper in Bengali style not to accept money from him.
Well, the young man had no choice but to accept my insistence. As he finally wandered off towards the juice bar, out of the corner of my eye I saw a little smile had crept onto his face. I guess he had a bit of a story to tell his juice bar colleagues—his unexpected encounter with "the foreigner".
In truth, he gave much more than I gave him. It's been more than twenty years since Bangladesh first blessed my life. I've often tried to learn that kind of patience and humility that ordinary Bangladeshis have in abundance. I'm still trying. I was reminded to count my blessings, to be happy with whatever I have, or don't have, to live in the moment and make the most of every single Amjad Ali tick. In short, I was reminded not to be restless.
It can be that mine is a life of privileges and opportunities that the young man will never know.  Even so, as I sat on that bench with a new cup of tea in hand, I wondered once again: perhaps it is him, and all of the ordinary Bangladeshis like him, who are truly the most professional human beings. Westerners have a lot to learn from Bangladesh.
Andrew Eagle is an Australian-born writer and English teacher who has been living in Bangladesh for quite a long time.