Omar Khadr, Canada and the rule of law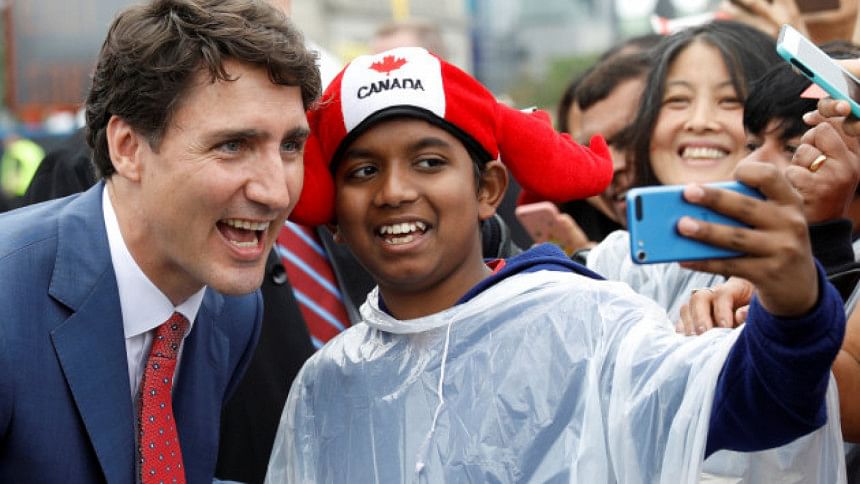 Most of us say "I'm sorry" many times a day for a host of trivial affronts—accidentally bumping into someone or sneezing during a business meeting. These apologies are easy and usually readily accepted. Apologies needed to right wrongful words, acts or inactions, on the other hand, are harder to come by. Similarly, when it comes to nations saying the S word, examples are in short supply.  
Canada is an exception. Last week it offered an apology and a USD 10.5-million compensation package to Omar Khadr, a Canadian citizen, for abuses he was subjected to while detained in the US military prison at Guantanamo Bay, Cuba.
This comes after the 2010 ruling by the Supreme Court of Canada that the actions of Canadian federal officials who participated in the US interrogations of Khadr had offended "the most basic Canadian standards about the treatment of detained youth suspects."
Justin Trudeau, Canada's affable prime minister, defended the government's move. "The Charter of Rights and Freedoms protects all Canadians, every one of us, even when it is uncomfortable," he said at the end of the G20 Summit in Germany. "This is not about the detail of the merits of the Khadr case. When the government violates any Canadian's charter rights, we all end up paying for it."
Khadr was captured in Afghanistan in 2002, following a shootout with American troops where he was severely wounded. Only 15 at that time, he was accused of throwing a grenade that killed a US soldier and was sent to Guantanamo Bay. Khadr, now 30, spent more than 10 years in US and Canadian custody, much of that time at Guantanamo Bay. After accepting a plea bargain, he was transferred to Canada in 2012.
Dennis Edney, his high-profile defence lawyer said that his client was subjected to sleep deprivation, solitary confinement and extreme physical pain and humiliation at Guantanamo. He was coerced into fighting by his father, an al-Qaeda operative who was later killed in a gunfight with Pakistani troops in 2003, he said. 
The whole affair is debatable. How much is someone owed for being tortured? How much should Canada pay Khadr for his sufferings as a guest of Uncle Sam—given that Canada had little more than a walk-on role in the episode? On the other hand, how responsible was he for where he was and what he did given that the adults in his family had placed him in that situation?
Go ahead and debate.
Is USD 10 million too much? To some, it is. Then again, if the government hadn't settled the case, maybe a judge would have awarded even more. Judges in this country can make decisions independent of which way the wind is blowing. 
And then there are the things that are not up for debate. A legal justice system operating under the rule of law does not torture people—innocent or guilty. It does not extract confessions with torture or threats. It provides for special protection to children. Under no circumstances does it deny habeas corpus. All of these things are part of Canadian law, not to mention international treaties and the customary international law that Canada and its allies subscribe to. At Guantanamo, Uncle Sam violated all of these.
Why then must the Canadian government pay? What did it not do? Well, a number of things. Beginning in 2002, it could have demanded that one of its citizens, a child soldier, be given humane and legal treatment under international law. It could have asserted that it did not accept the conditions of detention or the illegitimate court process—after all, the US courts themselves repeatedly ordered the US government to make changes to the trial system at Guantanamo.
What did the government do instead? In 2003 and 2004, agents from the Canadian Security Intelligence Service and the Department of Foreign Affairs went to Guantanamo—not to help Khadr, but to cooperate with his jailers.
The apology and the settlement is thus aimed at righting a terrible wrong. "A state is known by the rights it maintains," said British political theorist Harold Lasky. By protecting the rights of its citizens including those who fought against it, Canada is setting a high moral standard for the rest of the world to follow.
And its ideals extend well beyond its borders. It has opened up to those fleeing wars in the Middle East and Africa. It is a happy contrast to what is happening in other affluent countries, where xenophobia helped bring about Britain's vote for Brexit, Donald Trump's election in the US and the rise of populist parties across Europe.
Canada is at ease with her openness. It is reassuring to see newly-arrived elderly men from Syria or Somalia hang out in local cafes. They love their newfound home for it has given them dignity.
"The world needs more Canada," says Bono, the activist and lead singer of U2.
---
Amitava Kar is a member of the editorial team at The Daily Star, and is currently travelling in Canada.   
---
Follow

The Daily Star Opinion

on Facebook for the latest opinions, commentaries and analyses by experts and professionals.
To contribute your article or letter to The Daily Star Opinion, see our

guidelines for submission

.
---