The proposed budget and its impact on vulnerable groups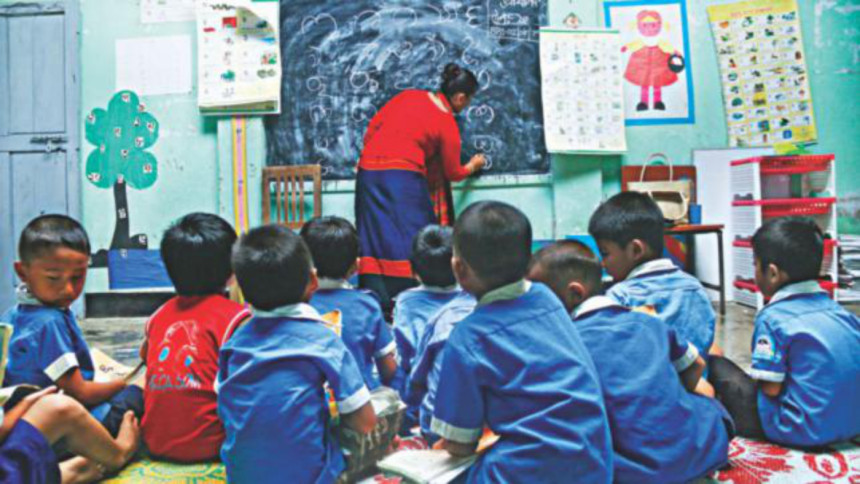 In the proposed budget for fiscal year 2019-20, the government plans to spend Tk 74,367 crore, or 14.21 percent of the total expenditure, for social safety net programmes (SSNPs). This signifies a 15 percent jump from the FY2018-19 allocation of Tk 64,656 crore and a 13.92 percent share of total expenditure.
However, if we consider the revised FY2018-19 budget, SSNPs' share was 14.55 percent of the actual expenditure. If we take it at its face value, the new budget's SSNP target looks good, albeit there are three considerations that give us reason to pause and think.
First of all, in its 2018 election manifesto, the ruling party pledged to the electorate that it would ensure the following: (i) women's empowerment, gender parity and child welfare; (ii) nutritious and safe food; (iii) poverty elimination; (iv) quality healthcare for all; (v) welfare of the elderly, disabled and autistic people; and (vi) sustainable and inclusive development.
The overall impact of the budget will be to enhance disparity in the country. Around 20 lakh people are being added to the job market on a regular basis and there should have been directions and plans in the budget to ensure employment generation for them.
Let's now parse the proposed budget as a measure of the government's seriousness to reach these six goals.
To his credit, the finance minister alluded to the manifesto in his budget speech. Referring to SSNPs, he said, "As per our election manifesto of 2018, budget allocation in this sector will be doubled in the next five years." The PM echoed this sentiment in a post-budget press conference on June 14 where she termed the proposed budget "a budget for social welfare and wellbeing for all."
So far so good! However, it would be difficult to meet all these new targets with an allocation of 14.21 percent of expenditure, or only 2.58 percent of GDP in FY2019-20. It is commendable though that the finance minister has promised that the budget allocation in this sector will be doubled in the next five years.
Secondly, the implementation and execution of the government's SSNP projects leave much to be desired. According to the Planning Commission, the government has over 130 SSNP line items, but 33 percent of the funds go towards "pension for retired government employees and their families." An earlier study of the World Bank on the effectiveness of SSNPs states: "Data suggests that a large proportion of poor and vulnerable households do not have any access to these programs." Other sample surveys indicate that the average benefits of SSNPs are low and declining in real terms.
On the bright side, the finance minister mentioned other actions taken by the government to buttress the support system for vulnerable groups. "The government has declared to reduce poverty to 12.30 percent and the extreme poverty rate to 4.50 percent by 2023-24," he said. He reiterated the government's desire to sustain the Sustainable Development Goals (SDGs) programme, and to prioritise "SDG targets, such as reducing the rate of poverty below 10 percent and extreme poverty below three percent by 2030." Unfortunately, while SDGs are mentioned in the budget in a few places, it is not clear whether this reference was merely perfunctory or more details would follow later.
Thirdly, many in civil society question the effectiveness, selection process and criteria, and overall impact of SSNP projects, and point to the misuse of funds allocated for the programmes. An earlier study by the World Bank indicates that while the government is distributing more than half of the SSNP resources in the form of cash allowances, public works, and education and health incentives for poor and vulnerable households, which aim to contribute to the fight against poverty and to improve human capital, the effectiveness has been spotty. Some of the reasons are bureaucratic malfeasance, "abuse of power, malpractices, and political bias of locally elected representatives," according to one study. "The selection process could be greatly improved through closer involvement of civil society—particularly the older people themselves—in program implementation. Most of the program's weaknesses, including selection bias, can be overcome if the program is scaled up to a universal one. Estimates suggest that such an upgrading with a reasonably benefit size is possible—given the political will," it adds.
The finance minister ought to be congratulated for his attention to the plight of 10 percent of our population who have some sort of disability. "Considering this fact, I am proposing a five percent rebate on the total tax of a taxpayer if at least 10 percent of the total workforce employed by the taxpayer are physically challenged people," he said in his speech.
Turning to the reduction of inequality of income and wealth in the country, which has recently seen a significant uptick, the government needs to redouble its efforts to refocus its policy areas that can reduce the disparity between the rich and the poor. The government can address inequality by using the fiscal policy tools at its disposal, viz. progressive taxation and expenditures on health, education, and social protection. The budgeting process could have provided a roadmap for our national priorities but one can't be certain that our elected representatives are in the mood to engage in an open debate and challenge the status quo. As in other open democracies, the budget session needs to be utilised as an opportunity to "review our priorities, refocus our energies and reinforce our strengths."
The shortcomings of the budget can also be seen in its meagre allocation to health and education, as well as it paying lip service to accountability. For the fiscal year 2019-20, the finance minister proposed an allocation of Tk 25,733 crore for health and family welfare. "Increased domestic spending is essential for achieving universal health coverage and the health-related Sustainable Development Goals," said Dr Tedros Adhanom Ghebreyesus, WHO Director-General. "But health spending is not a cost, it's an investment in poverty reduction, jobs, productivity, inclusive economic growth, and healthier, safer, fairer societies." According to Dr Hossain Zillur Rahman of PPRC, "Bangladesh ought to allocate six percent of its GDP for education and three percent of its GDP for health. This means that these shares deserve to be doubled." This year's current budget allocation for both is way below the global trajectory in these sectors in low- and middle-income countries.
The overall impact of the budget will be to enhance disparity in the country. Around 20 lakh people are being added to the job market on a regular basis and there should have been directions and plans in the budget to ensure employment generation for them. Default loans in the banking sector stood at Tk 110,874 crore as of March, up from Tk 93,911 crore three months earlier. Ironically, the budget's provision to allow black money to be invested with a minimal tax will aid the defaulters. According to former Finance Minister AMA Muhith, less than a third of government revenue comes from direct taxes, which is less regressive than indirect taxes such as VAT. But it has to be raised to 15 percent, he said, suggesting the government increase the contribution of income tax to the total revenue. Currently, income tax accounts for only 30 to 35 percent of the total revenue earned, and Muhith recommended that "it could easily be raised to 50 percent as there are a lot of wealthy people in Bangladesh."
---
Dr Abdullah Shibli is an economist. He works in information technology and is Senior Research Fellow, International Sustainable Development Institute (ISDI), a think-tank in Boston, USA.
---
Follow The Daily Star Opinion on Facebook for the latest opinions, commentaries and analyses by experts and professionals.
To contribute your article or letter to The Daily Star Opinion, see our guidelines for submission.
---