The need to improve our worker's compensation system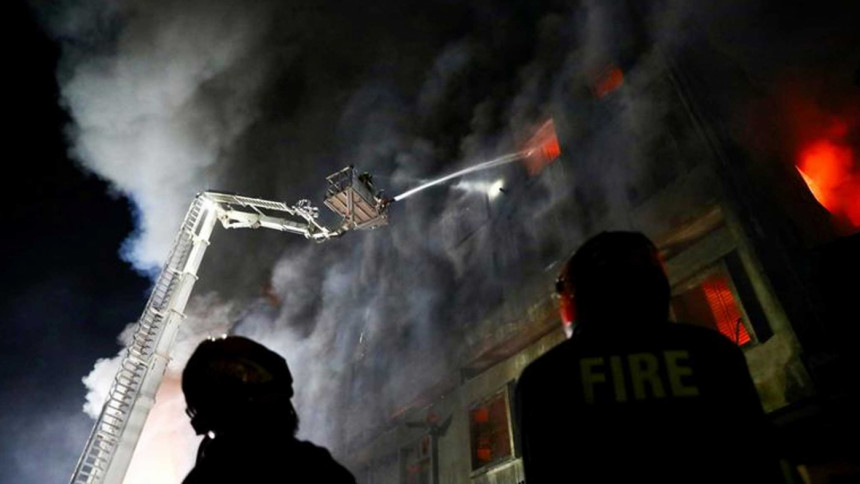 My fellow columnist, Shuprova Tasneem, was recently lamenting the lack of fair wages and workplace safety in Bangladesh. In an op-ed in The Daily Star, she ruefully asked, "Why is the dream for fair wages and work safety still so distant?" (October 20, 2021). It is clear that while we, as journalists, have been crying hoarse over the slow progress in these critical areas of the workplace environment, nobody in the government or administration is apparently paying much attention.
 After I read her essay and went over my own notes, I discovered that since January 2005, when a fire at a garment factory outside Dhaka killed 22 people and injured more than 50, much has been written in the popular media about industrial accidents, low wages, risks of injuries, and a number of other topics of vital interest to our workers.
Another concern that has recently received some press coverage is the need to compensate for deaths and loss of jobs due to the negligence of factory owners and motor vehicle operators. The High Court in September stepped in and issued a rule over the formation of a financial assistance fund, and a board of trustees to compensate road accident victims or their families. The court asked the concerned authorities to show cause within four weeks as to why they ought not to be directed to form the fund and appoint the trustees immediately, as per sections 53 and 54 of the Road Transport Act 2018.
In the past, civil rights activists and transport system experts have urged the government to ensure that victims of road accidents are adequately compensated by insurance companies or negligent parties. By and large, whether it is because of road accidents, poorly built factories, bad management practices, or faulty products, countless helpless people are hurt or killed every day, and all these are preventable to a certain degree.
Occupational safety and health practices are somewhat lax in developing countries. Across the globe, we hear about death and injuries at the workplace. As for Bangladesh, our reputation as a trusted source for garments, plastics products and a myriad of other consumer goods is taking a hit because of various factors that make us vulnerable. According to the Associated Press, Bangladesh "has a tragic history of industrial disasters, including factories catching fire with the workers locked inside. Continuing corruption and lax enforcement have resulted in many deaths over the years."
Economic growth is like a two-edged sword. Bangladesh is making good progress towards achieving middle-income status next decade, but rapid growth brings with it many unanticipated risks, including injuries and death, health damages, and other human costs. Since the Rana Plaza collapse in 2013, world attention has been directed to improving working conditions, and things have changed significantly. However, hardly a month goes by without another incident of mass casualties due to fire, building collapse, serious injuries at work, or other triggers for enhanced mortality and morbidity (i.e., sickness).
The most recent serious industrial accident reported in the national media was the fire at the Hashem Food and Beverage factory in Rupganj on July 8. Fifty-two people were killed and another 50 were injured. In August, another fire, this time at the Singer factory in Savar, not only injured 20 people but also brought about financial losses to other businesses as commercial traffic around the site came to a standstill.
Workers are frequently hurt and maimed, or in the worst-case, die due to negligence of the owners who are driven by the profit motive. However, the tragedy is compounded further when the victims are either not compensated adequately or left to fend for themselves to defray the cost of medical care. Exactly 12 years ago, I brought up these issues in this newspaper and spoke out strongly for a system that would allow workers to be compensated for their losses. In an op-ed titled, "How much is a human life worth?" I argued that human life should be valued in decision-making since the matter is of "enormous importance in the context of environmental and medical policy" (The Daily Star, October 24, 2009).
Many factors account for the prevalence of occupational hazards, including lack of a strict regulatory framework, poor enforcement, shortage of inspectors, and absence of oversight. During his recent visit to Boston, where I met him, the President of the Federation of Bangladesh Chambers of Commerce and Industries (FBCCI) pointed out that garment factories often work with low profit margins that do not allow for the owners to comply with all the rules and regulations in the books.
Another matter that demands urgent attention is the frequent delays in providing compensation to the victims of accidents. Taqbir Huda, who is a coordinator of Justice For All Now (JANO, Bangladesh) wrote that the investigation into the Hashem Foods factory fire accident revealed that the deaths were determined to be "murder caused by negligence", but the victims were given a measly Tk 2 lakh for each family. In an article titled, "Three months after the Hashem factory fire, has there been any 'justice'?" Huda strongly condemns the ploy used by the Sajeeb Group, the owner of the factory, to extract a signed declaration from the victims' families that prohibits the latter from suing the former in a criminal case (The Daily Star, October 8, 2021).
While I am writing about compensation and the value of human life, I would like to raise the awareness of the readers by showcasing the Boeing case. A total of 346 people lost their lives in two air disasters due to Boeing Company's negligence in manufacturing and training for its 737 MAX aircraft. A Lion Air 737 jet crashed off the coast of Indonesia on October 28, 2018. Another 737 belonging to Ethiopian Airlines crashed shortly after take-off from Addis Ababa on March 19, 2019.
In both instances, the US government and the investigative arms of the respective airlines pinned the blame on Boeing and its faulty flight-control system known as MCAS. In terms of offering compensation to the victims of the two air disasters, Boeing has accepted responsibility and had been in talks for almost three years with all parties, particularly the victims' families, over the amount of money. An interesting aspect of this case is that Boeing is facing additional lawsuits for the Ethiopian case since lawyers contend that the aircraft manufacturer knew right after the Lion Air 2018 crash that the malfunctioning MCAS system was the cause of the crash. The company is not only facing charges for the lax oversight of the design, production, and certification of the MAX, but also its failure to ground the aircraft after the first crash.
Boeing originally offered to pay USD 100 million to the victims' families which works out to be less than USD 300,000 per victim. That would have been the end of the story if not for the efforts of families of victims with US citizenship who raised a hue and cry over this sum. Boeing's hands were forced and while the amount of compensation paid to each individual victim is not known, in each case it is over USD 1.45 million. In addition, none of the families waived their right to further sue the Boeing Company.
Dr Abdullah Shibli is an economist and a consultant in information technology. He is also Senior Research Fellow, International Sustainable Development Institute (ISDI), a think-tank in Boston, USA.