Opinion: How is Hasina's Hilsa diplomacy working?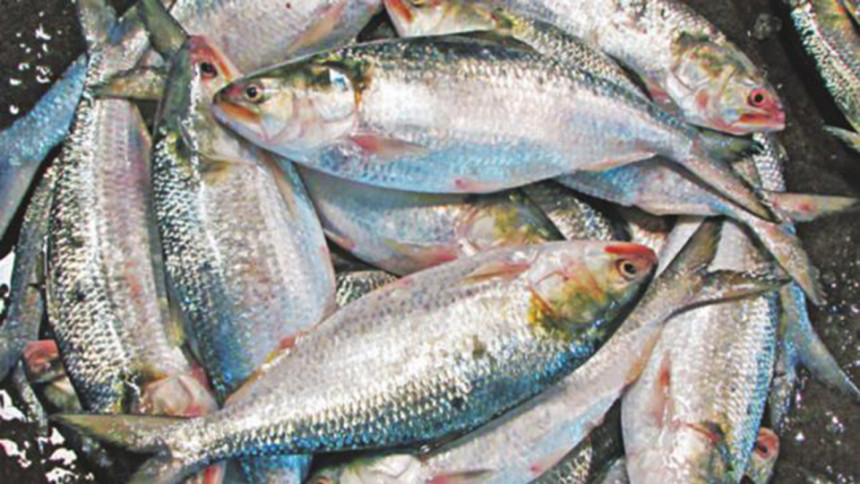 It was none, but Sheikh Hasina who introduced this diplomacy twenty years ago known as Hilsa diplomacy.
How much did she achieve through it during her visit to India that just concluded? 
When she was prime minister in her first term in 1996, she had sent Hilsa to the then West Bengal chief minister Jyoti Basu before the landmark Ganges water-sharing treaty was signed between Bangladesh and India.
Read: Teesta has no water to share
Hasina's gift of Hilsa to Jyoti Basu in 1996 was only the beginning in what has since been referred to as Hilsa diplomacy as described by Indian Express in a recent article. 
Over the years, Hasina continued the new form of diplomacy. In 2010, she brought with her Hilsa, along with other gifts for Mamata Banerjee, the Railways Minister of India's Union government at the time.
In 2013, when Indian President Pranab Mukherjee visited Dhaka, Hasina had famously laid out a five-course meal of fish, including, of course, the Hilsa.
Then again, she sent 20kg of Hilsa to Mamata ahead of her oath-taking ceremony in 2016.
During her just concluded visit to India, Hasina took her Hilsa diplomacy to a new level. She took with her 20kg Hilsa and other gifts for President Pranab, who was expected to break the stalemate over Teesta issue.
On the second day of her visit, she took the helm of the kitchen at the Rashtrapati Bhaban and cooked 'steamed Hilsa' a delicacy among the Bangali cuisines for the Indian president for dinner.
This time, according to media report, Hasina did not give Hilsa to Mamata, who travelled to Delhi from Kolkata during Hasina's visit. She took with her a Benarasi sari, 2kg rosgolla and kalojam, 1kg sandesh and 2kg yogurt for Mamata.
Is there any significance for not giving Hilsa to Mamata? In 2015, when Mamata visited to Dhaka, Hasina in a lighter vein told Mamata that Hilsa will flow into West Bengal once Teesta river water starts to flow into Bangladesh adequately.
Hasina was certain before going to Delhi that Teesta water sharing treaty would not be signed as Mamata did not give consent to Modi government to this regard.
At a meeting with Mamata, PM Hasina also tried to convince her not to oppose Teesta treaty. But an adamant Mamata did not agree with Hasina. Rather she made a counter offer to Teesta treaty. 
Not only Bangladesh, central government of India and media are also unhappy at Mamata's stance on Teesta issue. 
Mamata however did not forget about the taste of Hilsa. She missed Saturday's special dinner at Rashtrapati Bhaban where Hasina cooked steamed Hilsa. On Monday, Mamata told Hasina that when she comes to Dhaka, she will eat Hilsa and rice to her heat's fill.
Teesta water sharing treaty could not be signed due to Mamata's opposition in 2011 when the then Indian PM Manmohon Singh was ready to make a major announcement on it during his Dhaka visit.
The Modi government could make much progress in last three years to this regard. When Narendra Modi visited Dhaka in 2015, he assured of resolving Teesta issue. This time, during Hasina's visit to Delhi, Modi made the same assurance.
Modi however indicated that the treaty will be singed during the tenure of Hasina and his government. Tenure of their government will end in 2018. Does it mean Teesta treaty will be signed in any time in next year? Will Mamata change her mind ahead of the local election is West Bengal in 2018 and parliamentary election in 2019? Or will Modi ignore Mamata's objection to the treaty and make his government sign it? Many such questions were raised, but remain unanswered. 
Prior to wrapping up her visit on Monday, Hasina also focused on the Teesta treaty. She made it clear that resolution of the long-pending Teesta water sharing issue will transform bilateral ties with India.
If the treaty is inked soon as per Modi's assurance, Hasina's diplomacy will get a big boost. Her Hilsa diplomacy will be considered with importance along with other types of diplomacy like-- Ping-pong diplomacy between USA and China and Cricket diplomacy between India and Pakistan.