We must not stop talking about Tonu's murder
How long will the culture of fear come in the way of justice?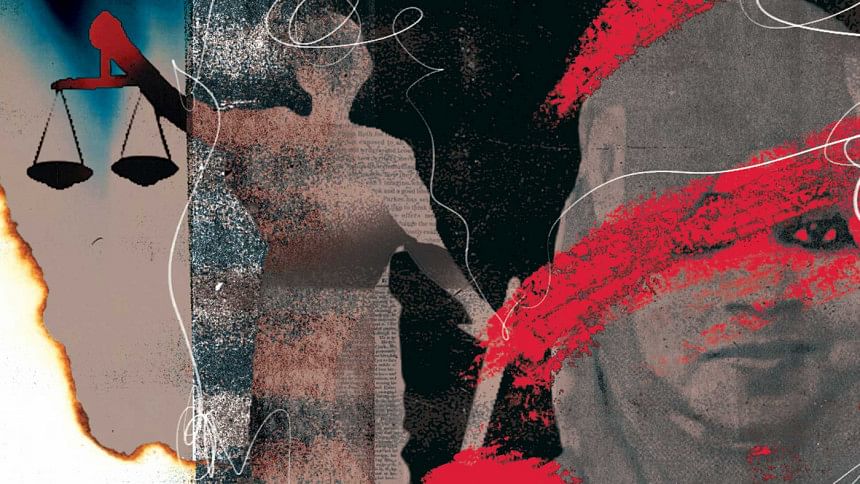 As ritualistic as it may be, we must keep talking about the murder of Sohagi Jahan Tonu, even though there is nothing new to say—or precisely because of that. We must talk about it because her murder is one in the long list of unsolved killings that have occurred over the last decade or so. It is this "unsolved" aspect that has become such a crucial part of our reality as we try our best to stay alive by seeing no evil, saying no evil and hearing no evil.
In six years, the story of Tonu's ghastly death has remained the same, eliciting the same conclusion. A 19-year-old studying history at Cumilla Victoria College, a theatre activist, interested in poetry and music, who tutored students to help out with her family's expenses suddenly gets her life cut short by unknown individuals who attack her inside the Cumilla cantonment, beat her up, rape her and kill her. Her father finds her lifeless body behind a bush and files a murder case. An autopsy is carried out that establishes nothing despite all the signs of severe injury. Protests break out all over the country, demanding the killers be brought to book. A second autopsy is conducted, which turns out inconclusive. Finally, a DNA analysis reveals that three men had raped Tonu before killing her. You would think that such compelling evidence would lead to the arrest of the individuals whose DNA matched the samples and their subsequent conviction. Under the Women and Children Repression Prevention Act 2000 (under which this case would be applicable) murder after rape may award a death sentence to the accused. But this time, although the police have the DNA of the murderers, they continue to remain traceless. The police have said that they did not find any matches for the DNA samples. No individuals have been accused and, after six years of investigating, the police have come up with nothing.
Shocking, right? Not really. Alongside our outstanding successes in development and economic growth, we have also excelled in firmly establishing a culture of impunity of certain sections of society linked to power. It is not easy to say whether wealth comes before power or the other way around. It is a circular system that allows individuals to get away with any crime under the sun and make sure that uncomfortable questions are either not asked or are silenced.
The Taqi murder case and the Sagor-Runi killings exemplify this better than any others. Tanwir Muhammad Taqi was a 17-year-old A level student who went missing on March 6, 2013 on his way to the library from home. Two days later, his body was found in the Shitalakkhya River. A day earlier, his A level results revealed he had the highest score in Physics—297 out of 300. There is always heart-breaking irony to these stories.
But unlike Tonu's case, where no one could be accused and no clear motive could be established, Taqi's father, Rafiur Rabbi, a well-known cultural activist in Narayanganj, was quite sure who his son's murderers were. He filed a case at the police station accusing seven men, including a prominent MP, by name and around 10 other unnamed persons. A year after, a draft of the investigation was leaked and it revealed that the investigating officers found evidence that the nephew of a powerful MP of the district and 10 of his associates were involved in the murder.
According to the investigating report by Rab, Taqi had been targeted because of a personal vendetta against his father. Rafiur says that although the investigation was completed in a year, the Rab officials have not submitted the probe report to the court till date, and this March marked Taqi's eighth death anniversary.
In 2013, law enforcers arrested a few individuals in connection with the murder. Two of them confessed that the MP's nephew had indeed led the killing, only to retract their statements later. It does not take much deduction to guess why they backtracked and why they were set free on bail. Again, it is the fear of the powerful and mighty that comes in the way of justice for an innocent teenager. This fear is so great that even law enforcers who have found incriminating evidence cannot submit their charge sheet. To make sure that this fear is kept intact, local media have been gagged while others have been attacked by goons.
The culture of impunity can only thrive in the culture of fear. Which is why in the famous Sagor-Runi case the shroud of mystery weighs heavier than ever. Instead of justice being served, members of the victims' families have been harassed and intimidated in a bid to make them give up seeking justice. The investigating officer in the case has failed to submit the probe report in court 85 times. Mahir Sarowar Megh, the couple's only son who was just five-years-old and present in the apartment when his parents were so brutally slaughtered, is now 15 and continues to wait for some kind of closure for the indescribable loss and trauma he has endured. The same goes for Taqi's inconsolable mother and his father, who has led countless demonstrations to demand justice.
Then there is Tonu's father whose health has severely deteriorated after her death, her distraught mother, her other loved ones—when will they have closure?
As a nation born out of democratic values, can we not ask how long justice for these innocent souls will continue to be gobbled up by those connected to power?
Aasha Mehreen Amin is senior deputy editor at The Daily Star.