Our children will be our saviours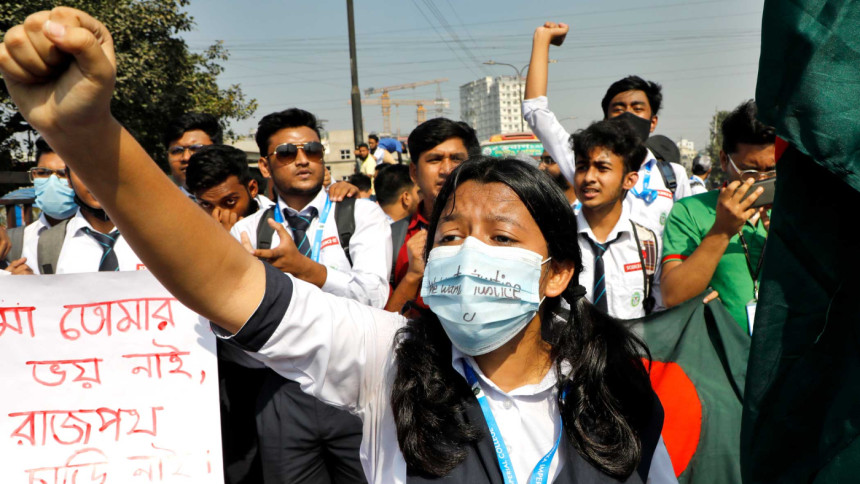 Is it really 2022? How did 2021 go so fast? Was it because we had such high expectations and ended up facing one daunting catastrophe after another, that we didn't realise that the days had turned into weeks, weeks into months, and months into a whole year?
It was supposed to have been the year of salvation—the year when we would finally be able to at least take our masks off and breathe. Instead, it became another battle: another, more vicious strain of coronavirus called Delta ravaged our nations, killing and debilitating humans even more ruthlessly than its cousins, destroying families. Then, just as we were starting to believe the pandemic was on its way out, Omicron made its way in to give us a rude reminder that it was far from over.
It has been the year of "realisation": that we must live with Covid—for how long, no one knows. Scientists fear that newer variants of the virus may crop up from time to time, and the one way to combat them is to update the vaccine formulae and keep inoculation rates high.
But since we are starting the New Year, let's try to see the silver linings among the constant barrage of tragedy and chaos. Unsurprisingly, it has been the young people who have provided the balm to our wounded psyche. Nothing could be more exhilarating than the Bangladesh U-19 women's football team clinching the 2021 SAFF U-19 Women's Championship after defeating India 1-0. The euphoria of the girls was so contagious that it was hard not to get teared up with pride and wonder. How heart-warming was it to see the feisty Mogini twins—Ana Mogini and Anuching Mogini—play, with Ana scoring the winning goal? It proved again how girls from the remotest, most impoverished and neglected communities could be trained to become the most formidable athletes. This, and the happy event of the Bangladesh national women's cricket team qualifying for the Women's ODI World Cup for the first time, are signs of where we should be turning our attention to: sports facilities and support for our girls and women—something that has been grossly neglected for decades.
While we are talking about getting awards for excellent performances, let's not forget the 16-member team of girls and boys who won four gold, two silver and five bronze medals in the 23rd International Robot Olympiad. It proves the point about giving young people the right opportunities at the right time to bring in outstanding results.
Last year has also shown us just how passionate our young people are about protesting against injustice. The death of Nayeem Hasan, a Notre Dame College student who was hit by a Dhaka South City Corporation garbage truck, reignited protests by hundreds of school students demanding road safety, compensation for victims, and proper monitoring of vehicle fitness. It showed that, despite the heavy-handedness and intimidation they had faced in the first road safety movement in 2018 (also sparked by the deaths of two students hit by a killer bus), these young people refused to cow down from stopping vehicles to check for valid papers, and demanding something as basic as roads that are safe from reckless drivers, who think nothing of bulldozing a human life and speeding away.
All over the world, young people are joining the movement for change—whether it is Greta Thunberg from Sweden continuing to chastise governments for their ineptitude and insincerity in combatting climate change, or Malala from Pakistan who took a shot to the head for championing girls education banned by the Taliban, or those thousands of young men and women pouring into the streets to protest police brutality and gross racial discrimination against Blacks or People of Colour, or the students of Dhaka University protesting the torture and killing of a fellow student by a sadistic husband. The young are tired of the impotency of greying leaders who talk incessantly and continue to fail in leading, protecting or nurturing them and their planet. Their outrage is contagious and has connected millions of their comrades across the globe, and now collectively they are a force to be reckoned with.
In the Orwellian systems that seem to be spreading all over the world—where the innocent continues to be denied justice, silenced for even asking for it; where the slightest dissent may be ferociously muzzled and where the tentacles of corruption reach far and wide—it is the young people who have the temerity to throw their fists into the air in protest or victory. It is their courage, resilience, solidarity, the clear perception of what is right and wrong, the ability to be creative in the direst circumstances, and the innovative spirit that emerges during each crisis as well as each technological revolution—it is all this that we must embrace, encourage and support with sincerity and love. The year 2021 has given us ample evidence that pandemics, climate change and greed for power will continue to threaten our very existence. As we stumble into 2022, let's have faith that our young will find ways to reverse this doomsday trajectory, and come up with the antidote for a toxic, dystopian future.
Aasha Mehreen Amin is senior deputy editor and the head of the editorial team at The Daily Star.