What to do about Ramadan prices?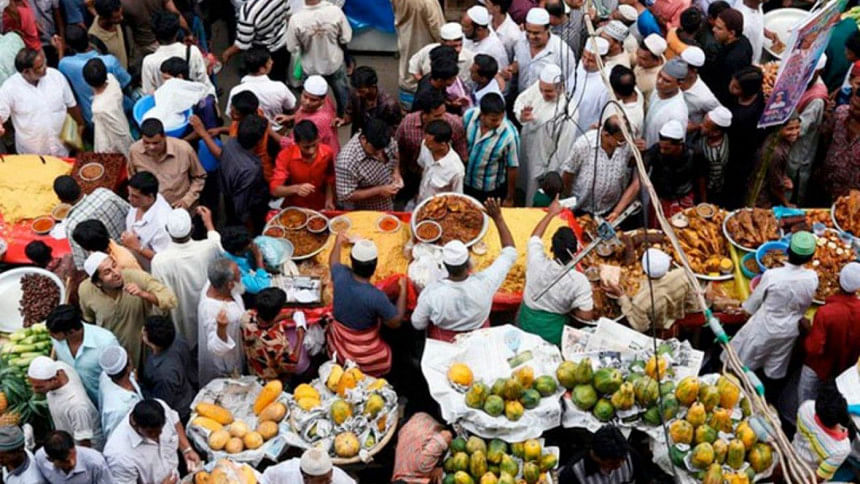 Every year we are promised by the relevant ministry that prices of essentials will be kept within reach during the holy month of Ramadan. Since, that promise is hardly ever kept people have stopped expecting anything in this regard. The ministry of commerce had a meeting of traders, law enforcement and officials from the various government agencies and departments along with importers and traders on April 1 to better gauge what stocks should be kept and how prices may be kept within acceptable limits. Some of the suggestions that came out of that meeting are doable, whilst others are more long term in nature.
Traders have stated that the cost of transport has nearly doubled over the last three months due to weight limit set on trucks. The argument is that before the ban, trucks could carry 20 tonnes of goods per truck, but now the RHD division has set a limit of 22 tons (including the weight of the vehicle) and that means trucks can carry at best 9 tonnes. While that argument may suffice for traders, they fail to point out that over-laden trucks suffered far more breakdowns and were involved in more accidents on highways which precipitated the move in the first place. The argument to lift the weight restriction at the cost of public safety is something the government will have to mull on in the run up to the holy month. What we do not hear much about is any measure by authorities to stop transport owners from overcharging traders on goods shipped by truckers (e.g. from Dinajpur to Dhaka) which has, according to traders, shot up to Tk 22,000-Tk 25,000 from Tk 15,000 over the span of the last quarter. That is an increase in cost of anywhere from 47 percent to 67 percent.
It would be interesting to know precisely what the relevant authorities are planning to do about addressing other bottlenecks in the supply chain that add to cost of goods. There is the unfortunate case of the Chittagong port that has become synonymous with delayed shipment and discharge. One would have to agree with traders that most commodity movers end up paying extra since ships cannot dock and offload their goods on time. The problems associated with the port are longstanding ones and there is little chance of things improving at that end unless policy directives are given to prioritise offloading for ships carrying essentials. Since, Ramadan is more than a month away and the time for inbound vessels carrying edibles will be known in advance to authorities, there is room to accommodate the docking and fast discharge of some of the bigger shipments of rice, rice flour, sugar, edible oil, lentils, onions, etc.
While we are informed that the government wishes to keep a "friendly" relationship with traders and control prices, we've seen that this policy hardly brings any boon at retail level. Whenever retailers are confronted by media about spiralling prices, they point the finger at wholesalers. Wholesalers for their part had their say about millers in the meeting at the ministry of commerce and that was that mills make them wait a full three days at the mill gates even after the settlement of full payment before they receive their goods.
So, what we see here are systemic problems at every stage of the supply chain. There is no point harping about "good brotherly relations" in the holy month because there will always be a syndicate comprising of powerful business entities who do create artificial crisis in the market despite ample supply of goods in the market. And this behaviour stems from the fact that there is no concerted effort and coordination among government agencies to either speed up the process of delivery or to enforce existing anti-hoarding laws to make hoarders face the music.
All this of course is not unknown to consumers and increasingly the middle to upper middle class urban consumers, who are largely internet-savvy, are taking their shopping bags elsewhere. E-commerce traders have stepped in to deliver edibles over the internet and they deliver to the home for a small service fee. All the major super-shops and dedicated online grocery shops have popped up over the last few years and their business is booming. One can literally order everything with a few clicks of the mouse and have the goods delivered to their doorstep. No more being stuck in the horrendous traffic to go to overcrowded bazaars. No more jostling with hundreds of other people to pick up the consumables that will go to make the favourite onion piajus and eggplant begunis.
However, the above scenario does not apply to the vast majority of the populace. The holding of the meeting at the commerce ministry this year followed the usual pattern of promises about keeping prices stable on the premise that there are enough supplies. What the public would prefer to see are steps taken in terms of holding dishonest business houses accountable which form syndicates every year to fleece customers during Ramadan time. That means strict price monitoring by the State of markets at all levels of the supply chain from importers, producers, wholesalers right down to retail level. It means a follow up of directives by the ministry and departments so that those involved in spiking up the price, at whatever stage, are penalised. Without these measures, there is zero possibility of a Ramadan that does not involve daily extortion of consumers on the question of price spiral of basic commodities.
---
Syed Mansur Hashim is Assistant Editor, The Daily Star.
---
Follow

The Daily Star Opinion

on Facebook for the latest opinions, commentaries and analyses by experts and professionals.
To contribute your article or letter to The Daily Star Opinion, see our

guidelines for submission

.
---