The rise of OBOR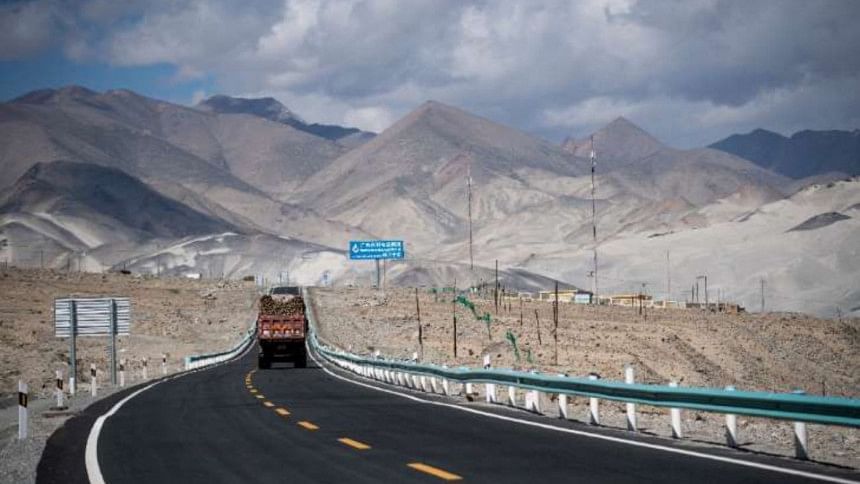 Bangladesh has formally joined the China-led One Belt One Road (OBOR) initiative by publicly voicing support for OBOR a day after the Trump administration joined India in its opposition to OBOR. Foreign Secretary Shahidul Haque explained at the World Economic Forum (WEF) meeting in Delhi on October 5 that this has everything to do with regional economic integration. Needless to say, much thought must have gone into getting on to OBOR especially in light of the fact that India boycotted the OBOR forum in May this year but which was attended by our representatives. 
The forum meeting was attended by 29 heads of state and government and representatives from 130 countries and 70 international organisations and India's absence was felt loud and clear. The decision to go with the OBOR initiative is a natural choice for the country. Chinese President Xi Jingping's visit to Dhaka last year ushered in USD 24.45 billion in firm investments—the largest ever investment by one country in our history. 
Despite criticism from both home and abroad, the government's decision should be lauded as a pragmatic step in becoming part of something that surpasses the Marshall Plan which the US launched for the reconstruction of a devastated Europe after World War II. When we look at OBOR, it reminds us of other great powers and their ascendance to economic supremacy in the global order. Today, China is essentially following the examples set by UK and later, the US, in their global expansion through acquiring other foreign territories to essentially sell goods that could not be consumed in their respective domestic markets. These were early examples of economic expansion. As we move to the 21st century, the model has changed and the one offered by China today is much bigger than the world has ever seen. The success of OBOR in garnering so much support across continents is perceived by the US as a direct threat to its dominance in the world economic order. 
When we look at economic might, China has indeed overtaken the US as the world's leading manufacturer. As per 2014 World Bank data, China surpassed the US as the largest economy (measured by purchasing power parity). Undoubtedly, for Washington, such pressures must be telling as it tries to grapple with the rise of both China's economic might and the banking institution it has founded—the Asian Infrastructure Investment Bank (AIIB)—to bankroll initiatives like OBOR that is valued at anywhere between USD 4 to 8 trillion. The Marshall Plan (in 2016 dollar value) is estimated to have amounted to around USD 130 billion. 
The US has tried and failed to stop many of its strongest allies from joining AIIB. Today, it is fighting a less than successful battle against OBOR, which is already being rolled out in various parts of the world. The basic reality is that many countries like Bangladesh need billions of dollars in infrastructural investment and OBOR has the potential to make a major contribution here. Again, many countries in Asia and Africa like to do business with AIIB because it does not come with extra strings attached like "good governance", "transparency and accountability" and promoting "democratic" values—values essentially reflecting Western ideals that may not always find a ready audience in other parts of the world.
Precisely what the US can do to stop countries from the South Asian region (which have valid reasons to join) from joining is of course unclear. It had little success in stopping major European allies from joining AIIB a year ago because the signs are quite clear that much of the economic growth in the next decades will come from the Asian region. To become part of that reality, Asian economies like Bangladesh will have to invest significantly in developing its infrastructure. Indeed, according to a World Bank report titled "Reducing Poverty by Closing South Asia's Infrastructure Gap", Bangladesh will have to invest to the tune of USD 7 to 10 billion a year until 2020 to upgrade its infrastructure, which includes power, water, and road connectivity to cater to its expanding population. 
These facts were surely taken into consideration by our policymakers when Bangladesh got on to the OBOR bandwagon. And although it puts Bangladesh into somewhat of an awkward position with its large neighbour India that is opposed to the OBOR initiative, our policy has always been based on "friendship towards all and malice towards none." Bilateral relations between Bangladesh and India have never been so good and regional economic integration with India and beyond is making good progress in a number of ways (e.g. Bangladesh-India-Nepal initiative) that allow for agreements on connectivity of power, transport and infrastructure among other things. OBOR is an opportunity of a lifetime and Bangladesh has taken it because we simply cannot allow ourselves to be left behind.
---
Syed Mansur Hashim is Assistant Editor, The Daily Star.
---
Follow

The Daily Star Opinion

on Facebook for the latest opinions, commentaries and analyses by experts and professionals.
To contribute your article or letter to The Daily Star Opinion, see our

guidelines for submission

.
---