Trump is Not Down Yet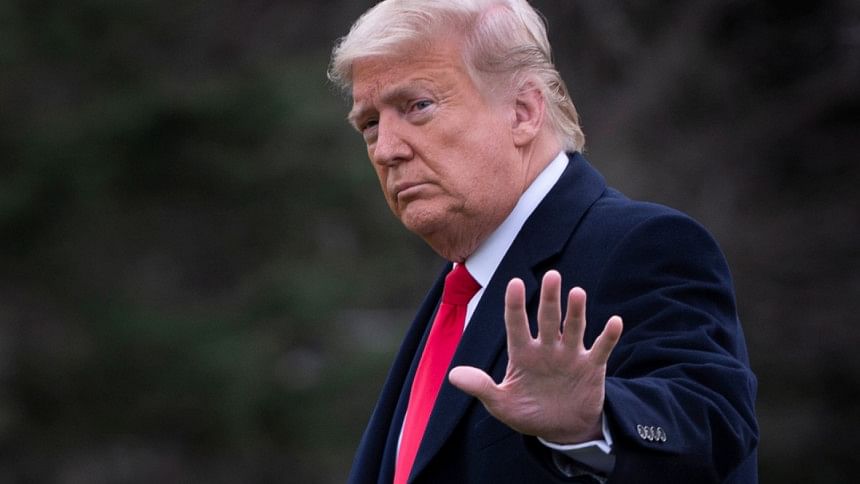 In an article in The Atlantic, dated March 13, 2020, well before most Americans understood that we were facing an unprecedented crisis, the author Peter Wehner declared the Trump presidency as being "over"—that Americans finally see the truth. Sure, some Americans do, but almost just as many refuse to, stubbornly clinging to the belief that our president and leadership will protect and save us. These bombastic, dangerously near-sighted articles could lead to the same smug complacency among establishment liberals that wrested the election away from Hilary Clinton and handed Trump the White House. The fact is, fear and wilful denial as a result of this fear are blinding Americans to the real existential threat Trump's mishandling of this pandemic has led us to.  
As of now, his approval rating, according to a Reuters/Ipsos poll is still at 42 percent. A dip from the previous week's 48 percent. Those numbers give me no comfort. Think about this, almost half of Americans thinks he's handling this pandemic swimmingly according to a recent CNN poll that puts him closer to 45 percent. Even as his dull eyed and soulless son-in-law, Jared Kushner, who has been put in charge of the medical supply chain, implies that the stockpile of much needed resources belongs to the federal government and not States; even as Trump lies and blows up at journalists who question the veracity of his claims in his rambling, circus of daily Covid press briefings, even as he, the Commander in Chief, absolves himself of all responsibility despite having information six weeks prior that indicated all the models we are seeing now for how the virus would devastate the population; even as he pushes a drug, hydroxychloroquine, used to treat malaria, lupus and rheumatoid arthritis, which has no proven benefits for Covid patients and in which he has a personal financial interest, Americans still believe in him. Those stricken with the potentially fatal disease, lupus, are finding it hard to get their medication as a result of these erroneous statements made by Trump. 
His base relies on the state media mouthpiece Fox News to give them the latest "scientific facts" about the virus, even if it leads to the deaths of loved ones. The main goal of FOX is to push a right wing, fascist agenda and they will use Covid to do that. Fear, and playing to Trump's base's inherent bigotry and religious fervour is the way they do that. And, it is proving efficacious. One would think that since the body count due to this terrible virus is rising every day, 18,000 deaths in the US so far, his approval ratings would dip past the halfway mark rapidly, as they would in most other countries. Yet, they are, even after weeks of demonstrably vindictive, misleading and histrionic handling of the crisis, stubbornly hovering around the 40 percent mark. That tells me that a Biden win is simply not in the bag. That we need to be more vigilant than ever and not be complacent.
I understand that people cling to what their heart tells them are lies when they are deeply frightened. It is a coping mechanism. I expect that from his supporters. But when "liberal pundits", mostly white males of a certain education, race to call time of death on a presidency that survived impeachment hearings, disclosure of vote tampering and foreign meddling, conflicts of interest, accusations of sexual assault, one with a base far more galvanised and unified than the Democrats' when it comes to voting, it drives home the point that we are in grave danger of seeing another 4 years of Donald Trump.  
On April 7, Wisconsin held its Democratic Presidential primary. The Republicans seized on the confusion and fear around the virus to actively discourage in person voting. There was also a poll worker shortage that gave them an advantage. According to The Intelligencer, an overwhelming number of requests forced election officials to discard 10,000 absentee ballots cast in good faith (4/8/2020). I fear this is a harbinger of what will come in November. 40-45 percent approval ratings at this time means Trump still has a heart- beat (though evidence of an actual heart is pending). The GOP has proven they will play as dirty as they need to, and they have the approval of their base. They will use the pandemic to further instil fear and hatred—hate crimes against Asian Americans have seen a steep incline. They will encourage Americans to buy guns and hoard medicine, in the guise of declaring war on Covid when they are really declaring war on civil society. They will distract us so they can gerrymander, steal and suppress votes, and continue to fill state and federal courts with right wing, fascist judges who will dismantle the Constitution and strip us of our rights. The African American community is affected in far greater rates than other communities, with more deaths per capita. The bigoted Christian Right GOP base will take this as a sign that "lesser" humans are succumbing.
If by some miracle Biden does win in November, I fear Trump will refuse to concede. He is a narcissist who treats the nation and its citizens as his playthings and is propped up by self-serving, corrupt officials such as Senator Mitch McConnell of Kentucky. Trump will not care that by November the nation will have barely recovered—if at all—from this virus. He will draw his bruised and bleeding country into a stalemate that will further undermine our national health, and he will have the support of his base almost fully. Because he will tell them that the Dems ran a dirty campaign and that we cannot allow them to steal the White House away. It's Us vs Them he will say. And they will buy it. No amount of dead bodies in mass graves in New York City, that bastion of evil liberalism, will sway them. 
Sharbari Ahmed is a novelist and screenwriter living in the US.