Time to pay just wages to tea workers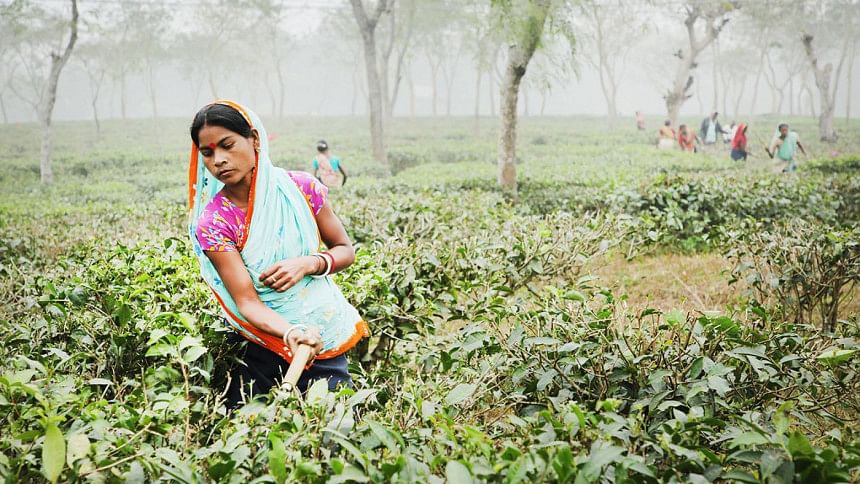 Ratan Shadhu (56), a tea worker from Doloi Tea Garden in Moulvibazar district, earns a daily cash wage of Tk 102 (USD 1.2). This includes contributions to the employee provident fund, religious funds and the membership fee of his trade union. Fringe benefits added to this cash payment include five kilograms of rice or flour (3.5 kg for himself and 2 kg for his wife) that he gets at a subsidised price (for Taka 2 per kg). As a registered worker, he also gets two yearly bonuses of Tk 4,590. Like other workers, he lives in the labour line and pays no rent for the house. He also gets basic medical care for free. Ratan and his has wife have two daughters, aged 17 and 14. The daughters do not get rations, since it is granted to two dependents of a registered worker if they are aged up to 12. 
Cash pay and fringe benefits added, Sadhu's monthly incomes stands at Tk 4,202 (USD 50). This excludes house rent and medical care. The owners meticulously calculate their contribution to provident funds and the cost of other smaller items, such as pati gamcha (cotton towel measuring 60x40 inch) and chupi (handmade hat to protect the head from scorching sun and rain), that are required in picking tea leaves. And thus "a worker's daily wage is Tk 270," asserts a top official of Bangladesh Tea Association (BTA) on condition of anonymity. So according to the owners' association, a worker's monthly income is Tk 8,100 (USD 95), which matches the wage of a seventh grade garments worker.
Rambhajan Kairi, general secretary of Bangladesh Cha Sramik Union (BCSU), does not agree with the owners' calculation. "A worker gets maximum Tk 170," says Kairi. "This is not anywhere close to just wages."
One may wonder why I am raising such details of tea workers' wages during a global pandemic. A minimum wage board was initiated in October last year, reportedly for the third time in independent Bangladesh, to determine the minimum wage of 122,000 tea workers. There is a two tier mechanism to determine the minimum wage of Bangladeshi tea workers. One is negotiation between BCSU representing the workers and BTA representing owners, which results in an agreement every two years; the other is the minimum wage board.
Fixing wages and fringe benefits of tea workers is a long-standing and complex issue. That the tea workers have never been paid full wages in cash is manifested in historical facts. Back in the 1880s and 1890s, a tea worker in Assam (today's Sylhet division was part of Assam then) had an average monthly income of six rupees. With this wage, they could not buy enough rice for a month. The price of a maund of rice back then was two rupees, whereas the workers could only afford to pay one rupee for rice. The planters were then legally obliged "to provide rice at below market prices, when these were high and minimum medical facilities," as written in the book Tea: The Drink that Changed the World.
It was from this time that fringe benefits such as housing, a piece of land for vegetables etc were provided for free or at subsidised prices. Subsidies to buy rice were crucial for tea workers to survive the famine of 1856 that killed 1.5 million people in Orissa and Bihar, and the 1920-21 depression. All these arrangements proved convenient for the owners to keep the workers dependent and tied to the tea gardens. This is how the practice of subsidies and the dependence of tea workers on owners took shape.
What we see today in the tea gardens of Bangladesh is that the cash pay workers receive is part of their actual pay. The rations of rice or flour are highly subsidised—whatever the market prices, the workers pay Tk 2 per kg. The owners monetise medical care, housing, contributions to provident fund, festival bonuses etc. However, they remain silent about sharing five percent of the profits they make with the workers—despite labour laws, they have never paid the gratuity.
Traditionally, tea workers' wages have been fixed through negotiations between BCSU and BTA. In independent Bangladesh, the first minimum wage board for tea workers was set up in 1982, which reportedly fixed wages according to wages decided by BCSU and BTA. The second minimum wage board of 2009 fixed the minimum wage at Tk 48.50 (USD 0.63 then), raising it from Tk 32.5 in 2008. Government mediation and negotiations between BCSU and BTA since 2008 raised the cash pay to Tk 69 from June 2013. From January 2015, this was raised to Tk 85 for A class gardens, Tk 83 for B class gardens and Tk 82 for C class gardens. 
The latest agreement between BCSU and BTA was signed on August 20, 2018 (effective from January 1, 2017) and the minimum wage of daily workers was fixed at Tk 102 for A class gardens, Tk 100 for B class gardens and Tk 99 for C class gardens. In this agreement the owners, for the first time in independent Bangladesh, granted weekly holidays with pay and agreed to pay gratuity according to the labour law, which the workers are yet to receive.
An agreement between BCSU and BTA effective from January 2019 is pending. Both parties have met several times, but no consensus was reached. In the meantime, a minimum wage board was set up in October 2019 for the third time to fix the minimum wage. While the pandemic has delayed negotiations, it is likely the board will announce minimum wage soon.    
Now a burning question from the tea workers: what will be their minimum cash pay? Rambhajan Kairi, who is representing the tea workers' union in the six member minimum wage board, is demanding Tk 300 in daily cash pay. This is a big jump from the current daily pay of Tk 102 and Kairi knows the tea garden owners will never agree to this amount.
What I could gather from an official on the owners' side and others who exchanged views with him is that the BTA is keen to see the cash pay increased by at best Tk 15. The official argues that the prices of tea have been very low recently, which is reducing profit margins. "If an unrealistic wage is fixed, we will consider curtailing the facilities that we provide to the tea workers," he said. "We buy rice at Open Market Sale (OMS) prices of Tk 24 per kg and sell it for Tk 2 to the workers. For subsidised food and other benefits to continue, the cash pay must stay within our capacity."         
The tea workers, who have witnessed the lavish lifestyles of the managers and owners, do not believe that the owners are under any stress because of the occasional fall of made tea prices. According to Bangladesh Tea Board (BTB), in 2019-2020, the average price of a kilogram of tea was Tk 176.08, which was Tk 262.96 in 2018-2019. The average price of a kilogram of tea for the last five years was Tk 206.248. The pandemic may have contributed to a fall in prices, but they will certainly go up again.
Another important thing to note is that the owners do not disclose their audit reports and profits to the BCSU and workers. BRAC, which owns three gardens in Chattogram, seems to be an exception. In its 2018 annual report, it reported making a profit of Tk 148 million, an increase of 114 percent from the previous year.
BRAC's disclosure gives a hint that all other tea gardens are hiding facts from BCSU and the workers, who remain in the dark when it is crucial to know this information while negotiating their wage. What is obvious is that the tea communities are left far behind other citizens due to deprivations of many kinds, including wage discrimination. This is demonstrated in a BBS-UNICEF survey (2018) that finds that 74 percent of tea garden households are still under the poverty line, which was 24 percent in 2016 at the national level.
In this context, what shall not be forgotten is that tea workers in Bangladesh are the lowest paid in the tea industry in the whole world. Their average family income is much lower than the poverty level income and household income at the national or rural level. In our two neighbouring countries—Sri Lanka and India—a tea worker's daily cash pay is more than USD 5 and USD 2 respectively, excluding fringe benefits such as housing, childcare and health at no cost, and other mandatory allowances such as attendance allowance, attendance bonus and "over kilo payment" (made for kilos of tea leaf plucked after fulfilling the day's quota).
In 2015, while a kilogram of Sri Lankan tea was sold for USD 2.99, the world market price was USD 2.59 and the Chattogram auction price was USD 2.41. Despite Sri Lankan tea getting the highest prices in the world market, it is clear that the average auction price of Bangladeshi tea is not bad enough to justify the miserable daily cash pay of tea workers. In Sri Lanka, 63 percent of cost of production goes to labour and four percent to staff and management. This should be compared to the situation in Bangladesh while fixing wages.
Lastly, the tea workers of Bangladesh, most of them non-Bengali and tied to the tea gardens for five generations, lack a life of dignity. In most labour lines, many families share their living rooms with cattle. The constitution of Bangladesh guarantees "basic necessities of life including food, clothing, shelter, education and medical care" to its citizens, with special care for disadvantaged populations. Both the owners of tea gardens and the authorities have a responsibility to fulfil the needs of the tea workers. They should treat them with dignity, foster healthy trade unionism and work closely with them to explore a win-win situation for all. Sri Lanka, with strong multiple trade unions, is the best example before them. 
Philip Gain is a researcher and director of Society for Environment and Human Development (SEHD). Email: [email protected]