Think out of the box to ensure learning continuity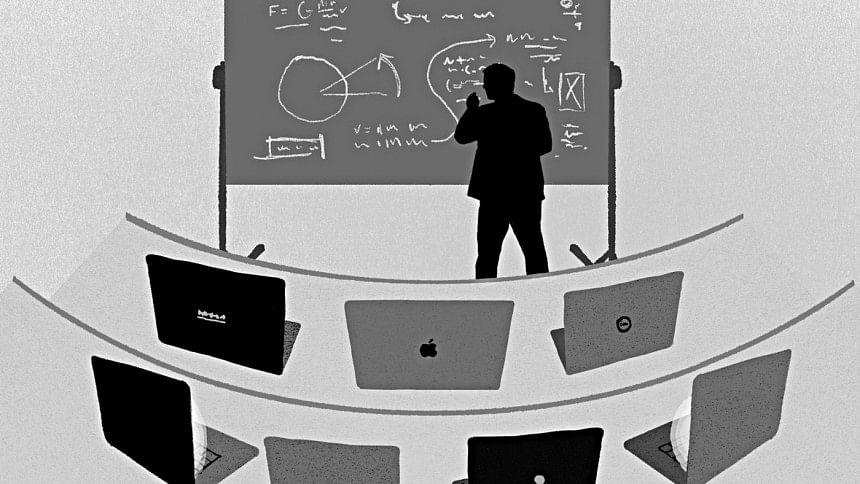 On March 23, the University Grants Commission (UGC) had urged all universities to continue academic activities online in accordance with the global response to the coronavirus. However, contradicting its previous stance of encouraging digital education, the UGC has now directed private universities to stop all evaluation and admission processes until further notice. Furthermore, the commission has termed this practice as being "unethical" since at present many families would be unable to bear the expenses of the admission fees and many students would find it difficult to sit for online examinations. The UGC has insisted that private universities should only take examinations once the situation returns to normal.
After the announcement of nationwide closure of schools and colleges came on March 17, many universities made attempts to conduct the last few weeks of the Spring semester online. Although the adjustment to virtual classes has been quite successful for most universities in the developed nations, which already had the basic technological infrastructure in place for assisting this shift, it has proven to be a challenging task in our country which did not have much prior experience in teaching courses online. Needless to say, going online also meant leaving out a huge proportion of disadvantaged students who belong to lower-income families and do not have adequate access to a technological device or internet connectivity. Consequently, this could also widen the inequalities in access to learning that are already prevalent in our tertiary education level.
Another major reason that compelled most private universities to stop conducting further online classes was a concern over the mental health of students. Complaints had been rising among students over increased academic pressure and workload and an inability to focus on their studies amidst the stressful environment. The uncertainty and fear surrounding the current pandemic has given rise to anxiety, stress and various mental health issues among many people, and students were no exception. In order to relieve academic stress in these extraordinary circumstances, many universities decided to stop all further evaluations and assign grades on the basis of prior performance on quizzes and assignments covered so far in the semester. Many teachers also went out of their way to extend support towards students by allowing them to take an additional quiz or assignment to boost their grades. However, the UGC's current directives have not only questioned the integrity of these measures, but also put students at the risk of session jams.
In response to the pandemic, educational boards across the globe have also been forced to make various adjustments and show increased flexibility. According to several reports by The New York Times, some universities such as Columbia University and Yale University have adopted a new pass/fail or credit/no credit system which intends to allow all students to either pass or fail a course without having to worry about their grades. However, students have demanded that the universities adopt a "universal pass" policy for the current semester so that no student would fail irrespective of their academic performance. On the other hand, several Ivy League colleges such as Harvard, Dartmouth and the University of Pennsylvania have increased their acceptance rates for the next session of classes. Furthermore, the world's top-rated institutions like Harvard and New York University have allowed their medical students to graduate early in order for them to engage in the fight against the Covid-19. In China, the Zhejiang University (ZJU), a comprehensive research university, has been able to offer 5,000 courses online within just two weeks of the transition to digital learning. Furthermore, to ensure that graduates do not face any delay in their graduation, the university has arranged for students to defend their theses online. The smooth transition has been credited to their smart classrooms, digital platforms and effective teacher training programmes in online delivery methods. Considering these, it is quite evident that despite Bangladesh's repeated claims of embracing digitalisation as part of its Vision 2021, we have been unsuccessful in reaching the global standards of digital education. 
In the United States, some universities including Boston University have considered cancelling all in-person classes until January 2021, while continuing to conduct classes online. It is naturally difficult to predict when it will be feasible to reopen schools and universities. While public health concerns must always come first, proper planning regarding adjustment of economic and educational activities should not escape our list of priorities. 
According to UNESCO, 91 percent of the world's current student population has been negatively impacted by nationwide closures of schools in attempts to contain the spread of Covid-19. This includes around 1.54 billion youth and children enrolled in schools and universities around the globe. At a time like this, the lack of agreement and effective communication between the private universities and the UGC is an indication that our education system has been unable to give a more unified direction that is currently needed to guide students towards the right path. We should also be concerned about why even the top private universities of the country, despite charging a hefty amount of money as admission and tuition fees, have been struggling to effectively adopt distanced learning through the use of technology. For instance, there is a lack of programmes to train faculty members in online teaching methods and very little investment in developing smart campuses. These gaps in technological adaptability are amplified manifold in the primary and secondary educational institutions which have responded by broadcasting lessons via TV channels. We have reasons to doubt the success of such responses since a large proportion of households do not have access to a television. However, the impact of Covid-19 on education can be more than just short-term interruptions if we fail to develop a more concrete plan to address these shortcomings.
Disagreement over admission tests and modes of evaluation has taken precedence over more important issues that can have long-term detrimental impacts on education. Lessons that are evident from the previous Ebola epidemic in Africa include the rise in school drop-out rates, child marriages, adolescent pregnancy rates and an alarming increase in physical and sexual abuse towards girls. The current pandemic has forced nearly 743 million girls out of the protective environment of schools. For a significant number of girls belonging to the world's least developed nations, which were left economically vulnerable by the current crisis, it is uncertain whether they will ever get a chance to get back to schools. This possibility does not seem very unlikely for Bangladesh since we have high rates of poverty and child marriage and a significant proportion of the population has already been economically hurt by the pandemic. Other concerns that have worried international policymakers in countries like the UK and the USA are the cancellation of free-meal programmes and childcare facilities provided by schools. Unfortunately, the need for a comprehensive approach towards these issues has not received much attention in our country yet. 
Nonetheless, as students, we should also recognise our responsibilities as the world's future generation. Certainly, education and learning should not be limited to either physical or virtual classrooms. Now is the time for us to forget national boundaries and think as citizens of the world and learn from the world's leaders, their successes and failures in addressing this global crisis. It is also the time to revisit old hobbies, adopt new skills, engage in research and learning beyond centuries-old textbooks and to gain deeper insights about the global policies that have resulted in a world that is currently torn by human negligence and exploitation.
Syeda Tasfia Tasneem is a student of economics at BRAC University.
Email: [email protected]