The 2020 Development Pathshala: Through the lens of BEACON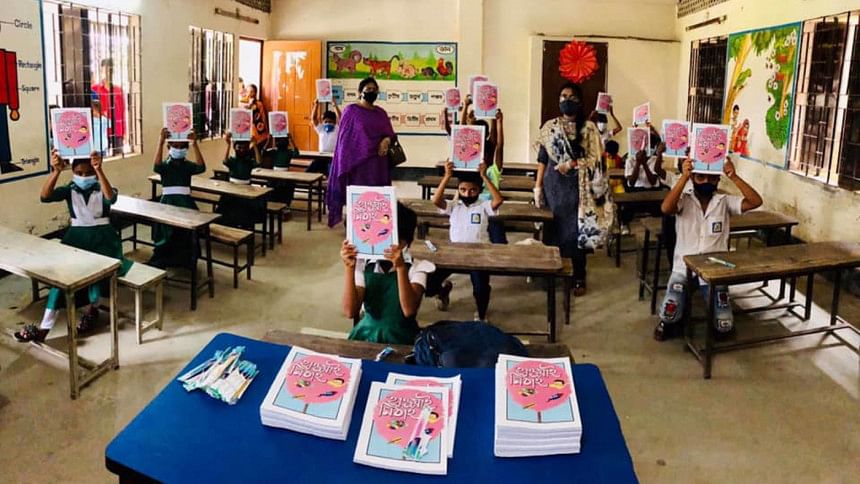 The UN Sustainable Development Goals (UNSDG) remains the prima facie directional narrative for our collective progression towards a more equitable economy—both at home and abroad. A common theme across the 17 UNSDGs remains in enhancing capacity building measures and mobilising skills transfers to communities. During the ongoing pandemic, we have witnessed, with immense optimism, the activation of coordinated youth efforts and the development of crisis response groups in Bangladesh—beyond humanitarian aid measures, there is an intense focus on youth-based policy innovation and community empowerment.
The term "Development Pathshala (School)" was first introduced to me by one such group. BEACON (Bangladesh Emergency Action Against Covid-19) is akin to several youth-based initiatives which have activated youth potential during the past nine months. Reaching over 100 geographic locations through leveraging its 4P (passion, purpose, performance and pace) philosophy, it has mobilised and implemented projects in food rationing, medical safety gear and provision of oxygen cylinders. It has also supported distant learning initiatives for children via publication of innovative supplementary workbooks and connecting online learning initiatives to resources, and provided cash handouts to non-MPO teachers and members of lower-income groups. Additionally, BEACON's initiatives have supported mental health ventures, mobilised treatment funding for those in need, made provisions for daily meals to street children, and provided medical camp support, winter blankets and warm clothes. It also responded to natural disasters during this pandemic through specially designed projects aimed at those affected by Cyclone Amphan and the extreme floods this year.
All in all, BEACON has executed over 70 multifaceted projects over the course of the pandemic—from financing and facilitating the launch of Powered Air Purifying Respirators (PAPR) to subsidising over 50,000 people through a project called Food Ration for Covid Impacted Populations. The initiative has designed innovative crisis management schemes that reflect the needs of its targeted populations. But in addition to providing relief, it has taken its crisis response a step further—via training and education. And it is here where the idea of a Development Pathshala comes into play and this is how BEACON stands out in its approach to youth empowerment during this pandemic.
The lead organiser and co-founder of BEACON, Ashfaque Kabir, suggested that rather than simply getting the youth to partake in food distribution or fundraising campaigns, there is a dire need to guide them in a structured manner at different levels of project management and execution. Kabir, a private sector professional by trade with experience in the development sector, highlighted the importance of training volunteers in writing project proposals, planning a budget, preparing survey lists, building a team, organising logistics and knowing how to get the best resources from vendors in their areas. BEACON's primary mission has been to mobilise youth-led community action groups, especially in remote areas, and transform them into an elite force that is prepared to go to any lengths to stand by the country, and most importantly, develop the competence to respond effectively to future emergencies. In essence, it is building capacity for change within segments of its target populations, while empowering youth actors to take ownership of projects—doing so by transferring key project management skills incrementally to those who are participating in their initiatives. The result is that during the peak of the pandemic, when most parts of the country was paralysed under lockdown, these youth-led initiatives reached the most remote locations possible—such as Char Khidirpur in Rajshahi, Banishanta in Khulna or Dingaputha Haur in Netrokona—in places where very little or no help had reached.
Spurred on by a successful crowdfunding campaign that reached beyond the borders of Bangladesh, BEACON judiciously managed its resources by streamlining projects based on targeted communities. Social schemes such as BEACON, BacharLorai and similar youth-based efforts, all have one parallel trend—they use grassroots and to a large extent, non-corporate fundraising strategies, to design projects and target segments of a particular population. For example, in BEACON's work, more than 40 targeted communities, which include dairy farmers, municipality cleaners, sex workers, transgenders, transportation and jute mill workers, cobblers etc., were identified, after several rounds of assessments, as being groups which needed immediate help but were unlikely to receive such. It is here where research and field surveys come into play—all in all, a key focus on skills transfer and the subsequent development of capacity measures to make credible change, is a key takeaway.
Bangladesh has been blessed to have two major organisations that have educated the country and the world when it comes to social development—both the BRAC and Grameen Bank models focus on bottom-up-development. It is my sincere belief that younger Bangladeshis who have stood up to make an impact and assist the country during the pandemic are the true carriers of the vision portrayed by the UNSDGs—fundamentally, there is a general consensus in empowering marginalised communities through the power of education and training. While the impact of BEACON and similar groups for example, is by definition minute when compared to what private corporations are injecting into the economy, it is important to note that there has been an engaged form of youth mobilisation and cross-functional collaboration between smaller groups. And this is heartening for the future of the country.
This pandemic has been our Development Pathshala and the education we derive through collaboration is crucial in narrating a people-based developmental trajectory for the country—if the UNSDGs are to be realised in its most holistic form, community-mitigation techniques must be prioritised. And I hope that the government takes notice and inspiration from the actions of such actors.
BEACON derives its vision and mission of #TheSpiritof71 by taking inspiration from the first Prime Minister of this country, Tajuddin Ahmed, a selfless and honourable statesman who stood up in our nation's darkest hours. It has supported frontline healthcare workers with medical safety gear in more than 50 hospitals in remote locations like Haluaghat and Hatiya, subsidised seven medical camps with resources that reached more than 5,000 patients and distributed over 1,500 blankets so far to vulnerable populations in cold wave-hit regions in the North. Unlike corporations, such emergency response initiatives work on an adaptable build and operate basis and it is perhaps in this context that their achievements are greater than the numbers themselves.
BEACON, along with similar initiatives, were recognised in a recent book commissioned by the UNDP to acknowledge the crisis management efforts of youth groups and every day citizens in 2020—a recognition which they not only deserve, but one for which the entire country should be proud. The future of Bangladesh remains promising. I hope that in being part of the collective Development Pathshala during the ongoing pandemic, we as a country recognise where the future of Bangladesh lies—in the hands of its youth.
Mir Aftabuddin Ahmed is a Toronto-based Banking Professional and a recent Graduate of the University of Toronto in Economics and International Relations. He can be reached at [email protected]