'Mental health for all' during the Covid-19 pandemic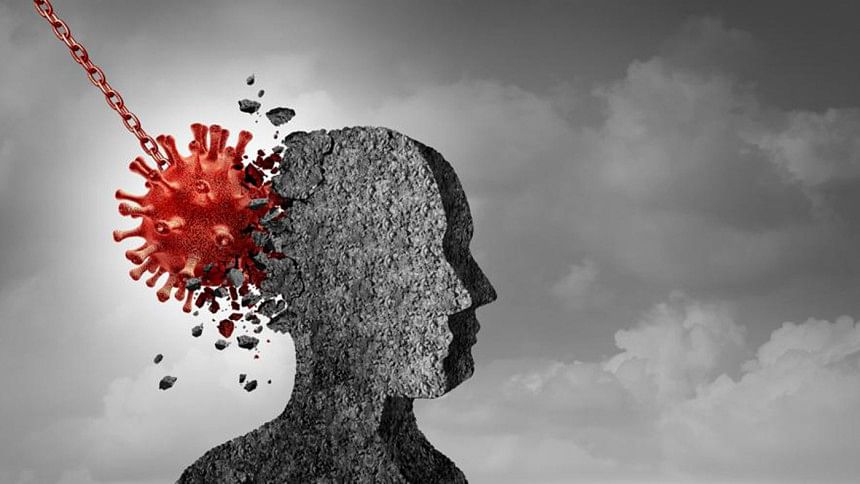 This year, we celebrate World Mental Health Day during a challenging time, when the need for improved mental health and psychosocial support is higher than ever. The pandemic has brought many challenges to people's lives, including their exposure to Covid-19, lockdowns, self-isolation or quarantine, suspension of educational activities, job losses and so on. The theme for this year's celebration is "Mental Health for All: Greater Investment—Greater Access", which appropriately focuses on the necessity for increased investment in mental health programmes, nationally and internationally, in order to optimise people's mental health and their access to mental health services. Although mental health is a precondition for individuals' physical health and should be a top priority during this pandemic, it is under-funded globally.
According to the World Economic Forum report 2018, globally, one in four people was affected by mental health problems (e.g., anxiety, depression, stress, and mental disorders) at some point in their lives and approximately 450 million individuals suffered from these illnesses due to inequalities in educational attainment, income, accommodation, social support services, violence, human-made tragedies and natural disasters, including floods, cyclones and storms. The advent of coronavirus has deteriorated individuals' mental health, and the number of people with mental illnesses is rapidly growing. For example, in the US, before the outbreak of coronavirus, one in five adults lived with mental health conditions (approximately 47 million in 2017). The pandemic has only added to this existing mental health situation. According to a Kaiser Family Foundation poll, approximately half of Americans reported that the Covid-19 pandemic is harming their mental health. This suggests that they now require mental health services more than before. However, the psychological health services in the country remain underfunded, unprepared and fragmented, according to a report in The Washington Post.
While similar situations prevail in other high-income countries, the state of the low and middle-income countries (LMIC) is far worse. According to the National Mental Health Survey in Bangladesh from 2018-19, around 17 percent of Bangladeshi adults are undergoing mental health problems like depression, anxiety, stress and obsessive-compulsive disorders. Of them, over 92 percent did not seek mental health services due to stigma, negative perceptions, inadequate knowledge of available mental health services, misconceptions about treatment and treatment cost. Although there is limited population-based data on what percentage of Bangladeshi people are suffering from mental health problems due to the Covid-19 crisis, a review of extant studies of Covid-19 has found high rates of psychological distress among Bangladeshi individuals, ranging from 58 percent to 86 percent. This indicates that the pandemic has taken a serious toll on existing mental health problems in Bangladeshi individuals. Nevertheless, the available data on healthcare budget shows that less than 0.5 percent of the total health budget is usually allocated for mental health programmes, which has created a gap in the response to mental health problems.
Mental health is oft ignored and massively underfunded in most countries of the world. According to the World Health Organization (WHO), over 66 percent of countries spend only one percent or less of their health budgets on mental health. Notably, there is no mental health policy in over 40 percent of countries, and more than 30 percent of countries do not have any programmes for the mental health of their citizens. This little emphasis on mental health is reflected in the provision of inadequate healthcare services for people with mental health problems. More than 50 percent of countries have only one psychiatrist per 100,000 individuals. At the primary health care level of around 25 percent of countries, there is an absence of the most frequently prescribed drugs applied to treat mental disorders, including schizophrenia, depression and epilepsy. Limited resources and their inequitable distribution, city-based services, stigma, and discrimination restrict people's access to mental health services.
Because of the challenges mentioned above and limited or no mental health policies, programmes and financial investment during this unprecedented pandemic, globally, people from all walks of life are currently experiencing the mental health fallouts of Covid-19. Specifically, some groups of people—like women, children, older people, healthcare workers, individuals with compromised immune systems, and those who have pre-existing medical and substance use problems—have become more vulnerable than others to the psychosocial effects of Covid-19, which includes suicidal behaviour. This may act as a barrier to achieving the Sustainable Development Goals (SDGs), especially Goal 3 of reducing by one-third the premature mortality from non-communicable diseases through prevention and treatment and promoting mental health and well-being.
What all these suggest is that mental health has been underfunded and sidelined from development indicators across the world, thus creating a huge challenge to ensuring "Mental Health for All". Therefore, it is vital to undertake global actions. First, all governments should recognise the importance of mental health as an essential part of health, and financial investments should be prioritised in the national budgets and development assistance, and implemented correctly. Even just USD two per capita investment in mental health can spread mental healthcare among approximately half of the individuals living with mental health problems in LMIC. Second, it is vital to incorporate mental health into primary healthcare services for enhancing universal health coverage so that people, including the disadvantaged individuals and those with mental illnesses, can afford mental health services. Third, to facilitate the provision of mental health services and address barriers to accessing those services, all countries should have evidence-based guidelines and policies where the expert opinions of psychologists and social scientists should be integrated.
Finally, the harmful impacts of Covid-19 on individuals' mental health may get worse in the coming days, specifically when we are being threatened by a second wave. The longer the disease stays, the less likely people are to deal with and recover from mental illnesses. Therefore, governments and development partners must ensure that mental health is prioritised during this time, and psychosocial support and mental health interventions are provided to all individuals, everywhere.
Dr Md Nazmul Huda is a public health researcher and academic.Email: [email protected]