Delay in building vaccine plant is unacceptable
Red tape must not be allowed to stall such an important project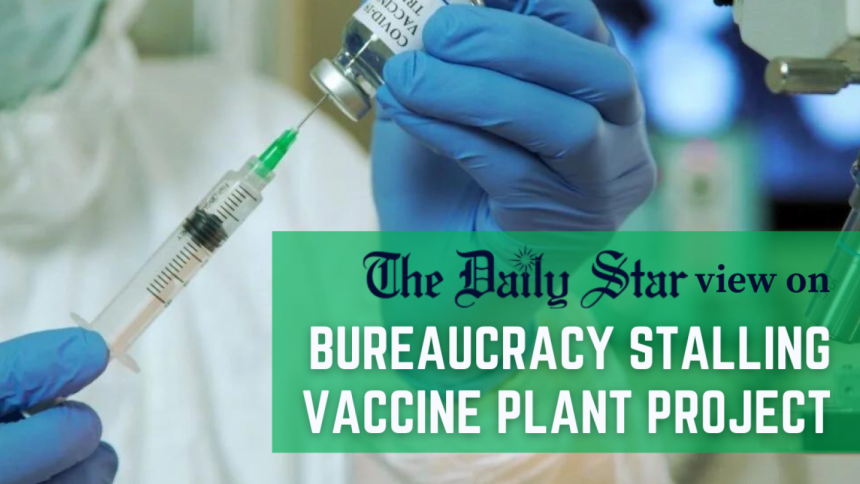 It is disconcerting that a highly important drug manufacturing project is finding it difficult to take off because of bureaucratic meddling. A report by this daily reveals that the work of the planned vaccine manufacturing and research plant in Gopalganj remains stalled for over one year now. The government took the decision to set up the plant in July last year, following rising demands for Covid-19 vaccines. According to health experts, despite the countrywide vaccine drive that has since inoculated a large percentage of the population, we need continuous vaccination all year round because of quick mutations of the virus, which is still very much a force to be reckoned with.
Thus, the urgency of producing vaccines besides procuring them from abroad has been felt by experts, and accordingly, the prime minister gave her consent with the advice to expedite work. But in reality, no progress – apart from a few meetings between officials of the Essential Drugs Company Ltd, Asian Development Bank, and the finance ministry – could be made so far.
Looking at the sorry state of what was deemed a top-priority project for the government, we wonder why it was allowed to flounder even before it could take off. Surprisingly, even the parliamentary committee on the health ministry could not make things move faster, thanks to the all-encompassing influence of red tape. A member of the committee lamented that because of the government's complex way of working, the project has seen little progress since inauguration. He further raised caution that the vaccine plant may not be able to go into production any time soon. The question is: Why this state of affairs? What could be more crucial from a public health perspective other than developing vaccine self-sufficiency?
Unfortunately, a good number of government projects in the past have suffered similar delays as well as cost overruns mostly because of mismanagement and bureaucratic botch-ups. Since vaccines are urgently needed to increase the immunity of citizens, and heavy reliance on vaccine imports makes no sense at this juncture, we hope directors of the vaccine plant project will take the matter with the highest urgency and implement it without further delay.