Contra capital punishment even in this 'rapedemic'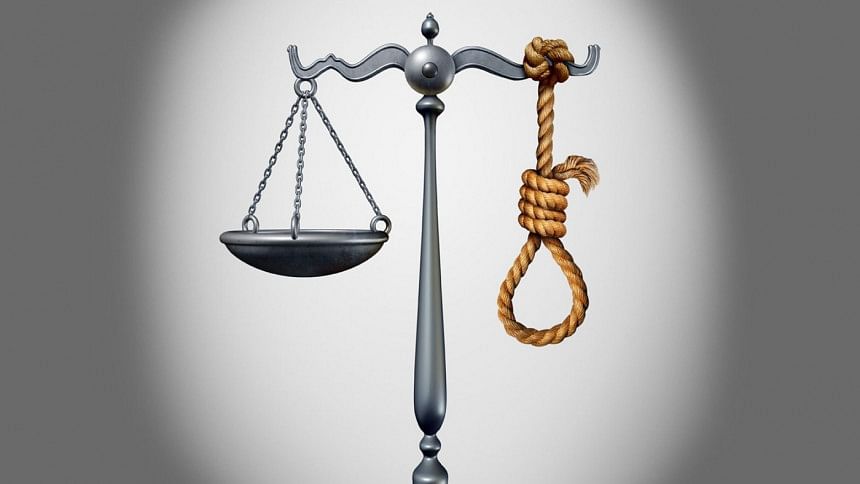 The demand was predictable. Given the outrage that has been generated by the vicious acts of assault and dehumanisation that have been inflicted on women over some time, it even appears justifiable. It is widely, perhaps passionately, believed that life imprisonment for rapists is not enough, they must face the death penalty. The arguments are fairly clear and obvious.
First, anything less is considered to be disrespectful to the suffering of the women. This is not a crime with merely physical and immediate consequences for the victim. The trauma, the pain and the socially imposed guilt and shame that women are forced to endure are long, deep and often debilitating. If murderers are executed, so must rapists. This may help to bring some "closure", and perhaps some relief, to the victim.
Second, some sexism may be implicit in the selective use of capital punishment. In Bangladesh, the death penalty is applicable for a whole range of crimes such as kidnapping or drug possession (over 25 grams of heroin or cocaine, and over 200 grams of yaba), but not if a woman is assaulted so brutally. The highest punishment for rape is life imprisonment, a penalty that can be cleverly "managed" and loopholes can be found to secure early release for the convicted.
Third, this punishment would serve as a deterrent to people who become aware of the dire consequences they would face if they are brought to justice. Such exemplary action by the state would serve as a lesson and warning to the people, strike fear into their hearts, and prevent such acts. The cogency and clarity of that position has given this argument historical validity, religious sanction and seductive appeal.
These are all undoubtedly powerful arguments. However, some interrogation is possible and necessary. Before one proceeds in that direction, it is essential to clarify that opposition to the death penalty for rape does not suggest that one is "soft" on rape, nor does it imply a patriarchal trivialisation of this grievous offence (which is usually done by referring to the victim's dress, her sexual history and her "risky" behaviour in typical "slut-shaming" and victim-blaming efforts). It is important to state categorically that rape is one of the vilest crimes that can be committed, and that its punishment must be swift, sure and severe.
The first argument has been questioned by Indian feminists, among others. Jahnavi Sen has indicated that equating rape with murder is a disservice to the woman because it rests on some patriarchal notion of "honour" that is "intrinsically linked to her sexuality", which if "destroyed" means that she has lost her place in society, her value, her agency, and is as good as dead. Instead of helping her to cope and providing social, economic and psychological support, all this does is reaffirm her tragedy, her helplessness and her stigma.
The second argument that compares crimes and punishments is misleading and, in this case, totally unhelpful to the victim. Death penalty trials are typically longer, costlier and more complex; may lead to reduced reporting because many (most) perpetrators are known to the victims and there would be family pressures not to pursue the case (against the uncle, the brother-in-law, the kinfolk etc.); and may also provoke more murder of rape victims to ensure their silence.
The third is located within an empirical frame of reference and is therefore easier to analyse. There are less than 10 countries in the world which practice death penalty for rape. Apart from North Korea and China, all the others are in the Middle East. None of these countries can claim to be particularly sensitive to women's rights and interests. Some of these countries practice female genital mutilation, some engage in honour killings, and most impose a perverse dress code that reveals the insecurities and misogyny of those heteropatriarchal societies. The death penalty for rape is merely an extension of their reliance on violence as a solution to all problems rather than an effort at establishing retributive justice.
The issue of deterrence provided by capital punishment may be examined from another perspective. Capital punishment for murder is upheld by 55 countries; 106 have banished it, 28 more have not practiced it. There is absolutely no evidence to indicate that countries with death penalties have lower homicide rates.
Even within the US, only 38 states have the death penalty. According to the American Civil Liberties Union, states with capital punishment were 25 to 46 percent more liable to have higher homicide rates than states without, and the Death Penalty Information Center reported that southern states which had almost 80 percent of the executions for murder over the last 10 years, actually had higher rates of murder than the north-east states, which had less than one percent of the executions. Thus, capital punishment may not be as efficacious in halting crime as is popularly believed.
This issue of rape is complex. First, and foremost, the problem is attitudinal, behavioural and structural. It is inherent in a system of power—where women are commodified, objectified and reduced to being a collection of body parts (breasts, hips and vaginas) that robs them of their autonomy, their identity, and their humanity; where women are taught to be meek, frail, sacrificial (where good women quietly accept), while men are expected to be macho, aggressive, entitled (where real men get what they want); where women are still considered to be "property" and hence usable at will and disposable; where women are viewed as temptresses who cause men to salivate; where women are subject to the "male gaze" located in masturbatory instincts and pornographic delusions; where women are forced to live in an environment of fragile masculinities and emasculated egos in which weak and frustrated men desperately seek to prove their power through dominating/hurting somebody; and where women are compelled to negotiate their imposed vulnerabilities on a daily and persistent basis. Under these circumstances, it is not possible for meaningful progress to be made to secure women's rights (safety being foremost) without radically transforming the landscape of devaluation and prejudice that has been fashioned.
Sexual violence is also rooted in the disregard, if not the contempt, for the rule of law in the country. There are several aspects to this. First is the sheer inefficiency and corruption in the dynamics of law enforcement in a country where graft, extortion, torture and even extrajudicial killings have eroded people's confidence in law. Women suffer additional burdens—they are not believed, their cases often not recorded, and they have to submit to humiliating questions and tests.
Second, there are bahinis (gangs) of goons and thugs whose very swagger epitomises the "culture of impunity" in the country. No bahini can grow in a vacuum. There must be enabling conditions, protections and encouragements usually provided by political leaders who use them as auxiliaries for their own purposes (usually for elections but also for exerting local control). These bahinis function beyond the authority of the police or, at times, in collusion with them. If our political leaders cannot disown and dismantle these groups, and our police forces cannot stand up to them, all their pious platitudes about reducing sexual assault would appear to be hollow if not hypocritical.
Third, the juridical environment within which rape cases are situated is woefully archaic and biased. The definition of rape is still derived from Section 375 of the Penal Code of 1860 with its narrow emphasis on penile penetration, and the line of questioning about a woman's "character" and related issues is admissible because it is based on Section 155(4) of the Evidence Act of 1872.
The judicial system remains serpentine and sluggish. Only three percent of rape cases end in prosecution, and as of March 2019, 1,64,551 cases for crimes against women and children are still pending, with 38,000 dragging on for more than five years. Many laws and even court directives are not even implemented. The story is not particularly reassuring for women, or for justice.
In this context, to push for the death penalty today would appear to be disingenuous. It is more a distraction, a tokenist flourish which provides the appearance of doing something, when little is being attempted and even less will be accomplished.
Thus, unless the nation addresses the difficult issues caused by economic inequality, democratic deficits, endemic corruption, institutional inefficiency, moral decay, and social dislocations (which often provoke intolerance, rudeness and aggression), and unless fundamental changes are made in education, family life, linguistic practices, notions of sexuality, the pervasiveness of drugs and pornography, and a national malaise of despair, disdain and distrust—all of which contribute to the culture of sexual violence—simply tinkering with punishment regimes is nothing but a sleight of hand, a tromp l'oeil or, in the language of T S Eliot (in The Hollow Men)—Shape without form, Shade without colour, Paralysed force, Gesture without motion.
Ahrar Ahmad is Professor Emeritus, Black Hill State University, USA.
Email: [email protected]