On broken things like the economy and young people's spirits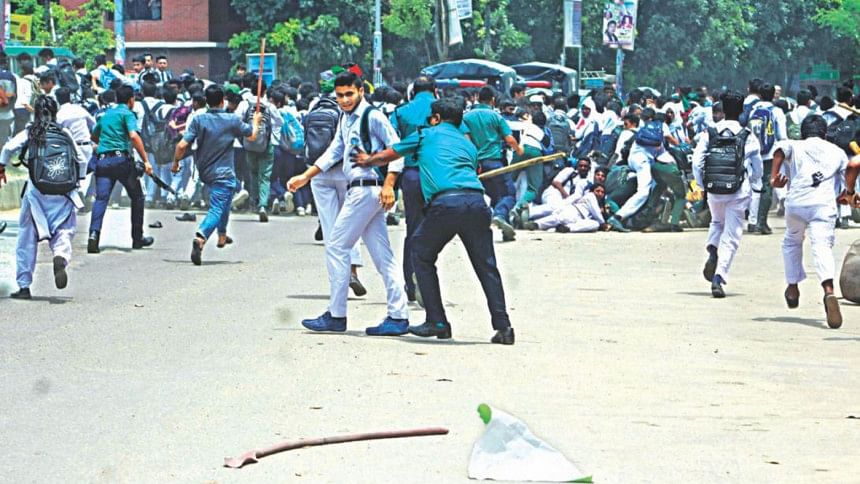 For the number of times I have seen older people address and advise the youth, I have seen very few instances of the former assuming the role of a listener. In every interview of a Famous Person, regardless of their relevance to youth-centric issues, there is one final question, "What would you like to tell all our young listeners/viewers/readers out there?" 
The answer that follows contains some hollow words of encouragement, rarely going into details on how  a young person in said interviewee's industry can progress. "Most importantly, never stop dreaming," they say. These are the words I grew up reading everywhere, from library books to celebrity conversation snippets on Prothom Alo's entertainment page. For a while in the early 2000s, there was some glimmer of hope still, although climate change was already in our textbooks, and my mother couldn't come up with a satisfactory answer when asked, "But this predicts the end of the world... why is this just a footnote in my [fifth grade] science book?"
At the time, the internet was yet to take over our lives, and I was shown and still had some hope for the future. I wanted to be a writer when I grew up, and no, the reason I speak ill of dreaming is not because I have apparently realised my dreams, but because I no longer know how to.
What do today's youth have in common with the economy? Both are broke(n).
A 2019 report on South Asian youth's perspectives on education, skills and employment conducted by Unicef found that many young people in the region feel their education systems are outdated, leaving them unprepared for employment. Bangladesh's officially reported unemployment rate is suspiciously low at 4.2 percent, considering I do not see a very positive picture in real life. The World Bank reported in late 2019 that one in three graduates in the country are unemployed, while female graduates are especially disadvantaged. There is no social security or safety net for the unemployed in Bangladesh.
None of this is particularly good for the economy or for young people's mental health. They have little faith in the system, yet they are forced to survive within it. The Unicef survey reported that 23 percent South Asian youths receive inadequate support to improve employability, while 44 percent feel bribery demands and discriminatory, unfair hiring practices make it difficult for them to find work.
Meanwhile, there is a clear difference between the reality that we experience, and the one that older generations describe as still being real.
Imagine being a typical twenty-something on the internet. You start noticing a stark contradiction in the news you're consuming—on one hand, corruption is rampant among politicians and businessmen, which is demoralising to anyone who is attempting to be successful through honest, hard work in this age of hyper-competitiveness. On the other, there are statements and promises from the government which paint a much rosier picture of the country—unemployment is low, GDP is high, and The System is working perfectly.
If the fault is not within The System, the fault must lie in the individual, we are told, and it is the twenty-something unemployed graduates and naive university students who just aren't doing enough. Maybe if they watch a few more self-help videos, spend a little less money on nonessential items, and if they just dream a little bigger, The System would reward them.
Our education system, the subsequent frustration over employment, and lack of opportunity to pursue passions crush young people's spirits. I spoke to multiple university students recently, and I found that some have learned to think of themselves solely as units of production in order to cope with the extreme levels of competition and scrutiny they face. Among those who acknowledge how unfair the system can be regardless of their individual level of productivity, some are hopeful about bringing change, while some find it difficult to even imagine a future for themselves. For many, the present is dystopian enough.
While the apolitical youth continues to plan their lives out as an individual, those who are socially and politically aware feel frustrated. The memes are enough to conclude that the kids aren't alright. This pandemic and its trustee sidekick, the economic recession, have only added to the already existing grievances over lack of climate action, global rise in fascism and increasing inequality.
The world changed rapidly, but our institutions did not. The youth are capable, but they are not listened to. They are told to dream big, but they are not given the tools to realise those dreams. Older generations rarely empathise, "We survived The System, why can't you?," they say.
The youth do not feel heard. They are given consolations and condolences when their peers are killed in road accidents, but demands for effective change in policy are rarely met. They are labelled as miscreants and traitors when they protest, their struggles are constantly trivialised, and legitimate demands for change are deemed as undeserved entitlement.
How can someone who has grown up as a global citizen plan for their individual future when they see little hope for the collective future of the world? Engaging the youth in global action is impossible unless those who make decisions and policies understand the youth instead of undermining them. Change, unfortunately, cannot begin with an unemployed twenty-something graduate buying a self-help book; it has to begin with the improvement of a corrupt system that landed said graduate in the unfortunate situation they're in.
Aanila Kishwar Tarannum has spent most of her youth writing about the youth (and other things) for The Daily Star.
Email: [email protected]