Banning migration of female workers is not the solution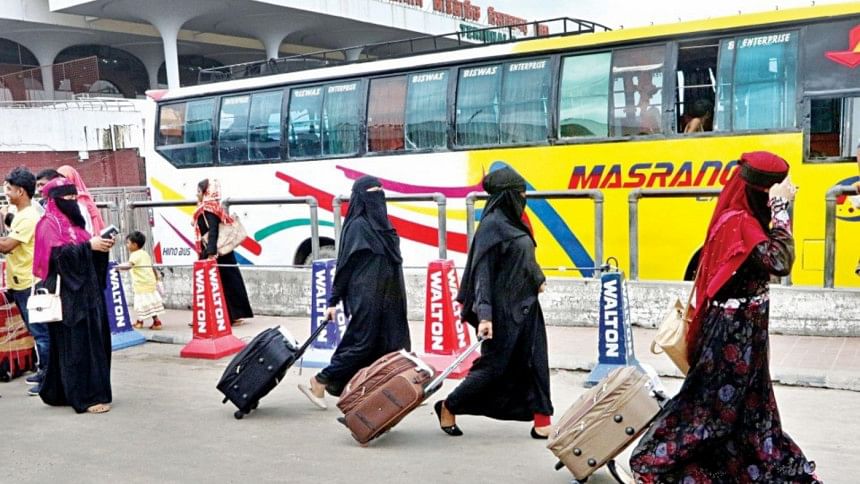 Recently, some activists and organisations have been calling for a "ban" on migration of female workers from Bangladesh, especially to countries where there is a high probability of them facing exploitation, physical and sexual abuse, or worse. But as a migrant rights activist, I believe that imposing a ban on the migration of women is not the solution, rather it might have negative consequences affecting the overall labour migration scenario in Bangladesh.  
Bangladeshi women migrant workers have endured hardships and vulnerabilities since the beginning of their recruitment as domestic workers in Saudi Arabia. In response, Bangladesh government, in an effort to protect women migrants, put a ban on their migration in 1981. Later, the ban rolled out in different forms of restriction till 2003. Evidence shows that such restrictions on their mobility and employment encouraged undocumented migration of women workers. Further, it made them victims of human trafficking.
Although estimates of the number of victims vary, a 2001 report said that around 200,000 Bangladeshi women and children were trafficked out of the country in the ten years between 1991 and 2000. The primary destinations of these women and children were either India or Pakistan, but the final destinations were Gulf countries. Another report published in 2003 by the AFP mentioned that every year, around 20,000 women and children became victims of human trafficking from Bangladesh to India, Pakistan and countries in the Gulf. These figures show that the ban and restrictions on official recruitment of women workers had put them at high risks of human trafficking.
In 2003, the government lifted all forms of bans and restrictions on women migrant workers, largely due to the demands of civil society organisations. After that, the government took several positive steps in 2007 to ensure the protection of women migrant workers. Among those steps are: visa attestation by Bangladesh embassy for women migrant workers; issuance of individual work permit; mandatory pre-departure training for outbound women domestic workers, etc. The government also brought down the age limit of women domestic workers from 35 to 25.
The current government adopted the Overseas Employment and Migrants Act in 2013 to ensure safe migration and protection of workers. The act has given the rights to get information for migration; file civil lawsuits against any offence falling under the act or the conditions of the employment contract stipulated in the act; get repatriation in case of an arrest by the local authority in the destination country or being caught in a conflict situation or other difficult circumstances. The government also adopted the Expatriate Welfare and Overseas Employment Policy in 2016 which guarantees establishing a rights-based protection system in all four stages of migration: pre-departure, departure, post-arrival, and upon return. Apart from these, the migration management rules and the wage earners' welfare policy were adopted in 2017 and 2018 respectively. 
Unfortunately, there has been little implementation of these laws and policies. The recruitment of Bangladeshi workers for overseas job remains quite unfair and unethical. In her maiden speech during the first meeting of the National Steering Committee on Migration, Prime Minister Sheikh Hasina said, "There is a group of dalals and frauds in the country who send people abroad for work by taking a hefty amount of money." She instructed the responsible departments to increase vigilance so as to stop such unscrupulous activities and to raise awareness among overseas jobseekers.
In such a context, women migrant workers of Bangladesh often become the victim of abuse, exploitation and rights violations in the migration cycle. According to media reports, more than 1,000 women migrants returned home after falling victim to abuse and exploitation within the first ten months in 2019. This is a grave concern for all of us. Such abuse and exploitation have critical negative effects on both the women and their families which might result in creating social and financial burdens for the country. We demand that this trend be stopped immediately. We don't want to see our women migrants sent back from abroad empty-handed, abused and exploited.
Unfortunately, there are little protection measures for the workers aboard. Only 30 officials are appointed in two "labour wings" in a huge country like Saudi Arabia, serving around 2.5 million Bangladeshi workers. Compared to other ministries, the government allocates little budget for the Ministry of Expatriates' Welfare and Overseas Employment. According to the research conducted by our organisation Ovibashi Karmi Unnayan Program (OKUP), it shows that the ministry was the third-lowest recipient of all ministries in the 2018-2019 national budget. Of the total allocation of the ministry's budget, only 0.088 percent was allocated for development programmes.
Undertaking comprehensive protection measures for the workers abroad should be a priority for the Bangladesh government. This will require increasing resources and quality of services in the labour wings, ensuring fair recruitment as well as redress. Be mindful that Bangladeshi migrant workers earn around USD 15 billion every year, which boosts our economy significantly. We expect that the concerned ministry will take immediate measures to ensure and increase the protection of migrant workers, especially female, instead of placing an ill-advised restriction or ban on their migration.    
Shakirul Islam is Chairperson of OKUP, a grassroots organisation working on migration.