Australia's gig economy: Bijoy Paul's death an eye opener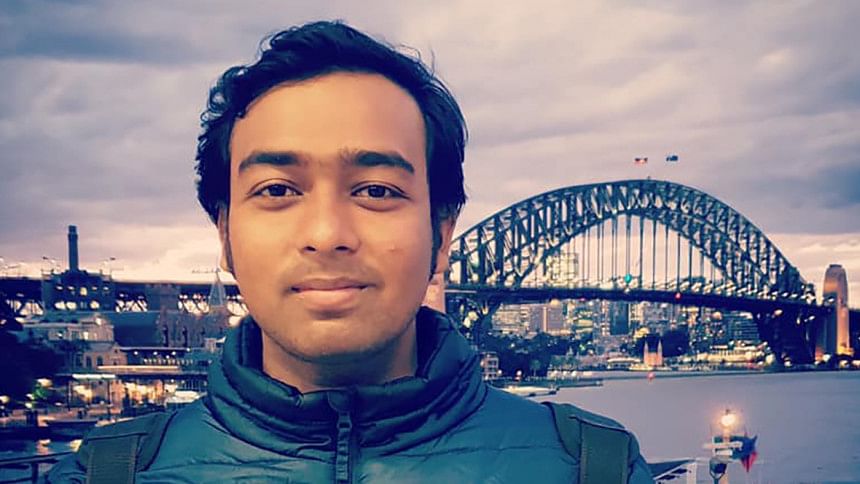 Bijoy Paul, a Bangladeshi international student in Australia, died carrying a delivery of hamburger and fries. He was hit by a car late morning in inner Sydney last week, becoming the fifth such bicycle rider within a few months who died in the midst of their low-paid work.
Paul's death has triggered a heated discussion in Australia about the treatment of gig workers, those who are not employees of companies like Uber and therefore lack many benefits such as insurance or sick pay.
Paul was studying engineering at the University of Technology in Sydney. He arrived in Australia in early 2019. Due to the coronavirus-induced restrictions, Paul lost his prior job earlier this year. As is typical of many international students, he did not want to worry his parents, based in Tangail, and did not inform them that there may be financial strain. Instead, he commenced casual work in the food delivery industry.
The sector is booming due to much of the population being stuck at home and with many restaurants suffering restrictions to their trade.
Freelance or gig work is legally classified as independent contracting. There was a significant case won by Uber in California after appeal, which cemented this status as opposed to the workers being cast as employees. Employees are entitled to sick pay, workers' compensation and a minimum wage, but lack the freedoms to work that independent contractors have.
In Australia, European company Foodora closed down trade last year after a court determined their delivery riders must be classified as employees. The ruling was justified by the fact that riders wore uniforms and the company exerted considerable control over their working habits, according to the ruling. However, other companies like Uber have not yet fallen into the same category.
Underlining the global tensions within the industry, the Canadian Supreme Court ruled that Uber workers were entitled to collectively organise to agitate about pay and conditions.
The freelance contracting model is attractive for companies because it allows them to outsource risk to those who toil. Many workers also enjoy the flexibility allowed.
Bangladeshis have among the highest rates of freelance work in the world, second only to Indians in the global economy, according to a 2017 report by the Oxford Internet Institute. The business model allows global behemoths like Uber to compete on the basis of low labour costs and avoid regulations that apply to competitors, such as traditional taxi companies.
A University of California, Berkeley, Labor Center study found that between 2014 and 2019, Uber and Lyft alone avoided $413 million in wages, overtime and other taxes in America.
There are also broader forces at play. Economic historian Aaron Benanav believes as manufacturing employment declines and the service sector grows, insecure part-time work has become more endemic. While the old working class was known as the proletariat, this group is called the precariat. Many Bangladeshi expatriates, especially those trying to pay expensive tuition fees in the West, are members of the precariat.
When we think of Bangladeshis who are at the lower end of the labour market, migrant workers in the Middle East or garment workers in Dickensian Dhaka factories come to mind. The coronavirus pandemic has further highlighted injustices in both these sectors.
Human rights group Equidem recently published a report titled "The Cost of Contagion" which outlined such injustices in the Middle East, including months of unpaid wages, forced repatriation and outright racial discrimination.
But it can be easy to think that when Bangladeshi migrants arrive in rich countries, they are automatically living in comfort. That is not the case. There can be third-world exploitation in first-world spaces. Sex trafficking from Asia is an extreme example. Delivery riders do not fall into such a category of course, but they are highly vulnerable given their lack of citizenship rights and huge pressures to complete their studies and ultimately acquire full migration status.
Lihong Wei is the wife of another delivery driver, Xiajun Chen, who died only weeks before Bijoy Paul while driving for Chinese company Hungry Panda. She has become the face of a campaign for better rights for delivery riders, especially compulsory safety equipment and regulations imposed upon parent companies. Her fight will have global implications.
It will all be too late for Bijoy Paul, the bright-eyed engineering student with a sweet smile who wanted to make his parents proud. He has a sister also living in Sydney who was too distressed to speak to the media. His funeral was being held according to Hindu rituals but his parents based in Dhaka will be unable to attend.