Gazipur Elections
The race between 'development' and 'justice'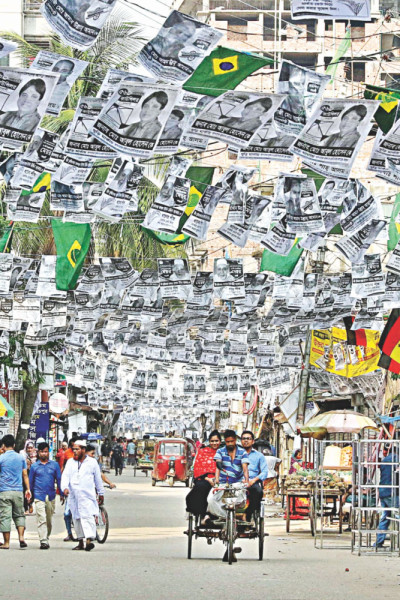 A politician for nearly four decades, Hasan Uddin Sarkar, the opposition candidate in the Gazipur mayoral election, is well aware of the odds against him. His ruling-party rival, Jahangir Alam, has based his entire campaign on the promise of development, an obvious crowd-pulling strategy. "Hasan Sarkar was a two-time MP, a municipality mayor, and district council chairman. The people of Gazipur repeatedly put him in office, but what exactly has he done for the city?" Jahangir Alam demands.
Sarkar, too, accepts that Gazipur is in a shambles and voters crave developmental work. "So, how do you plan to fulfil the voters' expectation?" I asked him. "Especially when the previous mayor from your party failed..."
Both Sarkar, also a freedom fighter, and central BNP leader Fazlul Haque Milon, quickly cut me short. "How would the former mayor have succeeded?" they almost shouted. "He was out of jail for only 11 months during his entire five-year tenure." Inadvertently, perhaps, they accepted my scepticism. "Do you expect to be treated better once elected?" I persisted. After a long pause, he conceded that he may not be allowed to address the pressing civic issues, but, according to him, people will vote for him because "they want Insaaf."
Whether Sarkar represents Insaaf (justice) is open to argument, but he is definitely poised to cash in on the sympathy of voters for MA Mannan, the ailing outgoing mayor. In fact, Mannan "sir", as many locals I talked with referred to the veteran chemistry professor, could still have been the opposition's best shot. But he was so unwell that BNP considered 70-year-old Hasan Sarkar, who himself has health issues to be an acceptable candidate.
Both candidates' campaign messages echo more of the issues pertaining to national politics rather than local issues, although this is a local government election. Hasan Sarkar unsurprisingly makes his case about democracy and justice. Jahangir Alam's development mantra, albeit crafted for local voters, is not unfamiliar either.
Ironically, Alam, despite being a ruling party candidate, wants to use the anti-incumbency card. He promises to make up the "development deficits" that he says were created during the BNP's grip on power. However, his claim directly contradicts the fact that it was his party, Awami League, which has mostly controlled Gazipur over the years: Awami League has held all four parliament seats in Gazipur most of the time. In fact, Gazipur has long been considered one of the party's strongest political bases.
But I had to challenge Jahangir Alam, also the general secretary of Gazipur Metropolitan Awami League, on his very campaign premise: development. He has promised to build schools, hospitals and a green city, widen narrow roads, and even create employment for all.
"How would you do all this when you would have very limited power?" I asked him. In reply, the young, and somewhat temperamental Awami League candidate, doubled down on his lofty promises. "I will try. I have already started working with the help of China and Japan. I will set a milestone within just 90 days—before the upcoming national election," he says. "I have talked to the prime minister. She will help me in my mission to change the lives of 1.1 million voters and 3.8 million residents of the city."
But Jahangir Alam's exaggerated promises are hardly what we should be concerned about when it comes to the upcoming election.
I visited Gazipur just five days before the election. The atmosphere was relatively calm in the morning although one could sense the growing tension. I met Hasan Sarkar while he was leaving the returning officer's office. Before our brief conversation, he met with the returning officer, a joint secretary of the election commission, and complained about his eight activists being arrested by the police the previous day. Sarkar, and Milon, the central party leader, seemed to have faith in the returning officer, Rakib Uddin Mondol, because of his reputation of presiding over a fair election in Kumilla.
Upon their complaints, Mondol phoned Gazipur's district commissioner and police superintendent (SP) on the spot to remind them of the previous day's meeting between them and all election commissioners, in which it was agreed with utter seriousness that no one would be harassed or arrested without valid grounds.
Mondol then urged them to release the detained activists if there was no warrant against them, but SP Harun Ur Rashid had a defiant tone on the other side of the phone.
"Why were they not arrested two or three months ago?" BNP's Milon asked. "Why now—six days before the election?" When our correspondent asked the local police the same question, they claimed that those activists had been absconding and it was only before the elections that they could be traced.
The Gazipur mayoral election was originally scheduled for May 15 but had to be postponed due to a High Court order. Back then, too, BNP urged the election commission to take steps against SP Harun. But apparently, he is so powerful that he can defy the commission's direct instructions.
The last time the Gazipur mayoral election took place in 2013, it was the last one among five city corporation polls. BNP won all of them, and all four of its mayor-elects came to campaign for MA Mannan, who would later pull off a stunning upset against veteran AL leader Azmat Ullah Khan.
This time with Jahangir Alam was Talukder Abdul Khalek, the ruling party-backed mayor of Khulna whose recent election was marred by widespread irregularities. During their campaigning in Harinail, someone from the press pool asked Jahangir Alam the obvious: "We observed the 'good' Khulna election, do you hope to replicate the 'Khulna-model' in Gazipur?" Jahangir Alam was too clever to fall into that trap. "No, I want a Gazipur-model election."
But the police's growingly aggressive role draws an unmistakable comparison between the pre-poll situations of both the elections. And none other than Jahangir Alam confirms the concern. The day after I left Gazipur, there was a photograph in a newspaper of him riding a police car while campaigning. That's hardly indicative of the level-playing field as claimed by all except the BNP.
---
Nazmul Ahasan is a member of the editorial team at The Daily Star.
---
Follow

The Daily Star Opinion

on Facebook for the latest opinions, commentaries and analyses by experts and professionals.
To contribute your article or letter to The Daily Star Opinion, see our

guidelines for submission

.
---