Rohingya crisis and the norm of R2P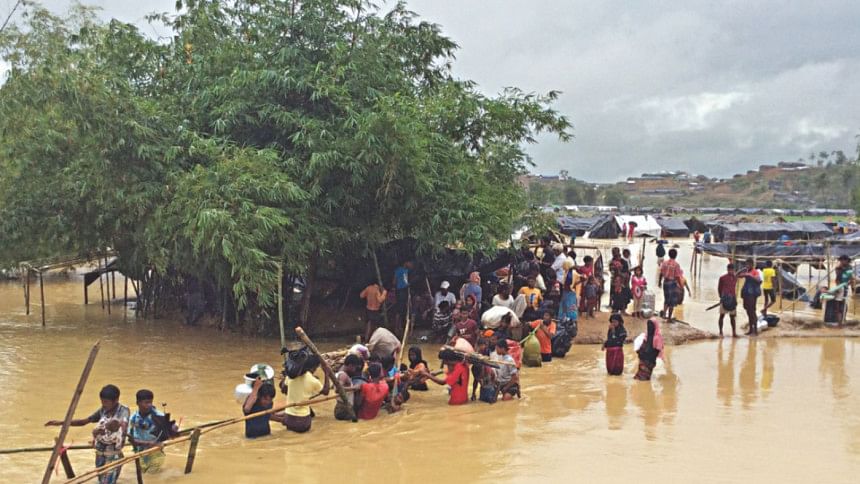 Overeignty is sometimes an overused yet largely exploited concept in the world of international relations. In its truest sense, sovereignty is a fundamental term designating supreme authority over a certain polity. Sovereignty has been used by some as a tool to continue the activities of authoritarian regimes, whilst others have sought to celebrate it through the practice of democracy. Realising the practical implications of misusing sovereignty as an international norm, the global powers initiated a 21st-century political commitment called the Responsibility to Protect (R2P). With the Rohingya crisis spiralling into a disaster of magnanimous proportions, this maybe an appropriate time to invoke R2P against Myanmar.
In 2005, member-states of the United Nations endorsed R2P to prevent four types of humanitarian crisis: genocide, war crimes, ethnic cleansing and crimes against humanity. The Rohingya crisis has been recognised by the Bangladesh government and many global institutions as being under the category of ethnic cleansing. So, what does R2P entail? As a norm, it demands that national governments essentially do not take sovereignty for granted. R2P is based on the principle that sovereignty requires a responsibility to protect all populations from mass atrocity crimes and human rights violations. Myanmar government's failure to protect a large proportion of the Rakhine-based Rohingyas makes a strong case for an intervention by the international community, either through taking measures stated in the R2P framework or by involving regional powers such as China or India to achieve a solution to an ever-growing problem.
Consider the case of Libya in which R2P was invoked to make a military intervention. However, one may be prompted to think that R2P automatically means direct military intervention on the part of the global powers. That is not the case. The basic tenets of R2P also involve measures such as mediation, diplomatic cooperation and economic sanctions as part of a mechanism to ensure that sovereignty is respected within a certain nation. According to the R2P doctrine, "The primary purpose of the intervention, whatever other motives intervening states may have, must be to halt or avert human suffering. Right intention is better assured with multilateral operations, clearly supported by regional opinion and the victims concerned."
But "there must be a reasonable chance of success in halting or averting the suffering which has justified the intervention," it states, "with the consequences of action not likely to be worse than the consequences of inaction."
Prime Minister Sheikh Hasina has already made it clear that her government has taken in Rohingya people purely on humanitarian grounds, nothing else. The Rohingya crisis ensued after the Myanmar government failed to exercise its responsibility to protect its own people from the horrors of ethnic cleansing. Considering that, many nations have initiated diplomatic efforts to pressure Aung San Suu Kyi into recognising the severe failures of her government with regard to Rakhine and the outflow of migrants towards Bangladesh.
R2P also covers an interesting point that makes it even more applicable for the Rohingya crisis. Its coverage is extensive in the sense that R2P recognises the fundamental rights of all people, whether one is a citizen or not—aliens or stateless. The fact that the Rohingyas are now stateless and being subjected to mass atrocity crimes means the R2P-bound international community has no option but to intervene to address Myanmar government's lack of accountability and action. It also means that the international community has a moral and legal obligation, as per international law, to pressure Myanmar into taking action to prevent ethnic cleansing and simultaneously support Bangladesh in its effort to ensure the survival of the refugees.
Interestingly, it was a Bangladeshi—Iftekhar Ahmed Chowdhury—who helped shape many tenets of the R2P. Chowdhury, who served as the Foreign Affairs Adviser to the Caretaker Government of 2007-08, had worked as a diplomat to negotiate several paragraphs of the R2P norm. It is now up to Bangladesh to persuade the global community to act immediately based on those tenets.
Foreign Minister Abul Hassan Mahmood Ali has suggested that Bangladesh is pushing for placing the Rohingya agenda at the UN Security Council, although it is unlikely that it will result in quick action thanks to the council's history of bureaucratic red tape and veto politics. However, the European powers have supported Bangladesh's stance on the crisis, with UN-based organisations asking nations to provide concrete support to the Hasina government. While it is disappointing to observe India's lack of condemnation towards Aung San Suu Kyi, one hopes that both India and China will eventually overcome the practical impediments holding back a formal condemnation, and intervene to pressure the Myanmar government into ending what surely qualifies as ethnic cleansing.
Myanmar is a proud, sovereign nation with a rich history. The same nation is now ignoring the plight of its people, and pushing the country to the brink of unrest by facilitating the massacre of one of its own ethnic groups. Identity politics and the politics of power cannot, and should not, be used as a basis for perpetrating ethnic cleansing. Myanmar cannot hide behind its sovereignty status to cover up state-supported crimes. The international community should seriously consider going for soft R2P interventions such as mediations and sanctions, and this seems to be the only way to convince a Nobel Peace icon that the path she and her government have taken is morally, legally, and constitutionally wrong.
Aung San Suu Kyi's chapter in history began with her bold, courageous and symbolic effort to institute democracy in her country. That she was able to do to some extent. But the world is getting increasingly disillusioned to see one of its greatest champions of democracy tread a dangerous and morally unacceptable path. She cannot hide behind the curtains of sovereignty and democracy any more, as the R2P demands that she take action to resolve the crisis that her government and the military have undoubtedly aggravated.
---
Mir Aftabuddin Ahmed is a student of economics and international relations at the University of Toronto.
---
Follow

The Daily Star Opinion

on Facebook for the latest opinions, commentaries and analyses by experts and professionals.
To contribute your article or letter to The Daily Star Opinion, see our

guidelines for submission

.
---