Cumilla polls, a litmus test for EC, and the shadow of drugs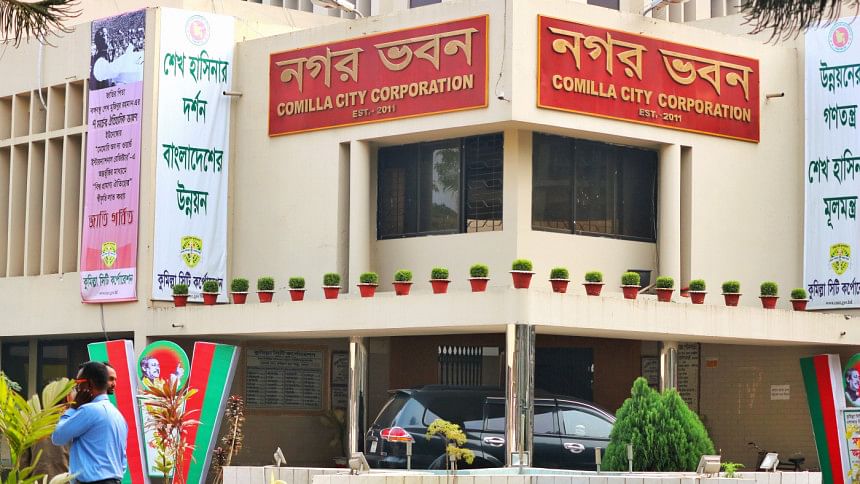 For a party so image-conscious and so demanding of "clean image" from its candidates, Awami League surely knows how to make a muck of things to draw unflattering attention. The latest example came last Saturday. According to a report by The Daily Star, the ruling party nominated Arfanul Haque Rifat as its mayoral candidate for the June 15 election to Cumilla City Corporation. It did so despite him being named in a government list as the number one patron of drug lords and smugglers in the district. Why on earth then, you wonder.
Reportedly, Rifat was backed by the long-serving member of parliament (MP) from Cumilla-6 constituency who, following the confirmation of nomination, publicly urged local leaders and activists to stand by his side. For Awami League, Cumilla city is a rare chink in its armour. It suffered defeats in both the mayoral polls held since the corporation was established in 2011. The third time's a charm, it will hope, and Rifat's résumé is full of reassuring news bites. He's got the whole Awami League spectrum covered in his career: Before serving as the general secretary of the party's city unit, he was a senior vice-president of the district unit of Jubo League. Prior to that, he was involved with Chhatra League. But to be selected as a mayoral nominee, he'd need to survive pre-selection scrutiny. Was there any, you wonder again.
This we don't know. What we do know—and perhaps what makes all the difference—is that he was chosen from 14 nomination-seekers by the holder of the most powerful office in the country, which marked him as a patron of criminals not long ago. The whys and hows of it are hard to fathom. Is it possible that Rifat was wrongly implicated? Could it be an intelligence slip-up? Or did they simply forget this had ever happened?
The list, a copy of which has been obtained by The Daily Star, was prepared by the Prime Minister's Office (PMO) with the assistance of a government intelligence agency, as part of a countrywide drive to identify drug traders and smugglers, their patrons, and corrupt law enforcement officials involved with them. It was shortly before the "war on drugs" was launched. The PMO, in 2018, even sent the home ministry a letter along with the list of Chattogram Division, urging it to take action following scrutiny. We don't know if the ministry did that at all. When asked for comments, a senior member of Awami League's Local Government Nomination Board posited that Rifat's inclusion may have been a result of conclusions drawn from "false cases" filed against him during BNP's tenure. One doubts if this is really the case, however, not just because of the unlikelihood of it happening so long after that distant era in our history, but also because of the involvement of responsible government offices in the listing process.
So much for the drive for clean image and credible elections.
With speculations swirling around the decision, Awami League would be wise to clear the air. Not that there is any illusion left for the citizens, especially after a decade and a half in which all credibility of our electoral process has been washed down the drain. Today, elections have become more of a depressing slideshow than a democratic tool for power transition.
Rifat's alleged background is a throwback to the not-so-short and not-so-distant history of men with questionable backgrounds including drug lords, land grabbers and human traffickers brought into the fold of ruling circles. Let's not also forget the power-hungry businessmen whose bottomless money pit has funded many a campaign. But the first group—because of their open, shameless display of the close ties between politics and crimes—certainly takes the cake.
Just over the past decade or so, we've had a number of MPs falling into that category. We've had Mohammad Shahid Islam alias Kazi Papul, elected from Lakshmipur-2 constituency, who was sentenced to seven years in a Kuwaiti prison for human trafficking and money laundering. We've had Abdur Rahman Bodi, elected from Cox's Bazar-4 constituency, who is facing trial in a graft case filed by the Anti-Corruption Commission (ACC) in 2007. Bodi is better known for having been a chief patron of yaba smugglers, and in 2015, topped a home ministry list of 79 leading human traffickers in Cox's Bazar. We've also had the likes of Haji Salim, elected from the Dhaka-7 constituency and recently sentenced to 10 years in a graft case. Their exploits and machinations are well-documented, their effects palpable throughout our political firmament.
The risk of having a mayor with alleged criminal links in Cumilla is that the district shares a 106km boundary with India, from where illegal drugs are smuggled into Bangladesh, according to law enforcement agencies. It's a huge red flag if the allegations against Rifat are true, although nothing definitive can be said since those allegations were perhaps never investigated. But doesn't Awami League owe it to the voters, and its own legacy—however murky—of fighting against drugs, to get to the bottom of the matter and take decisions accordingly? Unfortunately, that there should have been a need to ask something so basic shows how little we've come to expect of our political parties, and the electoral system in general.
The ruling party, thus, also owes it to the new Election Commission to be fair and reasonable in all decisions related to the Cumilla city polls. It is, after all, the first big election to be organised by the new commission (which started work only about three months ago)—and hence a litmus test for the integrity of the whole electoral process it is about to oversee in the run-up to the general elections scheduled to be held next year. The disclosure of the list, and Rifat's inclusion in it, have raised the stakes in an election already damaged by BNP's refusal to participate in it. Let's not damage it anymore. 
Badiuzzaman Bay is an assistant editor at The Daily Star.