State liability to pay compensation for rape: A necessary ruling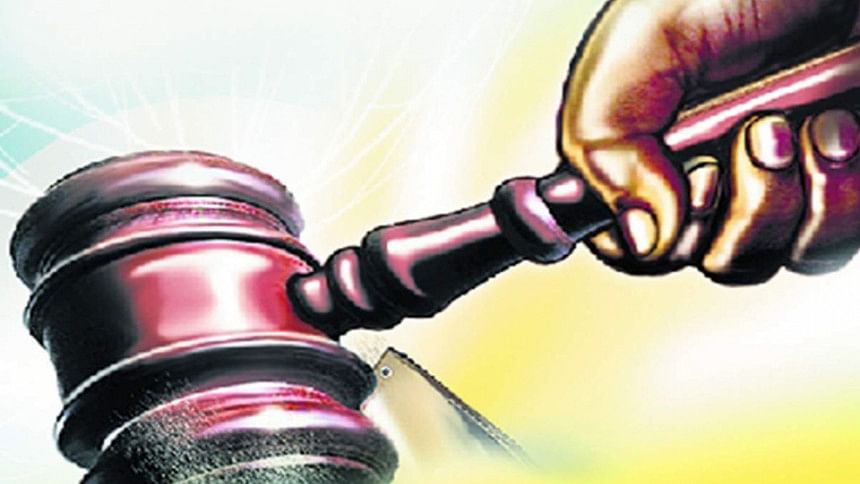 On March 10, 2019, the High Court issued a rule demanding the Inspector General of Police (IGP) and other concerned authorities to explain why they should not be ordered to pay compensation of Tk 50 lakhs to a young woman who had been raped by two police officers in Manikganj earlier in February. The rape incident took place on February 6, 2019 when a young woman along with her aunt went to Saturia Police Station to meet the Sub-Inspector who had borrowed Tk 1.5 lakh from the aunt three years back. The Sub- Inspector, along with the Assistant Sub-Inspector, took the two women to a nearby rest-house in the pretext of returning the money. However, upon reaching the destination they separated the two women by locking them up in adjoining rooms. They then drugged the young woman with yaba and took turns raping her. The women were confined for two days. Eventually they were released but the officers threatened to "kill them in a crossfire" if they spoke a word about the incident to anyone. Nevertheless, the young woman filed a complaint against the officers, who, after an initial investigation by an inquiry committee, were found to be guilty of the allegation, and accordingly arrested.
After this incident was published in the newspapers, Bangladesh Legal Aid and Services Trust (BLAST) and CCB Foundation jointly filed a writ impleading the Secretary, Ministry of Home Office, the IGP, the police officers and others challenging their culpable failure to prevent this kind of heinous offence by state officials, whose job it is to uphold the law and not violate it so brazenly, as illegal and demanding they pay compensation to the victim for such failure. The incident may remind some of the sensational case of Yasmin Akhter, a young girl who was raped and killed by police officers when she requested a lift to the town centre from them. In the criminal case which sentenced the two police officers to death, the High Court issued proposals for legal reform on violence against women to make it more effective, where it recognised the need to compensate a rape victim (21 BLD 465). However, the focus was on imposing compensation liability on the perpetrators of rape and not on the State.
Thus the rule in the Manikganj case is immensely significant because it is the first time the High Court has recognised (at least on principle) rape as a gross violation of fundamental rights guaranteed by our Constitution for which the State can be held liable to pay compensation. Previously we have seen compensation claims being made under the constitution for other forms of fundamental rights violations such as illegal detentions and deaths arising from road crashes and industrial accidents. Therefore this rule forces us to think of rape not only as a crime on part of the perpetrator, but also as a breach of the state's duty to ensure basic protection to its citizens, especially women and girls. Rape is a gendered crime, in that the vast majority of rape victims are female. As such it is a violation of a woman or girl's right to life and dignity guaranteed by Article 32 of our Constitution and also right to freedom of movement guaranteed by Article 36, especially in cases where the girl has been forcefully confined to a space, such as this one. Where the perpetrator of the crime is a state actor himself, such as in this case, the degree of the State's breach of duty becomes even more pronounced. Thus the rule also directed the government to outline a scheme or guideline which ensures that state controlled buildings (be it a rest house, police station or public place etc.) are adequately secure for women, girls and children. Additionally, the government was directed to submit a report on the steps taken for protection and safety of girls, women and children from sexual abuse across the country before this court by April 18.
This rule is also significant because it brings to the forefront an oft ignored reality that monetary compensation for the rape survivor is an essential remedy which our law lacks. Exclusive focus on punishing the perpetrator in our demands for instituting justice for rape has meant that there is little to no focus on redressing harms faced by the rape survivor and how she moves forward with her life. Some may argue how a crime like rape can ever be compensated with money. Yet this same question is seldom, if ever, asked when compensation for other forms of rights violations is discussed such as death from road accident or industrial accident. Thus it is important to recognise that compensation for rape, no matter how high, can never undo the harms faced by the victim-survivor, nor is it meant to. Thus the purpose of compensation is not to do the impossible, it is to give a form of relief to the victim-survivor so she is able to deal with some of the immediate costs arising out of rape, such as medical treatment expenses, litigation costs and granting the victim a degree of financial security and rehabilitation when she needs it the most. It is common knowledge that in most cases of rape, the perpetrator seeks to purchase impunity by offering paltry sums as compensation to the victim's family. Thus an effective legal framework for compensation for rape would also strike against this insidious practice of evading liability through out of court settlements.
Crucially, the significance of the rule depends heavily on how this case proceeds in the future. Many writ petitions where a rule nisi (show cause rule) was initially obtained later remain dormant once the incident phases out of public attention and the inherent delay of our court proceedings set in. For instance, a rule nisi was obtained by BLAST and other rights organisations Spectrum Factory collapse in 2005, where authorities were asked to show (among other things) why they should not pay adequate compensation the victims, yet the case is still pending for hearing and no compensation has been paid yet. Going forward, the government must seriously consider the severe need to establish a state compensation fund for rape survivors (which exists in other countries such as neighbouring India) where victims and survivors of rape can apply for compensation as of right so that upon proof of rape, they receive a remedy they urgently require but have long been deprived of.
---
Taqbir Huda is a Research Specialist at Bangladesh Legal Aid and Services Trust (BLAST) and can be reached at [email protected]
---
Follow

The Daily Star Opinion

on Facebook for the latest opinions, commentaries and analyses by experts and professionals.
To contribute your article or letter to The Daily Star Opinion, see our

guidelines for submission

.
---