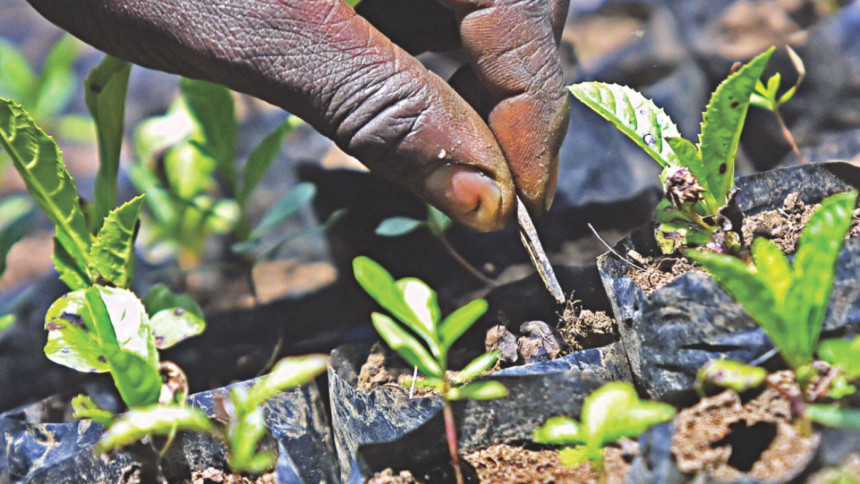 Green is "the colour of nature and health," according to Jacob Olesen, a Dane lover of colours. Since it is also the colour predicting our existence on this planet, humans may not have a choice but to be lovers of the colour green. No one ingrained its essence upon us more in Bangladesh than Rabindranath Tagore. His "Sonar Bangla," our national anthem, carried us in 1971. With deforestation and desertification threatening us today, its more formidable mission might lie ahead: to instil its messages of trees, breeze, and ever-flowing rivers to not-yet born citizens.
Our generation might not have to worry about human extinction, but we leave a truly raw deal for those we dedicate the future to. Take, for instance, the world's rainforests. Last year, the world lost the size of Bangladesh in trees, 39 million acres, the second record-breaking loss after 2016 (Hans Nicolas John calculated this for Mongabay, the Norwegian "Global Forest Reporting Network"). Most of these forests lie in the Amazon, and most of it goes to our greater need, food: ranching, agriculture, and commercial fishing, not to mention logging and mining. One-fifth of the Amazon has already been stripped, leaving a far larger proportion of the world precariously poised: the fewer trees in the Amazon, the more rapid rainfall and ocean waters across the Atlantic zone and disappearing ice in the Arctic (there go our RMG markets, business lovers!). Since more than three-quarters of all land animals and plants live in forests, denuding the planet is well underway. As more than 100 species disappear every day, the leash holding the human species also narrows every year. Adding climate change urgencies further exposes how dire and desperate our plight is.
"Green" campaigners, who have long been around, always plead in vain. Fortunately for them, we are now getting "green" soldiers and army, mostly fed from below (less-privileged, countryside dwellers, naturalists, and the first-wave of alarmed city denizens). Their efforts have been more grassroots and tangible than all the words written by pundits (like yours truly), and promises that governments were invented to make.
Imran Khan, Pakistan's just-elected prime minister and former cricketer found his first success even before entering office. Leading a campaign to fill his country's northwest Khyber Pakhtunkhwa with greenery from 2014 (dubbed "the Billion Trees Tsunami"), he achieved that in August 2017. At that time, only five percent of Pakistan land had forests (against the UN recommended 12 percent for that region). At a mere cost of USD 169 million, he committed 350,000 hectares to the project, and by 2030, another similar-sized area will be reclaimed from degradation and deforestation (see Rosamond Hutl, World Economic Report, July 2, 2018).
He is not the only green soldier reducing the global average temperature to under two-degree centigrade. Even grander has been the efforts of Pakistan's hitherto closest ally, no, not the United States (where we would expect initiatives on this scale to begin, given the humongous car emission levels and other air-control and nature-preserving initiatives), but China. Globally infamous for generating more smog in the shortest span of time in metropolitans like Beijing, the country's mission to be "developed", industrialised, and modernised has not prevented it from deploying 60,000 PLA soldiers to plant trees. Forestland will climb to 23 percent by 2020 and 26 percent by 2035 from the current 21.3 percent. Its plan to forest more than 60,000 hectares of land has already been more than half-accomplished, with 33.8 million completed last year and another 6.6 million hectares expected to be done this year. Known as the "Great Green Wall of China", it should inspire all the countries aping China's phenomenal economic renaissance (remember when it was the largest world economy from mid-18th Century to the start of the 20th Century, and shared that spot with India in the previous three centuries, there were no "green" problems, like today).
The irony should not be missed: the industrial revolution did not touch China or India then, though the voluptuous material world it spawned elsewhere snatched Mother Nature's riches in exchange for abuse. With China and India embracing their own industrial revolution, we hope their traditional "green" wisdom will ultimately prevail (and the best test will be fulfilling COP-21 goals on time).
Is there a larger green-saving case than China's? Fortunately, yes, not measurable in population size, but in area spanned. This is another "Great Green Wall", a 7,700 kilometre stretch across Africa south of the Sahara. It will span across 24 countries, with 4 million hectares already completed in Senegal. Among its hopes: restore 50 million hectares of land, add food for 20 million people, create 350,000 additional jobs, and neutralise up to 250 million tons of carbon. Unlike China's Great Green Wall, this one is expected to be seen (like the Great Wall of China is), from outer space, a green signal to the rest of the solar system of the earth's uniquely precious commodity, indeed, that life exists.
These sporadic cases were not mentioned without a purpose. What Bangladesh can do in similar vein is very much part and parcel of the message. If Pakistan could do it, to drum up our spirit, there should not be any reason why Bangladesh cannot. If China is our largest economic partner, this "green" Chinese initiative must also be allowed to flow into our far greener deltaic plains to reaffirm that friendship. If Africa can do it amid the most constraints and least productivity of any continent, Bangladesh can do it too. There is no way on this side of rational thinking why Bangladesh cannot, or why Bangladesh should not.
True, Bangladesh does not have the space, and is the fifth most vulnerable country against rising ocean-water and climate-change impacts. These threats should inspire us to begin where vulnerability is the most: along the coast and riverbanks; then stretch into the hills to halt landslides; and eventually embrace metropolitans, to give more breathing space to teeming millions.
Any concerted campaign to plant a tree along every river bank should help us get on the scorecard very handsomely, especially with ample people living along those banks everywhere. Turning the degree one notch up, any legislation requiring any individual or company who/which chops down trees for construction purposes, to compensate with 100 more for every felled tree. Given the monsoons and heavily impacted refugees on the Chittagong hills, we can get those refugees and residents to plant trees from now on for future safety: they are not going anywhere for a while, but it does not take a monsoon any more to have landslides when trees have been vanishing faster than rainfalls. With those as the key victims, perhaps Bangladesh could show a world torn apart by refugees/immigrants, and the populism it has helped spawn, that there are mutually beneficial options to resort to.
Green must continue to colour nature and health: from farm fruits, vegetables, and cereals, rather than through biological/botanical machines; and metropolitan garden-paths instead of a sewage- or smog-filled atmosphere.
---
Imtiaz A Hussain is the head of Global Studies & Governance Program at Independent University, Bangladesh (IUB).
---
Follow

The Daily Star Opinion

on Facebook for the latest opinions, commentaries and analyses by experts and professionals.
To contribute your article or letter to The Daily Star Opinion, see our

guidelines for submission

.
---