How the Banani rape verdict exposes the rape culture in our courtrooms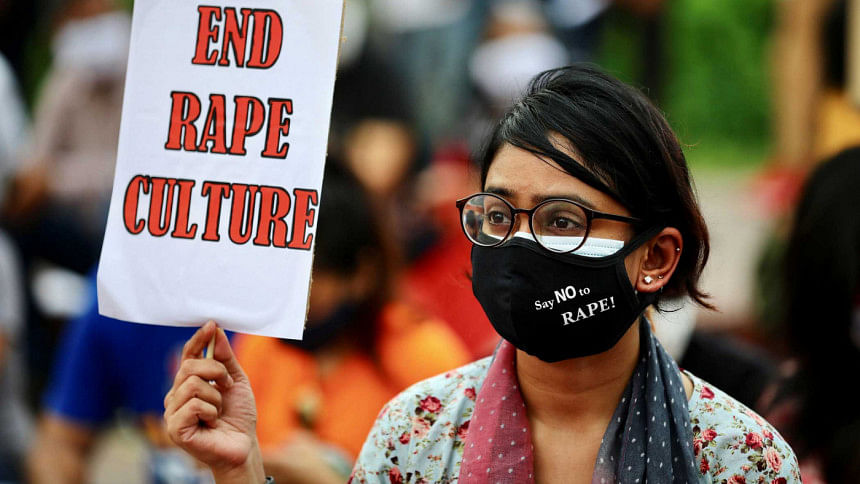 On November 11, 2021, Mosammat Kamrunnahar, judge of Women and Children Repression Prevention Tribunal 7 in Dhaka, reportedly asked the police "to refrain from receiving a case if a rape victim comes to the police station after 72 hours of the incident" since "semen cannot be traced after 72 hours."
Judge Kamrunnahar reportedly made these statements when acquitting all of those accused in the widely discussed Banani rape case, in which two women had accused five men of gang-raping them in a hotel at gunpoint on March 28, 2017. The women had filed the case with Banani police station on May 6, 2017.
The judge's now infamous statement is appalling for at least two reasons. Firstly, according to the Limitation Act, 1908—the law that prescribes time limits within which cases must be filed—there is no limitation period for the filing of a criminal case, such as a rape case under Section 9 of the Women and Children Repression Prevention Act, 2000. Secondly, such a statement ignores the undeniable reality that most rape survivors are precluded from promptly filing cases due to a number of socio-institutional barriers: from the misplaced social stigma, to violent threats of retaliation, to persistent community pressure to "settle the matter" through shalish, and most importantly, the debilitating trauma of being subjected to rape, which can often multiply in a country where victim-blaming is the norm. Therefore, for a judge to suggest an artificial and illogically restrictive time limit on the filing of rape complaints is not only against the existing laws, but is also an affront to rape survivors, for whom the struggle for justice remains an uphill battle. Naturally, therefore, as the statement made headline news, the judge's reasoning was met with public outrage. In a country where over 90 percent of rapists reported facing no legal consequences for raping a woman or girl, as per a 2013 UN study, suggesting a 72-hour time limit on the filing of rape cases can only perpetuate the already severe culture of impunity.
In the face of mounting public outrage, on November 13, Law Minister Anisul Huq told The Daily Star that he had found the statement to be "totally illegal and unconstitutional" and that he felt the judge had "lost her ability to remain in the post of a judge because of her observation." He further mentioned that the law ministry would immediately send a letter to the chief justice "requesting appropriate action against the judge." Soon after, on November 14, Chief Justice Syed Mahmud Hossain issued a directive temporarily suspending Judge Kamrunnahar's judicial powers, asking her to refrain from presiding over the tribunal for the time being.
While such swift action is indeed commendable, we would be remiss to think that innovating artificial time limits for rape complaints is an issue that only extends to Judge Kamrunnahar. From my reading of Supreme Court judgments on rape from the past 20 years reported in six different law reports, one of the common reasons the Supreme Court tends to acquit a rapist convicted by the tribunal is the delay in the filing of the rape complaint. Therefore, while Judge Kamrunnahar may have gone overboard with her suggestion on November 11, the fact remains that rape survivors who are unable to promptly file their complaint are routinely viewed with suspicion by judges, and this delay often acts as a ground of eventual acquittal. Introducing an online complaint mechanism, such as a designated website to file complaints, could enable rape survivors to bypass some of the socio-institutional barriers and file cases more promptly. As such, this was mandated by one of the 18 directives on ensuring justice for sexual violence survivors without delay or discrimination issued by the Supreme Court in 2016, which still remains unrealised.
The issue of time limit and delay in filing rape complaints aside, Judge Kamrunnahar reportedly made a number of other (less discussed) observations when ordering the acquittal that also exemplify problematic judicial reasoning on rape, and the wider rape culture in courtrooms. For instance, the judge reportedly observed that, based on the medical examination report of the two rape complainants, there was insufficient proof of rape; rather, the two women were found to have been "habituated" to sexual intercourse. She reportedly inferred consent on the rape complainants' part since they "willingly went to a party, danced, drank alcohol and swam in the pool." Judge Kamrunnahar reportedly further noted that the investigation officer of this case was "influenced" into submitting the charge sheet against the accused, implying that it was a false allegation. Therefore, she reportedly castigated the investigating officer for "wasting valuable hours" during which "many important cases" could have been dealt with.
Using medical evidence of women's past sexual history as a basis to negate their rape complaints has a long history in many justice systems, including ours. Therefore, in a 2018 judgment banning the use of the humiliating "two finger" test commonly used by doctors on rape complainants, the Supreme Court issued eight directives on the medical examination of rape survivors and procedure for rape trials, two of which are of particular relevance in the instant case, and which the judge clearly appears to have acted in contravention of. Firstly, the Supreme Court prohibited physicians and forensic experts from using the degrading phrase "habituated to sexual intercourse" when issuing medical certificates to rape survivors, and also asked them to refrain from asking rape survivors any questions about their past sexual history. Secondly, the Supreme Court directed the Women and Children Repression Prevention Tribunals to ensure that "no lawyer shall ask any degrading question to (a) rape victim which is not necessary to ascertain any information of rape." Following the Supreme Court ruling, on July 21, 2019, the Gender, NGO and Stakeholder Participation Unit of the Health Services Division under the health ministry issued some guidelines to reiterate the Supreme Court directives and instructed all doctors to abide by them.
While Judge Kamrunnahar's swift suspension has been welcomed by many, what this whole debacle really proves is the dominance of rape culture in our courtrooms, and the urgent need to introduce gender sensitisation training sessions for all justice sector actors, such as judges, police officers, forensic officials, public prosecutors and lawyers, which was one of the 10 reform demands issued by the Rape Law Reform Coalition in October 2020. Justice for a heavily gendered crime like rape can only be as good as the gender sensitivity of those delivering it.
Taqbir Huda is the advocacy lead of Brac's Gender Justice Programme and a member of the Rape Law Reform Coalition.