'A polarised nation is a paralysed one, and we're dangerously headed in that direction'
Syed Manzoorul Islam is a leading scholar and writer in Bangladesh. A retired professor of Dhaka University, he currently teaches at ULAB and is a trustee of Centre for Policy Dialogue (CPD). In this free-flowing interview with Badiuzzaman Bay of The Daily Star, he talks about the larger effects of the pandemic, deepening polarisation in society, politicisation of universities and recent VC scandals, the digital divide, Bangladesh's Covid-19 response, and other issues.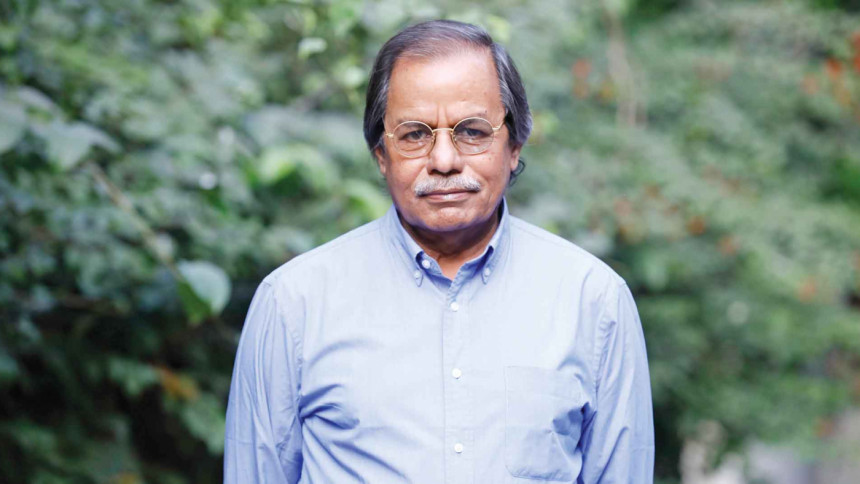 A lot has changed since the start of the pandemic. For many of us, it has come to instantiate the kind of epoch-making events that upend not just life but also perspectives, leaving a profound mark on the civilisation. As a writer and thinker, what has it altered or reinforced about your view of our society?
When the world was reeling under the onslaught of Covid-19 pandemic around this time last year, I was quite heartened to see the beginning of a global conversation about healing humanity and nature. There was strong optimism that nations would reflect on their failure to address inequality, violence and rights abuses, and would put all their efforts in righting the wrongs. From medical scientists to politicians, all pledged their support to ensure the efforts deliver results. We were told that collaborations are the future. For a time, I believed that we too would have some soul-searching and the post-pandemic Bangladesh would see a more caring and compassionate society, although altruism had never been one of our strong points. Nevertheless, I was hoping for a change in our mindsets and in the way we had connected with the less fortunate.
But when I saw inequities and violence against women and children rising and stories emerging of relief goods being sold and Covid-19 test certificates being forged, among many other instances of injustice and corruption aggravating the fallout from the pandemic, I realised that nothing substantial was going to change. Not in the way I, and perhaps many others, had hoped. So I resigned to the sad wisdom of the idiom I first learnt in school: a leopard never changes its spots.
On the brighter side though, the optimist in me found solace in the selfless service and sacrifice of the frontline Covid fighters, in the kindness of people providing food to the hungry and helping Covid patients find hospital beds or get decent burials.
Sadly, the pandemic hasn't changed my worldview for the better.
What's your favourite pandemic quote?
An old one—from The Plague by Albert Camus—that sums up humanity's predicament in times of pestilence: "We tell ourselves that pestilence is a mere bogy of the mind, a bad dream that will pass away. But it doesn't always pass away and, from one bad dream to another, it is men who pass away."
But isn't tragedy also a time that brings people closer? I ask this because I look around and all I see is the opposite, with deepening polarisation marked by sharply contrasting positions in the ideological architectures of our society. What does this polarisation bode for us and how do we get over it?
To be frank, ours has always been a polarised society, with the rich and the poor, landowners and peasants, factory owners and workers, the urban privileged class and the rural subalterns occupying the two ends of our social and economic spectrum. With capitalism becoming rampant, inequalities between these groups have widened.
In post-independence Bangladesh, there was a realisation that economic and social polarisation should end, but the political and social forces, the main drivers of change, preferred to take the old, beaten track. In the absence of system overhauls (in governance, judiciary, education, policy planning), the instruments and institutions that would ensure the end of polarisation failed to emerge. And with time, society and politics splintered into opposing and clashing interest groups. The polarisation that resulted was led by the two main political parties which, over time, became rigid, uncompromising and confrontational.
Today, political polarisation has morphed into tribalism which is undermining our democracy, judiciary and governance, and affecting the media environment, academia, workplaces, and even social relations. What is worse is that the traditional providers of checks and balances on the conduct of the government and political parties—such as civil society and the media—have become increasingly partisan. The social media, which has emerged as an alternative platform of public dialogue, has become something like an echo chamber, amplifying the divisiveness, hatred and intolerance that mark our political and social landscapes. Amidst the resulting chaos and panic, we tend to forget that a polarised nation is a paralysed one, and we're dangerously headed in that direction.
There is no easy solution for this, but as a teacher I believe education and culture can open the door to a less polarised and more tolerant, just, humane and equitable world. But without a sea change in the way we teach our children and view the role of culture, that door will remain shut. 
In a recent interview, you talked about how politicisation of universities has had a dreadful effect on the students, teachers and even vice-chancellors. Let's hear your thoughts on the last group—the VCs—many of whom have made headlines for allegations of corruption and irregularities recently. Is it just a few rotten apples, or are we going to have to accept it as a new normal?
The society expects exemplary behaviour and guiding roles from thought leaders, intellectuals and educators, including the vice-chancellors. Historically, they have met these expectations and played their part in enlightening and leading the society. But in post-independence Bangladesh, especially in the last few decades, there has been a slide in both the performance of these actors and in society's expectations about them. With the politicisation of academia and the rise of partisanism, many academics began to see themselves in the role of politicians, becoming minor players in the game of power.
Today, vice-chancellors of public universities are appointed more on the basis of their political affiliation than their academic performance, and it is not unexpected that a few of them have taken advantage of their position to misuse their power. In spite of irrefutable charges of corruption and irregularities, no vice-chancellor has been taken to court. Such immunity emboldens others. So I sadly agree with you that this may be a new normal we have to live with.
Fifteen years ago, no one would have imagined there would be a new frontier in social inequality called "digital divide". Today, it is as ubiquitous and quite as impactful as lack of food, housing, etc. As a teacher who witnessed first-hand how it's been affecting students, what's your take on this?
I see it as an injustice, a denial of the right to education—since online teaching depends on equal access to digital technology and related electronic devices—and lastly, as a failure of the society and the state in imagining and addressing this vital issue. Digital divide, which has been described as the new face of inequality, threatens to become unbridgeable because of the widening geographical (urban-rural) and economic divides. The authorities will have to address this issue on a priority basis, as the use of computers will increase exponentially in the years to come, and going online in every field of activity—from education to domestic travel—will become the norm.
How would you respond to worries about the apparent "degeneration" of today's youth—a term increasingly used in reference to modern lifestyle problems like drug/TikTok addiction, etc.?
When our culture first took a visual turn, I was worried that the youth, without any media literacy, would be lured into a world of make-believe where, in addition to viewing pleasure, they would encounter violence, sexuality and drugs. The arrival of the Internet and social media and the ready availability of drugs have, unfortunately, proved me right. As our economy developed, money flowed, corruption surged, and education became just a key to enter the job market, the safeguards of ethics, good conduct and culture that had largely protected earlier generations from corrupting influences crumbled. We cannot protect young people from Internet predators and cyberbullying as we are unable to protect our banking system from hackers. And it does not need the genius of a Steve Jobs to realise how the mix of drugs and temptations of the TikTok kind can be so dangerous, and how heavy a price we have to pay for the youth's daily exposure to violence and communalism and their disconnect from culture.
Banning any media or putting all the burden on gatekeepers would never work, however. I would rather go back to solutions that our education and culture offer. Bring back purpose and pleasure in education, make culture a means of meaningful self-expression and peer bonding, and revive the forgotten role of the family in walking a child through to adolescence and beyond. Difficult, yes, but not impossible. All it needs is a political will, supported by all stakeholders and the society at large. This is not a choice we have, but an obligation.
What's your thought on how Bangladesh has managed the Covid situation so far? 
When the Covid pandemic began to spread, the government reacted with some degree of urgency, shutting down the country and limiting people's movement. These and other measures worked for a while, and I should say, the government did well to contain the first wave of the pandemic. But once the country descended into Covid chaos, things began to unravel. The government succumbed to the pressure of maintaining a fine balance between life and livelihood, and even allowed super-spreader events to take place.
It is now clear that there was no long-term plan to manage the Covid crisis, no well-laid pandemic policy response (which has exposed our vulnerability in the face of new, more infectious variants of the virus), and no roadmap for efficient procurement of equipment and vaccination (for the latter, we put all our eggs in the basket of one supplier). We still don't have enough ICU beds and intubation facilities, and have a shortage of specialist doctors in district hospitals. The problems have been compounded by corruption in the health sector which the health ministry consistently denies.
We could have done better.
Despite our numerous achievements post-independence, especially on the economic front, why do you think we have failed to build a fair and inclusive society even after 50 years?
Our achievements indeed are numerous and the government deserves praise for consolidating growth. But we have failed to build a fair and inclusive society because we have not created equitable opportunities for all the stakeholders. We have allowed gender-based inequities to grow, and failed to allocate resources to the extreme poor. We have allowed communal forces to dominate our politics and pose a threat to the minorities. We have not respected the rights of ethnic minorities who, consequently, feel alienated and ignored. We have not been kind to people with disabilities and children who are employed in our labour force. Above all, we have not invested enough in areas that promote inclusive growth—education, culture, healthcare and social welfare.