'Freedom of assembly is my right. Society needs to give it to me.'
The first female National Professor and Ekushey Padak awardee Dr Sufia Ahmed has had a long, illustrious career in academia and beyond.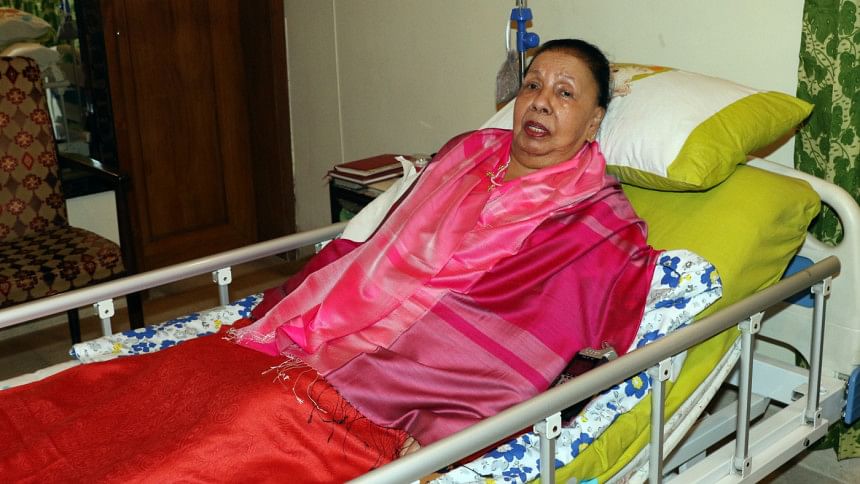 The first female National Professor and Ekushey Padak awardee Dr Sufia Ahmed has had a long, illustrious career in academia and beyond. She was the chairperson of the Department of Islamic History and Culture at the University of Dhaka as well as Bangladesh Itihash Parishad. She has represented Bangladesh as a delegate at the United Nations General Assembly and at UNESCO General Conference. But beyond that, she also belongs to a group of brave men and women who will forever be remembered in history as the ones who marched for our mother tongue. At the age of 87, Dr Ahmed is one of our last few remaining connections with the momentous day of February 21, 1952 when the pillars of West Pakistan received its first blow from the people they oppressed. Refusing to be intimidated into silence, Dr Ahmed and her compatriots marched out into the streets, louder than ever. That is where the conversation starts. We spoke at her residence in Gulshan. Dr Ahmed has given many interviews to the media in the past, but this time she chose to talk while lying in a medical bed, reminding us, once again, how close we are to the moment when the history of 1952 will only be in books. The interview, taken by Zyma Islam of The Daily Star, has been consolidated for clarity.
How do you recall the days before February 21, 1952?
I was a student at the Department of Islamic History and Culture at Dhaka University at that time. There used to be frequent meetings on campus organised by Gaziul Haque (an activist leader during the language movement). The students were actively engaged.
I was never affiliated with any political party, but I used to go to the meetings which would pivot around the decision to make Urdu the state language. The boys used to come at the girls' hostel for the meetings—there was only one hostel for girls at that time. It was decided then that we would march in protest against the decision about Urdu being the state language.
Men and women marching together was a rare occurrence. We would study together, but congregating at the same spot on the street, shoulder to shoulder, had never happened before. This was the first time that female students of Dhaka University got out to march.
We were to meet at 8 am on February 21, at Amtala. But the night before, they imposed Section 144, restricting people from congregating. I think they knew something was going to happen and so they announced the imposition of Section 144. We called each other up and confirmed that we would meet at Amtala, breaking the curfew.
On the day of the march, my father's friend, who was the superintendent of police in Dhaka at that time, requested me not to join the movement. He asked me to stay at home. I think they knew what was going to happen. The government's people were prepared to be violent with us should we violate their orders.
How did the day proceed?
I was among the first group of women to march out. It was around 11 am or 12 pm. By that time, two groups of boys had already marched out but they were picked up by police trucks.
Along with me were Rowshanara Bacchu, Dr Shafia Khatun, and Shamsunnahar Ahsan. You know, Shamsunnahar used to wear a black burkha; she was never involved with politics but that did not stop her from joining the march. When I saw her at Amtala, I was surprised. "What are you doing here?" I asked. "I couldn't help but come," she replied. We were headed toward the East Bengal Assembly Hall (now Jagannath Hall).
The girls were sent out in the hope that at least the police would not attack women. But the police charged at us with teargas and batons. The teargas was so painful! My eyes were watering constantly, and I could not see anything. I was hurt in the leg, and Rowshanara Bacchu was seriously hurt at the hip. Our saris were torn. They were not differentiating between men and women. The boys were pelting brick chips from above at the police, and there were stones falling on us too.
We scattered and started running. The home of the provost of Salimullah Hall was nearby, and so we snuck inside the premises to take shelter. His home had a huge garden, and we sat under the trees, and washed our eyes. There we sat until 4 pm—nobody came out to ask us inside and rest. Around 4 pm, we tried to get out to seek some first aid. When we tried to get out in the afternoon, a man came up to us and told us, "Girls, where are you all going? You cannot get out, stay put!" That is when we noticed that the general public—not just students, but people of all ages—had joined the protest. Suddenly, we heard the sounds of bullets being fired.
We had no idea that the march would turn like this.
At night we went back to the girls' hostel, and called home. My mother came to pick me up and took me home.
Did you face any resistance from home, before heading out to protest?
No, I did not face any resistance from home. My father was a liberal man. He used to always work for the development of the Bangla language and our subcontinent. He used to be a minister in Ayub Khan's cabinet for three and a half years. During his time in the government, he noticed first-hand how the West Pakistani regime dominated us. He was also a judge at High Court and the first founder-chairperson of Bulbul Academy. My father used to write letters to his friend, a retired district judge, and I learned from those letters of his sentiments. He also sent me to London, to get a PhD at that time and age.
Since you have marched against oppression yourself, and you have been attacked when marching for your demands, how do you perceive freedom of assembly?
It is my right. Society needs to give it to me. For me, I could not tolerate any oppression against my mother tongue. If I cannot talk freely in the language I speak, it will mean vanishing my identity. This is a basic human right for me.
How important is it to research the history of our country, to avoid knowledge gaps?
History shows how people succeed and fail. History repeats itself. Unless we study history, how will we know how to handle the present? Those who are research-oriented have to take personal initiatives to find out what similarities our current situation has with the past. The conflicting party politics of our country has tried to impact the ideology of the people. Whoever is in power tries to rewrite history. We did not have this during our time. Party politics has had a negative impact on the study of our history.