'Blended learning is what we will need in the coming days'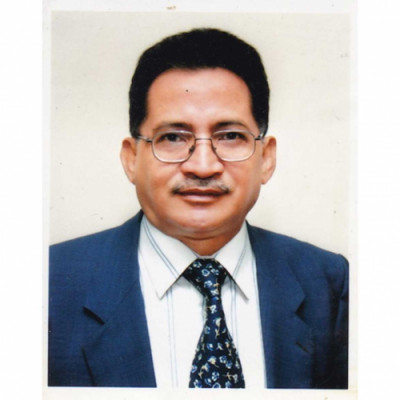 Professor Dr Kazi Shahidullah, chairman, University Grants Commission (UGC), former chairman, department of history, Dhaka University, and former vice chancellor, National University, talks to The Daily Star's Naznin Tithi about how universities can recover from learning loss as they are resuming in-person classes and why our universities should continue with online education alongside classroom education.
As universities (both public and private) prepare to resume in-person classes soon, how do you think the learning loss of the past year and a half can be recovered? Does the UGC have any specific directives to the universities, particularly public universities, to address this issue?
There is a lot of recovery work to be done. But I believe our public universities will find a way out of this crisis. After reopening, session jam would, no doubt, be an issue. Session jam is not a new thing here. Public universities have faced session jam issues in the past and have successfully overcome it. So, there is no reason why they can't do it now. Extra effort has to come from all quarters—teachers, students and administrators—to tackle the issue. Being a former teacher of DU, I know how the university went through many crisis periods and also recovered. Ways and means of recovery of learning loss have to be discussed and worked out by the respective universities. In public universities, the university syndicates, the academic councils, the dean's committees as well as the academic committees of the respective departments have to discuss the issue and find out a solution.
As far as I remember, the UGC sent guidelines to the universities around two months ago suggesting our ideas of how to recover the learning loss in order to help the universities address the issue. We made proposals such as trimming the course outline focusing on more important parts of the syllabus. Another proposal we made was reducing the holidays after reopening. Teachers may have to sacrifice holidays and would work overtime, if need be, to overcome this crisis. They will have to hold exams on time and publish results on time, for which greater coordination and cooperation of all will be needed. Another suggestion would be to extend the lecture time to one hour from the current 50 minutes. These are just some basic ideas. I am sure our public universities will rise up to the occasion and work out ways and means to tackle the learning loss. It won't be solved in a day; we will need time for that.
The digital divide in higher education became a cause for serious concern during this time. What lessons have we learnt from this? How will the universities deal with the issue in future?
The digital divide is a reality for us. The rural-urban gap and the rich-poor gap are quite significant here. In March 2020, when the universities were closing down at the government's directive, we from the UGC suggested that we should keep the online classes open. The idea was to keep the students engaged in education. Back then, we had no idea that the pandemic would linger on for so long. Later, we realised that online classes were the only option left for us.
We noticed that the private universities were keen to open up but the public universities were not responding as much. We had to conduct surveys to understand the reasons behind this and came to know that many public university students did not have the necessary devices to participate in online classes. After giving much effort, we could collect some funds and for the first time in the history of this country, the UGC gave loans to public university students to buy devices. When the problem of devices was somewhat solved, we learned that many students did not have the money to buy the high-priced internet packages. We then sat with the internet service providers to discuss the issue and got good responses from them. Based on our discussions, they offered exclusive internet packages only for students. But even that did not give us the desired result because students in rural areas were having connectivity problems. Disruption of electricity connection in villages was another obstacle the students had to face. So, there's no denying the fact that the digital divide has been a big issue during this time. The UGC tried to do everything in its power to make online education a success. But it cannot do anything about infrastructure development, the government has to do that. We hope the situation will improve in the future.
By now, only a few public universities have shown some progress in getting their students vaccinated or registered for vaccines, while the rest are still lagging behind. What is the current situation in this regard? Will it impact the reopening plan?
We have around 3.5 lakh students in our public universities. Among them, 2.5 lakh students have taken the first dose of the vaccine. There are roughly 1.3 lakh students in public universities who are hall residents. Among them, 1.18 lakh have taken at least one shot of the vaccine. I think the situation is quite satisfactory.
However, if we take into account the students of the national university, and the seven colleges under Dhaka University, then the total number of students would stand at around 43 lakh—of them, around 18 lakh have registered for vaccines. And, among these 18 lakh, 5.5 lakh have got the first dose of the vaccine. So, there is still a lot to cover. By the way, this is last Monday's statistics.
Of course, one of our targets is to take the vaccination to a satisfactory level before in-person classes start. But I don't think it will affect the reopening plan of the universities because each university will reopen after completing their preparations. If the authorities of a particular university feel that they are not ready, they can take time to reopen, but many of the universities will reopen pretty soon. While a university can start in-person classes in, say, five days, another university may need 15 days to start the process, but that should not be an issue. What is most important is, universities will have to reopen maintaining all health and safety guidelines. Vaccinating all the students is the most important part but it is not the only way to tackle the pandemic, according to all experts. Vaccinations will help but students will also have to maintain other health guidelines such as wearing masks, washing hands and keeping a safe distance from each other.
Since Covid-19 will continue to be a factor in the foreseeable future, experts have stressed the need for accommodating in-person and blended/hybrid learning to be able to respond to any emergency. What is the UGC's plan for any future disruptions in academic activities? What kind of reforms does the higher education sector need based on what we learned in the past 1.5 years?
Blended/hybrid learning is particularly important for a country like ours where we have to face many kinds of adversities in our higher education sector from time to time. What we have realised during this pandemic is that we should keep continuing with online classes alongside in-person classes. From now on, it will be part and parcel of our education system. Since we have to live with Covid-19, blended learning is what we will need in the coming days.
One of the basic problems is, our teachers do not have the expertise in online teaching. This is also a new concept for them. Teachers need to be trained so they can meet the expectations of students. What the UGC is trying to do is train university teachers in online teaching. We are now giving our time, energy and resources in capacity building. About a month ago, we conducted an online training programme for teachers in collaboration with the American Cultural Centre. We also collaborated with the Commonwealth Educational Media Centre for Asia (CEMCA) in arranging a workshop where 1,000 of our teachers participated. As I am speaking with you now, a workshop is going on with CEMCA titled "Online and Blended learning in Higher Education", which will go on for 20 days. Through these workshops, our teachers will attain the necessary skills to provide the students with quality education online. The UGC is arranging such programmes to give our teachers first-hand knowledge on the technical processes involved with online learning.
We have been observing many changes in the higher education sector in the 21st century. New technologies have started to emerge, which is impacting our work environment. So now the challenge before our university administrators is to transform our education curriculum from outdated to updated. At the same time, they have to focus on skill development and infrastructure development, so that they can deliver the talents needed for an innovative and digitised economy. Our country's growth and prosperity will depend critically on the ability of the universities to adjust with the changes in society and the economy. Our university administrators have to remain ever alert and do their best so that they can change and modernise the curriculum according to the needs of the fast-changing global economy. That is how our graduates will remain relevant to the demands of the market.