Migrants deserve dignity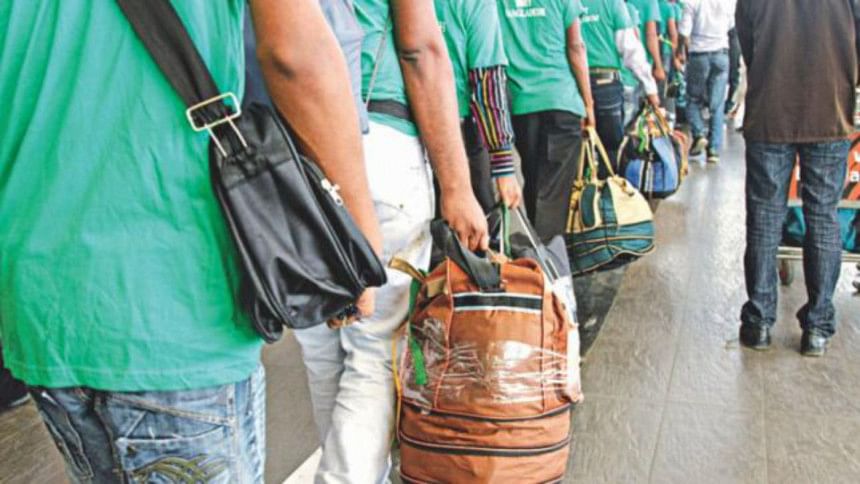 Kawsar is from Chandpur. He was determined to change his family's financial condition, and he knew he could achieve that by migrating abroad as a labourer. So he is going to Saudi Arabia.
Like Kawsar, every hour, 84 migrant workers leave Bangladesh to try and change their destinies. According to the Ministry of Expatriate Welfare and Overseas Employment and Bureau of Manpower Employment and Training (BMET), around 12 million people—of which 0.75 million are women—have worked abroad as migrant workers from 1976 to October 2018.
These migrants send remittance of an estimated USD 15 billion every year, which constitutes about eight percent of our GDP. Thanks to them, Bangladesh now has a foreign reserve of more than USD 30 billion. But despite their contributions, they do not get proper respect and dignity from any sector.
It is a common allegation of migrant workers that whenever they visit the embassy in times of difficulty, they often face neglect. Upon returning after long periods of time, they face harassment at the airport.
In one line, the truth is that migrants give plenty to the country and receive nothing in return. Under the circumstances, this year's theme for the International Migrants Day is "Migration with dignity". Now the question is, when will they get this dignity?
Migration cost from Bangladesh is the highest in the world. Middlemen in various stages of the migration process charge hefty amounts, the end result of which is this high migration cost. Recruiting agencies, middlemen, fraudulent agencies, inaccurate information regarding jobs, purchase and selling of visa at high price, availing of government permission and so on make their life difficult.
But that still is not the end of it. Once a migrant worker reaches their destination, they face different kinds of harassments such as inhuman workload, living in dire situation, exploitation, abuse, etc. Even after such harassment and exploitation, people are still trying to migrate for work.
Every day, as people leave the country to work, eight to 10 dead bodies are similarly being returned to Bangladesh. As these bodies are taken out through the cargo gate, it is not seen by the mass of people. According to the Wage Earners Welfare Board, approximately 36,000 dead bodies have been returned in the last decade, with the major cause of death being heart attack and stroke, and the age of the majority of those who have passed away being 28 to 30.
The government has the information of the labour migrants, but do not have proper data on the number of returnees. Every year, approximately 50 thousand people return with travel pass, in the last decade at least 0.2 million people have returned.
In the current socio-economic context, if a person is seeking loan for labour migration, there are numerous people who will support him/her but there will be none to support a returnee of failed migration, neither will he/she be well accepted by society.
Another dimension is that, a returnee who has worked abroad for long periods of time and has returned with savings, has no investment opportunity or has no clue of what to do next. Consequently, like the migrants who need support while going abroad, they also need support upon returning.
Recently, Bangladesh has heard the cries of vulnerable women returnees from Saudi Arabia. At times, these returnees are in need of immediate medical treatment, onward travel support, etc. But there are very few initiatives to give them such support.
It is true that the government has taken various positive initiatives in the field of migration, but there is still a long way to go to see the desired changes. People need to understand that, one has to travel using regular channels and needs to be skilled and possess verified information before migrating abroad. The middlemen have to be monitored and registered and the cost of migration has to be reduced. Additionally, new destination countries must be explored for both men and women. And the government and embassies have to understand that migrants are not only money-making machines, but they are also human beings who have to be given their due respect.
That is why, dignity and justice are the rights of migrants is a very accurate slogan for this year. If we do not respect our citizens, none will. If we honour them today, others will respect them tomorrow.
While migrant workers should be respected as human beings, that should not be only for the International Migrants Day, but rather for the entire year. Thus we salute the 12 million migrants, who not only contribute to our GDP, but also love and respect our country.
Shariful Hasan is former senior reporter of Prothom Alo and is now the Programme Head of BRAC Migration Programme.