SIXTEEN DAYS OF ACTIVISM AGAINST GENDER-BASED VIOLENCE
A Joint Message from Ambassadors For Change in Bangladesh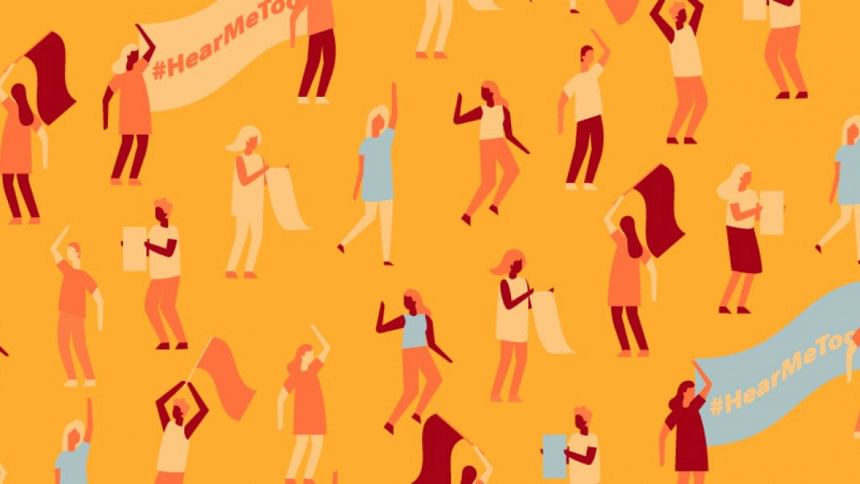 Tomorrow, the 25th of November, is the International Day for the Elimination of Violence Against Women, and the first day of the 16 Days of Activism against Gender-Based Violence.
As we begin our commemoration of this campaign, we must express our deep concern for all women and girls who continue to be at risk of violence, globally and in Bangladesh. As Ambassadors for Change, we want to speak out against the abuses that millions of women and girls face every day.
Violence against women and girls remains one of the most systematic, widespread human rights violation worldwide. Globally, one in three women will experience violence in their lifetime.
We recognise that this is a global pandemic, embedded in unequal power dynamics between women and men; reinforced by harmful social norms or inequality under the law. It is rooted in every society! Marginalised, vulnerable groups are susceptible to a higher risk of violence, due to their race, ethnicity, religion, age, disability or sexual orientation.
No country is immune from gender-based violence and the current statistics for Bangladesh are also alarming:
One in five adolescent girls between the age of 15 to 19 reported experiencing partner sexual violence (Hidden in Plain Sight, UNICEF, 2014)
More than 80 percent of currently married women are abused at least once during their marriage, most often from someone they know and should trust (National VAWG Survey, 2015)
More than one in four women experience sexual or physical violence (Ibid)
Seven out of ten women (73 percent) have experienced domestic violence at least once in their life (Ibid)
We have been conditioned to believe that women and men have different roles in society; that women and girls are expected to be gentle, modest, willing to compromise and submissive. Girls and women are often discouraged to voice their opinions. Women and girls have been taught to remain silent, even in the face of abuse as the risk of humiliation and retaliation is high. Women and girls feel forced to obey harmful, tacit rules; and if they do not conform, they are regarded as disrespectful women. As a result, women who have been harassed and abused too often suffer in silence. They are also afraid of the double victimisation, of not being believed and blamed that how they behaved or what they wore brought on the violence to themselves. This is another reason for staying silent, unprotestingly; prompting an incessant, vicious cycle of violence.
This silent acceptance of women's role in society, once suppressed, has been challenged because of the exposure it has received as part of the phenomenal, worldwide campaign of #MeToo. Resilient, courageous women from all over the world are speaking up and coming forward with their stories of harassment and abuse, even in Bangladesh. This movement has inspired millions of women to come forward and share their stories.
This year's theme for 16 days of Activism is #HearMeToo, as a continuation of the #MeToo movement, and other anti-violence campaigns that have emerged during the past year to advocate for women's rights.
If we intend to eliminate violence against women in all its forms, it is imperative to address its root and structural causes, such as patriarchy and power imbalance between women and men. We need to advocate for a more equitable society; the voices of women must have equal weight: socially, financially, politically and in every stratum of life.
As Ambassadors for Change, we stand with women and girls who have been silenced, suppressed and abused.
We stand with women survivors and activists; we want to help them to be heard, globally and here in Bangladesh.
We call on all institutions to be accountable for ensuring that all survivors of gender-based violence are heard.
We ask for men and boys to challenge the beliefs, values and social norms that reinforce violence against women.
We ask for equal protection under the law and through the justice system, on behalf of women and girls suffering from violence.
We demand swift justice and strong legal action against the perpetrators of violence against women!
We ask to introduce and expand a quality education system that empower girls and break gender stereotypes.
We want to reach out to all educational institutions to ensure that no woman or girl ever face threats of harassment and assault to the extent that she renounces her right to education!
We demand for full protection of sexual reproductive health and rights of women and girls everywhere.
We speak out now to ensure that all women and girls feel safe in the workplace, in public transports and in public spaces.
As Ambassadors of Change, we seek empowerment for women and girls so that they are heard, feel supported and motivated; and empowered to make decisions and stand up for themselves.
We ask everyone, from all walks of life, to join us in this movement and in our call for action so that every woman and girl is heard and be freed from violence!
#HearMeToo
This message is cosigned by:
H.E. Julia Niblett, Australian High Commissioner to Bangladesh
H.E. Alison Blake CMG, British High Commissioner to Bangladesh
H.E. Benoit Préfontaine, Canadian High Commissioner to Bangladesh
H.E. Winnie Estrup Petersen, Ambassador of Denmark to Bangladesh
H.E Rensje Teerink, Head of European Union Delegation in Bangladesh
H.E. Marie-Annick Bourdin, Ambassador of France to Bangladesh
H.E. Harry Verweij, Ambassador of the Kingdom of The Netherlands Bangladesh
H.E. Sidsel Bleken, Ambassador of Royal Kingdom of Norway to Bangladesh
H.E. Charlotta Schlyter, Ambassador of Sweden to Bangladesh
H.E. René Holenstein, Ambassador of Switzerland to Bangladesh
H.E. Earl Robert Miller, Ambassador of United States of America to Bangladesh
Mia Seppo, United Nations Resident Coordinator and UNDP Resident Representative in Bangladesh
Beatrice Kaldun, UNESCO Country Representative in Bangladesh
Dr Asa Torkelsson, UNFPA Country Representative in Bangladesh
Shoko Ishikawa, UN Women Country Representative in Bangladesh
Derrick Brown, Mission Director of USAID in Bangladesh