Equal rights ensure a strong society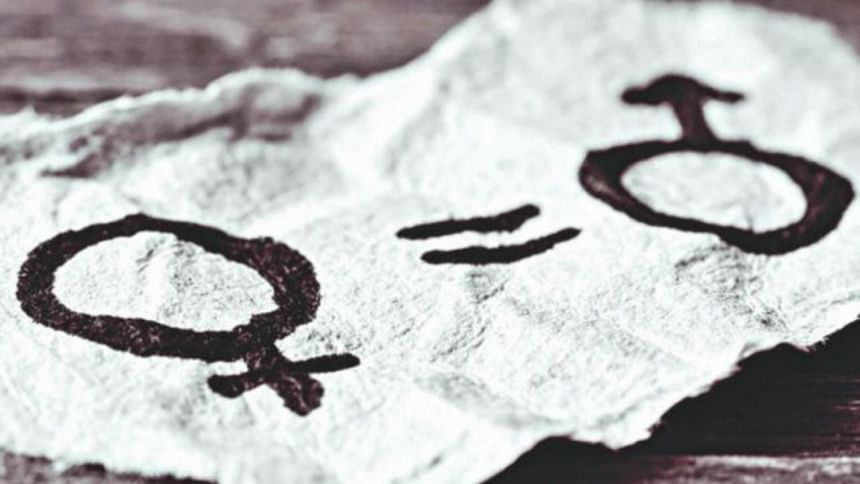 Human rights include women's rights, and for women to be empowered on equal grounds as men, is at the end of the day, human rights. However, we find ourselves today in a world led and dominated by men. This begins from the basic core household level and carries on up to global dominance. Women need to be given fair and equal representation in every field of life to ensure a balanced social environment. When society allows women to grow, it automatically enhances the structure of the society and its economic status. A disturbed and distressed society usually gets created out of suppressed women and dominant men. The key is equality of existence.
It is rather difficult to obtain equal status for women in society when all the norms and rules are dictated by men. We find men and women on different payrolls for the same job performed by either, and this is no secret. Conditions are already laid down for women in society even before they can understand society. The pressure for a female on the ways of living life, beginning from home to every little step outside of it is massive. When society is afraid of loosening and letting go of the grip on its reins on women, it only reflects how weak it is.
In the pursuit of women empowerment, the Global Agenda for Sustainable Development 2030 has left women in a permanent contradiction. Under the global mandate of the achievement of the Sustainable Development Goal 5, Gender Equality (SDG 5), women find themselves in a permanent dichotomy between the gender diversity and equality paradigm. On the one hand, the gender diversity approach has imposed on women new responsibilities. It has been said that we are multitasking, more organised, more careful and with greater capacity of commitment. Under this paradigm women are assigned more responsibilities that very often are not adequately rewarded. On the other hand, under the gender equality approach, women have been asked to be as competitive and assertive as men. Our research shows that both discourses are equally contradictory and that women face a permanent contradiction in their work and personal lives in the pursuit of SDG 5. Therefore, the notion of women empowerment is becoming merely a part of the bandwagon than a real commitment to gender equality.
Empowering women would not only improve the socio-economic status of a country but it would also decrease the crime rate which further marginalises women. Increasing the confidence of women would help them fight daily abuse instead of being submissive towards it. Most women are made to feel degraded despite their daily hard work, due to the lack of opportunity to earn more money than men or more importantly, have a voice to speak up before men. This leads to women facing more abuse inside and outside of their homes. Women are usually considered to be, not smart or intelligent or courageous enough to lead the world, according to men of course. Until we break these stereotypes, society will always remain weak, vulnerable and susceptible to injustice.
We women need to empower ourselves; men in our country (nearly all over the globe) have been brought up with the idea that their role is to be providers and therefore, earn and support the family. We need to alter this credo and begin to address our role in the family and in society. We can no longer isolate ourselves from the outside world and remain seated with our feet tied. Parents need to internalise and promote the idea that daughters and sons are equally accountable for work and domestic responsibilities. Because parents happen to ignore this, girls and young women often become discouraged to pursue their dreams and reach their optimal potential. Instead we passively accept our "inherited" condition and engage in care work. Parents can step forward to make changes that we are striving to achieve for centuries. Parents need to equip daughters in the world where they are required to be armed with the proper weapons—confidence, self-esteem, determination and having the ability to think independently without any interference and interruptions. Even if women are armed with confidence, we are continuously compared to and our skills are measured against our male counterparts—there is a constant demand to demonstrate our flair, resulting in an unhealthy man versus woman battle. Despite these odds, we can advance ourselves to clinch what is ours. It is us—women—who need to break the stereotypes and invest wisely in ourselves to unleash our highest potential and get off the women empowerment bandwagon to bring about real gender equality.
Women must stand up for women, for the ones who have had the chance to be themselves and been able to express to help those who cannot. Empowering women is giving women the right to express and have a voice of their own as rightfully deserved.
---
Manjuma Akhtar Mousumi is a faculty member at BRAC Institute of Educational Development, BRAC University and researcher at eWisely, an eLab for Research on Women, Sustainability and Leadership Studies. Sarvajaya Choudhury is a freelance photographer based in Kolkata, India. Isabel B Franco, is a scientist at United Nations University, Tokyo, Japan and Research Director at eWisely.
---
Follow

The Daily Star Opinion

on Facebook for the latest opinions, commentaries and analyses by experts and professionals.
To contribute your article or letter to The Daily Star Opinion, see our

guidelines for submission

.
---