Why criminal justice reform is a must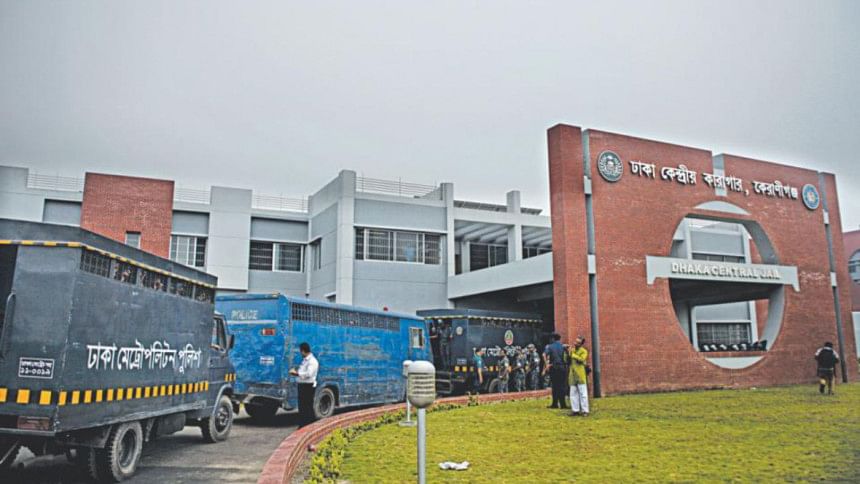 Prime Minister Sheikh Hasina has recently directed prison authorities to engage inmates in commercial production as a means of rehabilitation; her words were echoed by Iqbal Hasan, an additional Inspector General of prisons, who suggested that innovative policies would be used to turn conventional prison structures in Bangladesh into ones operating like correctional facilities. This vision falls in line with the mandate of the UN Sustainable Development Goals agenda, of which Bangladesh has become a key proponent.
SDG 16 posits working towards a system of "Peace, Justice and Strong Institutions". Whilst the statements by government officials give us hope about criminal justice reforms, Bangladesh faces innumerable hurdles in its quest to ensure that state functionaries operate in line with the law of the land. It goes without saying that ensuring equal access to justice and reforms in the colonial-era penal codes are fundamental to ensuring several aspects of the SDGs. In addition to Goal 16, criminal justice reform is crucial in ensuring a sustainable path towards socioeconomic development, namely in the vicinities of Goal 1 ("Poverty Reduction"), Goal 4 ("Gender Equality") and Goal 10 ("Inequality and Discrimination") of the SDGs.
There are several disconcerting statistics regarding the criminal justice system in Bangladesh. Official data from 2018, according to the International Centre for Prison Studies, indicates that there are 88,424 inmates in 68 establishments controlled by the Department of Prisons. Of this number, a significant 78.2 percent are pre-trial detainees, or what is more commonly known as remand prisoners. Interestingly, the official capacity of our prisons is a mere 36,614—resulting in an occupancy level of 241.5 percent. As the country has marched on an impressive path of nominal economic progress, the figures on prison inmates have increased over the past two decades—from 62,669 in 2000 to over 88,000 in 2018. Now, these are official figures. If these trends are to be understood, then the increasing number of inmates should not be seen solely as a success of the law enforcement agencies, but also as a failure of the state to rein in crimes or rehabilitate the criminals and change perceptions of criminal philosophies. Some also argue that it showcases a hardline approach towards criminal justice by the state, which in cases of terrorism or corruption can be justified. However, the use of colonial-era laws and stringent law enforcement measures against citizens who may have committed minor crimes begs the question as to whether we as a society are more interested in curbing dissent, or whether we want to work towards rehabilitating our very own people.
In January 2018, Law Minister Anisul Huq stated that more than 3.3 million cases are still pending with the higher and lower courts across the country. The ratio of judges to inmates in the country is appalling, resulting in deadlocks over case completion. This has resulted in a cycle of delays, especially for convicts in the lower strata of society. It goes without saying that a large fraction of undisposed cases is a burden mostly falling on low-income convicts—and if we abide by the jurisprudential principle of "innocent until proven guilty", then delayed justice for some does result in "no justice". There have been several cases of convicts later proven to be innocent, who have suffered decades of incarceration in prisons due to delays in the completion of their respective cases. As a society, this is shameful for us, and it needs the attention of the government.
To address these challenges, there are indeed several steps that the government can take. For one, the state is expected to assess existing laws and evaluate them in light of the needs of the time. The existence of Section 54 of the Criminal Procedure Code (which allows the police to arrest an individual without a warrant) and certain aspects of the Digital Security Act 2018 is reminiscent of the legal practices promoted by imperialist and undemocratic forces prior to 1971. One hopes that colonial-era laws and those systems which are against the very spirit of our Constitution will be re-examined by an independent body, such as the Law Commission, and phased out. This is essential for addressing key challenges for the reforms of our criminal justice system.
Secondly, one hopes that a realistic long-term policy plan is set in motion to achieve these reforms. The cost of subsidising law enforcement schemes in Bangladesh is expensive. The Public Security Division was promised a whopping Tk 21,406 crore allotment in the 2018-2019 fiscal year. Public order and safety represent 5.71 percent of the national budget—a proportion significantly higher than what is given to more credible human development issues such as education, healthcare and environmental protection. For one, the allocations given to public safety, and more specifically towards jails, need to be realigned towards rehabilitating inmates—through training, education and inmate developmental schemes. Rather than focusing exclusively on enhancing the manpower of law enforcement agencies, the focus needs to be more on completing unfinished cases and reducing judicial deadlocks. Therefore, there is the argument of increasing the number of judicial establishments and human resources in this sector over a period of time.
In hindsight, the criminal justice reform is but a component of larger changes needed in the reorganisation of the judicial system, which is a prerequisite to achieving good governance. But on a broader scale, Bangladesh has too many inmates for the prison system to sustain. Rehabilitating citizens requires the politicians to refrain from using law enforcement as a political weapon. There is a reason why Bangladesh scores so low in rule of law indicators. As a country, we have avoided rehabilitating our citizens and used the prison system as a tool of oppression, rather than as an institution for civic reform.
We want a society free from the perils of crimes. And without reforming the system, there is very little that can be done to curb crimes or reduce the number of inmates in our prisons. Therefore, we urge the government to evaluate its policies regarding the criminal justice system and put in place progressive agendas in this regard, whilst promoting the establishment of the rule of law in Bangladesh.
---
Mir Aftabuddin Ahmed is a graduate of economics and international relations, University of Toronto.
Email: [email protected]
---
Follow

The Daily Star Opinion

on Facebook for the latest opinions, commentaries and analyses by experts and professionals.
To contribute your article or letter to The Daily Star Opinion, see our

guidelines for submission

.
---