Trump-Kim meeting: The lure of the Lion City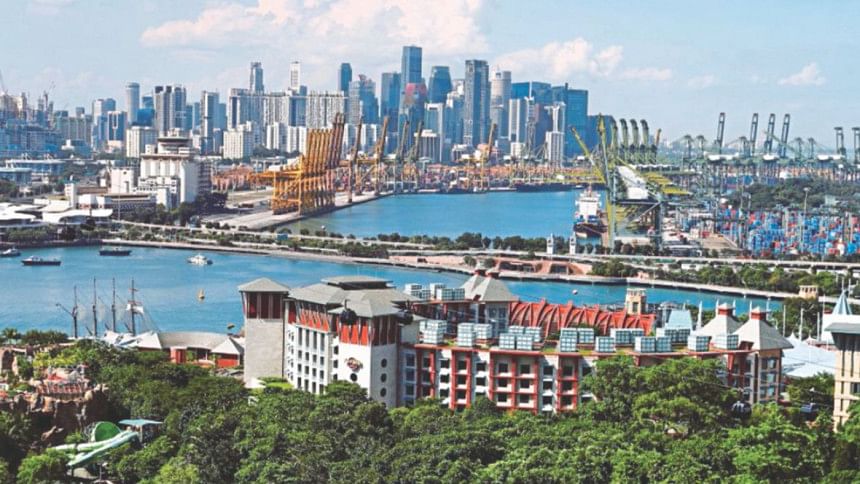 The on-again, off-again summit between the leaders of the United States and North Korea are due to be held shortly in Singapore, an ideal setting for many reasons. While it is likely to de-escalate tensions, prudence would dictate limited expectations.
When one ponders over the word "wise" in relation to leadership, the image of President Donald Trump of the United States does not readily spring to mind. He is generally known to favour instincts over intellect in determining actions. But no matter. That notwithstanding, it may be stated with incontrovertible veracity that Trump is the most powerful of men. Within his administration he clearly constitutes a majority of one. Analysts have often struggled to discern a method in Trump's behaviour. No conclusive conclusion has been reached, if there is one.
Chairman Kim Jong Un of North Korea has also been stupendously unpredictable. Like Trump, he blew hot and cold, and sent tremors of fear across the region and the world. Then suddenly, he went South to parley with his adversary. This was just like Egypt's Anwar Sadat travelling to Jerusalem. To both Kim and Sadat, the search for the Holy Grail of peace was considered a worthwhile reason for the momentous crossing. Not just of frontiers, but metaphorically, from one mental framework to another. Might Trump and Kim in many ways be birds of the same feather? Perhaps.
The lead-up to the Summit has achieved results that are already substantial. First, the animosity between Washington and Pyongyang is dwindling. There is already a détente of sorts. Trump's letter to Kim was answered in a conciliatory missive hand-delivered by a senior North Korean emissary, in a much larger envelope. The official was warmly received by Trump in the White House. Thereafter, throwing practice and protocol to the winds, Trump walked the visitor to his car. Epithets like "Rocket Man" and "dotard" were now swiftly replaced by such refined greetings as "Excellency" and "Chairman". The unkind references by Trump and Kim to each other's limited minds or diminutive size are now a thing of the past.
Second, the series of pre-summit events also infused a sense of nationalism bridging the gulf between the two Koreas. Much of this is also owed to the positive spirit emanating from South Korea's President Moon Jae-in. The Japanese are noticing this to their chagrin. Credit-mention must be made of Moon's relentless efforts to bring the Summit about. His ceaseless endeavours to that end began immediately after the rather bizarrely crafted communication from Trump calling the Summit off. These led the US president, in mind-boggling rapidity, to retract the cancellation.
Third, a corollary to the second point, there could be a realignment of interests among allies confronting North Korea, in the preparatory process to the Summit. Some differences between the US allies Japan and South Korea are beginning to surface. Recently, at the Shangri-La Dialogue in Singapore, the Japanese Defence Minister Itsunori Onodera expressed a modicum of warranted concern at the possibility of relenting too much vis-à-vis North Korea. He expressed fears citing North Korea's past alleged spurning of assurances. The measured response of South Korea's Minister Song Young-moo was: "The times are different. North Korea has a new leader now. I believe North Korea is looking to change the course of history and is taking a decisive action towards that." That summed up Seoul's sentiments.
While substantial results are already appearing on the cards even at the pre-summit phase, questions remain at the prospects of substantive achievements at the Summit itself. Understandably, neither side can win at a canter. Negotiations will be influenced entirely by perceived national self-interests. At stated levels, what the US asks of North Korea is "complete, verifiable, irreversible disarmament" (CVID). Among what comprise the North Korean capabilities are the Hwasong-12 missiles (range 4500Km, which includes Japan), Hwasong-15, (range 13000km, which includes the US), and miniaturised nuclear warheads to fit inside both. Kim cannot be faulted for assuming that it is his possession of these that have led to invitation to talks rather than invasion of his country.
The concept of nuclear deterrence had evolved during the Cold War era through the writings of strategists like Bernard Brodie and Thomas Schelling. The essence was dissuading an adversary from attacking by inflicting a fear of unacceptable level of damage in reprisal. The adversaries, the US and the Soviet Union, had huge arsenals of missiles and bombs, but meant for the prevention of wars rather than their use in conflicts.
Neither such theories nor such weapons are the preserve of the powerful any longer. Indeed, in cases it has become the tool of the less powerful to keep the more so at bay. So it would be a tad unrealistic to expect that North Korea would be willing to sign these capabilities away for a song in Singapore. Furthermore, the sad plights of Iraq and Libya are not forgotten in Pyongyang, particularly when Kim is being curiously and periodically reminded of it by the US Vice President Mike Pence and National Security Adviser John Bolton.
So, what can be the outcome of the Singapore Summit? Prudence dictates that expectations be kept low. The US and the Koreas still do not have a Peace Treaty formally concluding the Korean War of 1951-53. That in itself is no low-hanging fruit and could be viewed as a reasonable goal. A Statement of Intent for Peace could commence the process. Thereafter, a structured formula for lessening of tensions, such as through reduction of nuclear capacity by both sides, would be rational. The interests of key third parties must be borne in mind—such as of Japan, for instance. If North Korea is allowed to retain limited missile-delivery capabilities that might still render Japan vulnerable, the US might further buttress its nuclear umbrella over Japan. The fact that none of these will be easy is neither fish, flesh, fowl nor good red herring. For it does not mean these must not be attempted.
No venue for such a summit as this could be as ideal as Singapore. It is safe, secure and smart. It is a past master in the practice of protocol. It has hosted such events in the past. Also, countless international conferences. Procedures on such occasions can be as tedious as substance. Both protagonists must be viewed as being equal and at par. Personnel and logistics servicing them must be exactly similar. Singapore can pull off these arduous minutiae. Also, Singapore has the intellectual wherewithal to be able to insert helpful ideas, if need be. This is the capacity to be an "honest moderator", as its Foreign Minister Vivian Balakrishnan has said. That is why the Lion City was such a lure for both Trump and Kim! The Summit is now slotted for 9AM Singapore time on Tuesday, June 12. The world awaits it with bated breath. Kim and Trump may not seem eager to learn from history. But they may be poised to make it.
Dr Iftekhar Ahmed Chowdhury is a former foreign adviser to a caretaker government of Bangladesh and is currently Principal Research Fellow at the Institute of South Asian Studies, National University of Singapore.