Covid-19 In India: Road ahead for the world's largest quarantine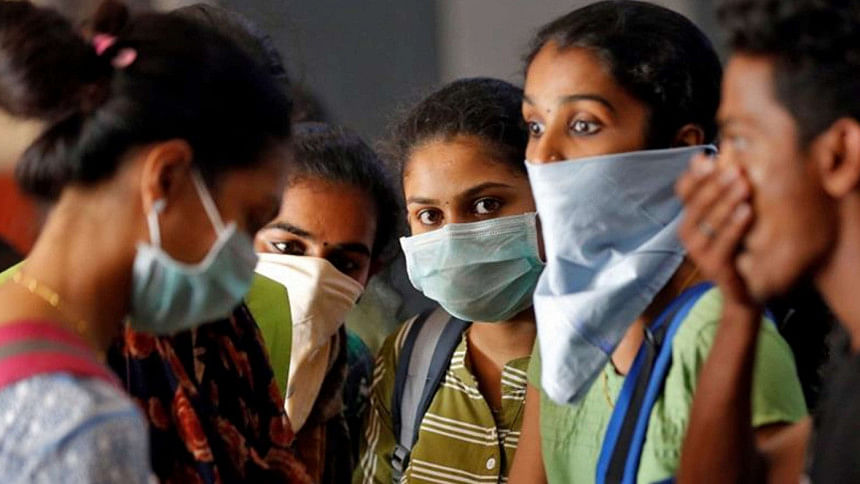 "Extraordinary times require extraordinary solutions"—that is how Indian Prime Minister Narendra Modi summed up the worldwide response to the coronavirus pandemic during a video conference on March 30 with the heads of all of India's embassies and high commissions across the globe. To drive home his argument, Modi pointed out how, even in an era of globalisation, most of the countries retreated into quarantines with an extensive impact on the international transport system, financial markets and the global economy.
Modi himself opted for "extraordinary solutions" when he took the unprecedented and early steps in response to the pandemic to reduce the risk of importing the infection, and thereafter to prevent a large outbreak in a country of 1.3 billion people. He began with a "Janata Curfew" for a day and quickly followed it up with a total countrywide lockdown for three weeks, creating the world's largest quarantine with concomitant socio-economic costs. He is also repeatedly sending out a strong message of social distancing as a key tool to stop the spread of the contagion. According to the health ministry data, India went from 100 cases to 1,000 cases in 12 days. By contrast, cases in the developed countries rose between 3,500 and 8,000 during the same timeframe. However, it must be recognised that given the density of India's population, any strategy to deal with the coronavirus has to go much beyond lockdown and social distancing.
How is India, with its huge geography and population, going to combat this pandemic? Coronavirus has already affected more than 2,000 people in India and snuffed out over 50 lives. Health officials in the country contend that it has not yet reached the dreaded stage of community spread though a very limited local-level transmission of the contagion seems to be coming to the fore. It is important to note that more than 50 percent of the confirmed coronavirus cases in India have a travel history.
India's strategy to contain Covid-19 is evolving as per the situation. The latest component of that strategy has two main objectives: 1) identifying "hotspots" where "unusual" transmission of the contagion has been observed, and 2) significantly scaling up testing which will allow informed decisions for isolation and quarantine of individuals and localities. The decision to ramp up testing proceeds from the premise that more and more of it holds the key to successfully combating Covid-19.
According to the Indian Council for Medical Research, 129 government laboratories are functional with a testing capacity of 13,000 tests per day, along with 49 accredited private labs which have around 16,000 swab collection centres. As of March 30, 38,442 tests have been done with 1,334 tests in private labs across the country. The manufacturing capacity of India's first indigenous kit, developed by a start-up in Pune, is being scaled up to produce nearly one lakh kits per week. A manufacturing facility for indigenous development of testing kits has been set up in Visakhapatnam, Andhra Pradesh where manufacturing is supposed to start in the first week of April.
Delhi, the country's capital, its satellite city of Noida in Uttar Pradesh, financial capital Mumbai, and Maharashtra's cultural capital Pune, Bhilwara in Rajasthan, Ahmedabad in Gujarat, and Kasaragod and Pathanamthitta in Kerala are the clusters identified by the government. And understandably so, because a majority of coronavirus cases and deaths have been reported in Maharashtra, Kerala and Delhi.
The government is going for a rigorous cluster containment strategy which involves demarcating an area of three kilometre radius around the epicentre, a buffer zone of additional five kilometre radius, and ensuring all quarantine protocols are followed here, according to Lav Agarwal, a joint secretary of the health ministry. As per this approach, to contain local transmission, one needs to isolate the house of a Covid-19 positive patient and then go in pursuit of tracing his or her contact list and keep all of them under surveillance.
As contact-tracing is a time-consuming exercise, the strategy is to demarcate the three kilometre radius as the epicentre and it would be sealed. All residents in this area would be asked to stay indoors to facilitate complete sanitisation. Sources in the Integrated Disease Surveillance Programme said, "Normally, we define any area where there are more than ten Covid-19 positive cases as a cluster. Places where there are several clusters are treated as hotspots."
Seeking to dispel apprehensions of community transmission, Agarwal said only a "minuscule percentage" of people asymptomatic of the coronavirus have tested positive in India. India is working proactively to significantly boost its capacity for carrying out largescale Covid-19 testing and serology efforts to allow surveillance and clinical research and control the spread of the virus. Four labs have already been notified as testing labs by Indian Council for Medical Research, and other labs that have the infrastructure to carry out the tests are being readied, officials at the ministry of science and technology said.
A six-member Science and Technology Empowered Committee comprising senior officials drawn from the health ministry, Department of Biotechnology, Cabinet Secretariat, National Disaster Management Authority and the Prime Minister's Office, is responsible for coordination among science agencies, scientists, industries and regulatory bodies and for taking speedy decisions on research and development related to the Sars-Cov-2 virus and the Covid-19 disease. Actions are in place keeping in view the critical need to increase the testing facilities for Covid-19.
Also, the scientific institutions supported by various ministries have come together and initiated multidisciplinary projects for repurposing of drugs, gathering in-depth information on various drug candidates to allow informed decision-making for Covid-19 treatment, and developing mathematical models to track the disease spread and models to predict the medical equipment and auxiliary requirements.
Pallab Bhattacharya is a Special Correspondent for The Daily Star. He writes from New Delhi, India.