Sino-India ties: A boat ride to a new future?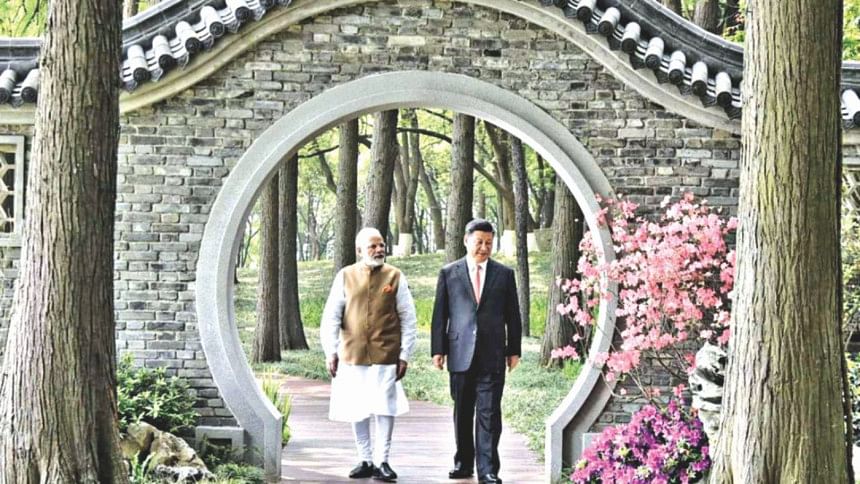 In a previous article, I had raised the question: can Asian giants India and China navigate through their competing aspirations to become regional and global powers and find a new template for working together? A tentative answer to this is available after the recent "informal" summit between Prime Minister Narendra Modi and President Xi Jingping on the bank of the Yangzte river in the central Chinese city of Wuhan on April 27 and 28. This was the first time that the leaders of the two countries held an "informal" summit seeking to leave behind their troubled past.
The two countries have taken the first small but potentially significant step towards cooperation, as they agreed to take up a joint economic project in violence-wracked Afghanistan, a member of the South Asian Association for Regional Cooperation (SAARC). The details of the project will be decided by officials of India and China soon. Afghanistan has sizable iron ore deposits and both India and China are reportedly eyeing to lend their hand to help the country exploit the mineral resource. Irrespective of the area in which the joint project will be implemented, what is much more important is that the nuclear-armed Asian countries have agreed to pool in their expertise and resources in the first such initiative in South Asia where rivalries between India and China, and India and Pakistan, loom large.
The Sino-India joint project in Afghanistan can also help dispel some of Pakistan's concerns over India's growing presence in that country's developmental efforts because China is an all-weather ally of Pakistan. India has already given nearly three billion dollars of financial aid to Afghanistan besides undertaking power, road and parliament building projects there.
But that is not all. Modi and Xi also agreed that India and China, as two major emerging economies with their vast developmental experiences and national capacities, should join hands to take lead in addressing many of the problems facing the world. To begin with, the issues identified for such Sino-India cooperation are: combating diseases; coordination action for disaster risk reduction and mitigation; addressing climate change; and digital empowerment. They agreed to join hands regarding these issues and create a global network dedicated to meet these challenges.
This augurs well for global peace and stability because India and China have so far been keeping an eye on each other's expanding footprints in economic sectors across the world ranging from South Asia, South East Asia to Latin America and Africa. Of course, China, with its much stronger financial muscle, has been miles ahead of India in this endeavour. Every time, China gets a major infrastructure project, be that in the power, deep sea port or road-building sector or bags a defence contract in a South Asian country—Bangladesh, Nepal, Sri Lanka or Myanmar—it raises the hackles in India. Sino-Indian rivalry also poses a difficult balancing act for small countries, not only in South Asia, but in other parts of the world. That problem will be addressed to a great extent if India and China can indeed jointly execute projects particularly in South Asia. It then remains to be seen if and how the moribund Bangladesh, China, India, Myanmar road initiative is taken forward.
It also remains to be seen how India and China reconcile their different approaches for joint projects overseas. Separately, China has been more transactional in its approach, taking its own manpower abroad for executing them and often getting natural resources from there for its industry, and in the process also creating unrest among the local population since jobs are not created for them. India, on the other hand, has so far been focusing more on generating goodwill by its financial assistance to other countries and undertaking projects there. That is going to be a major challenge.
From India's view point, the Modi–Xi summit was also important in that the Chinese President said the clout of India and China was going up in Asia and there was "vast space" for future bilateral cooperation. Both the countries acknowledged what a statement by India's External Affairs Ministry called "their overlapping regional and global ambitions as two major countries." This, experts say, is one of the few instances when China accepted India's ambition to be a global player.
For Sino-India cooperation to happen, it is essential they avoid a military faceoff. For this, Modi and Xi underscored the importance of maintaining peace and tranquility across their border and "issued strategic guidance to their respective militaries to strengthen communication in order to build trust and mutual understanding and enhance predictability and effectiveness in the management of border affairs." This is significant because it will reflect on Xi's hold over the People's Liberation Army. Peace along the Sino-India border is prone to frequent threats like that at Chumar in Ladakh in 2014, even as Modi and Xi were having talks in India and then again during the Doklam crisis in 2017. What the two countries must guard against is another border faceoff dissipating the outcome of the Modi-Xi summit. On the final day of the summit, the leaders took a boat ride in Wuhan and the Indian External Affairs Ministry described it as "Sailing in the same boat for peace, prosperity and development!" The world is watching to see if it is going to be smooth sailing.
---
Pallab Bhattacharya is a special correspondent to The Daily Star.
---
Follow

The Daily Star Opinion

on Facebook for the latest opinions, commentaries and analyses by experts and professionals.
To contribute your article or letter to The Daily Star Opinion, see our

guidelines for submission

.
---