India's new response template against terror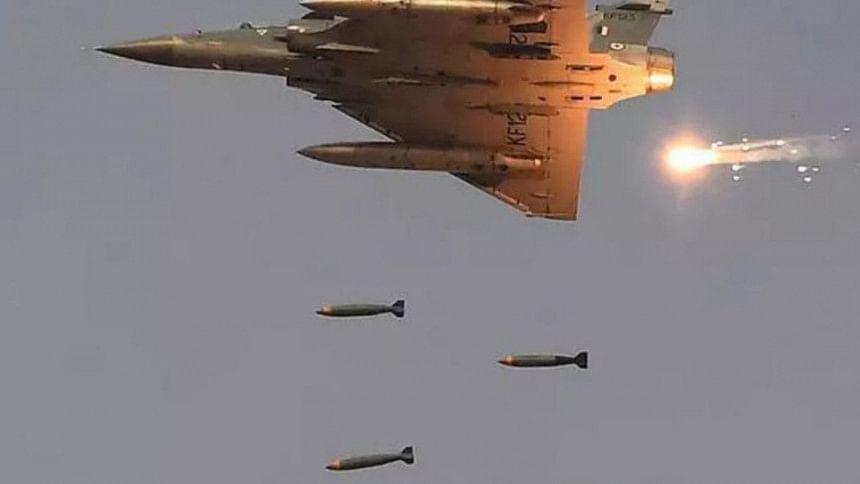 Restraint is no longer an option. Action is. That is the message sent out by the Indian Air Force mounting the lightning attack on terror camps deep inside Pakistan on February 26.
By giving the political backing to what Indian Foreign Secretary Vijay K Gokhale termed as a "non-military and pre-emptive action," the government of Prime Minister Narendra Modi has turned India's long-standing strategic doctrine on its head from one of reaction and restraint to action.   
It is easy to see the Indian Air Force's action in the aftermath of the February 14 attack by Pakistan-based terror group Jaish-e-Mohammed on the convoy of paramilitary personnel in Pulwama as India's way of getting back at Pakistan. Some Indian commentators have termed the IAF's successful attack as great symbolism in New Delhi's long battle against state-sponsored cross-border terror. But it goes much beyond that.
Ever since Zulfiqar Ali Bhutto had outlined Pakistan's strategy of bleeding India by a thousand cuts, India has been a victim of Pakistan's terror. All these years, India has been trying to mobilise international opinion against terror emanating from Pakistan—directed against both India and Afghanistan. But not much heed was paid by the international community beyond words of solidarity and calls to Pakistan to dismantle the terror apparatus in its territory. It became clear to India that it has to fight terror on its own.
Successive Indian governments have confined their responses to the cross-border incidents of terror to diplomatic and economic measures like scaling down the staff at their respective high commissions in Islamabad and New Delhi, cutting off civil aviation links and clamping down on bilateral trade. It was senior Bharatiya Janata Party leader LK Advani who had years ago suggested the idea of "hot pursuit" of terrorists by India across the border, receiving censure from certain quarters who believed in peace overtures with Pakistan. The closest India came to hard military option to counter cross-border terror was in 2001 in the wake of the JeM attack on Indian parliament when the Atal Bihari Vajpayee government had amassed troops along the border. 
The Modi government too had stuck to the template of punitive diplomatic and economic measures until September 2016 when India undertook the first surgical strike across the border by its special forces. That response set the stage of India exercising the hard option. The air strike in Balakot in Khyber Pakhtunkhwa province of Pakistan on February 26 was a notch higher than the previous one. This was the first time that India's war planes crossed the territorial air space since the 1971 India-Pakistan war. During the 1999 Kargil conflict, the Vajpayee government had instructed the Indian Air Force to take care in not crossing into Pakistan's air space and risk escalation of hostilities even though the IAF had the capability to strike at terror facilities on the other side of the border. 
By ordering cross-border air strikes on terror camps in Pakistan, the Modi government bit the bullet. In the past, the Indian reaction has been hamstrung by a view that Pakistan's possession of nuclear weapons could turn the Indian sub-continent into a dangerous flashpoint as India is far ahead of Pakistan in a conventional non-nuclear war and that India should be seen as responsible and restrained. But Modi has underlined that he is not to be held back by this view because such a strategy has not worked with Pakistan. In fact, there is a growing view in the security establishment in India that the country should give up its strategic restraint and that there should be no first use of nuclear power because of the atomic arsenal buildup across its northern and western borders.
In fact, Pakistan has so far taken advantage of the nuclear flashpoint red herring to deter India from going for the conventional military response against cross-border terror. The Indian war planes' assault on the terror camp is clearly a departure from that narrative and drawn a new red line for an effective response. It is in this perspective that one must see Gokhale using the words "non-military pre-emptive" strike by Indian planes directed at terror camps and not Pakistani civilians or military. This is a new phraseology in the diction of India's security strategy under Modi vis-à-vis Pakistan which no government in New Delhi has attempted in the past. Most importantly, it signals that Pakistan has to bear a cost beyond the diplomatic and economic domains for the cross-border terrorism it encourages.
Arjun Subramaniam, a retired Air Vice Marshal of IAF, writes in an article in The Indian Express that air strikes in counter-terrorist operations "are the preferred first option across the Western world for a few reasons" because they do not risk casualty of soldiers of the country using that option, allow precision strikes with the help of technology, and such strikes are "not seen as escalatory mechanisms in sub-conventional conflicts."
Pakistan today finds itself cornered on the issue of terror. The recent killings of members of Iran's elite Revolutionary Guard Corps in an area bordering Afghanistan found a Pakistani and Afghanistan too has blamed Pakistan for fomenting violence in its territory, an unstated allusion to the nexus between Pakistan's military and the Taliban.
India also carried out an elaborate diplomatic spadework before launching the air strikes. The result is there for all to see. The US has recognised India's right to self-defence in the face of terror, a view conveyed by the American national security adviser to his Indian counterpart Ajit Doval during a phone call after the Pulwama incident. US Secretary of State Mike Pompeo wanted Pakistan to exercise restraint and act against terror. Even Pakistan's closest all-weather ally China has asked Islamabad as well as New Delhi to exercise restraint after the air strikes.
---
Pallab Bhattacharya is a special correspondent for The Daily Star.
---
Follow

The Daily Star Opinion

on Facebook for the latest opinions, commentaries and analyses by experts and professionals.
To contribute your article or letter to The Daily Star Opinion, see our

guidelines for submission

.
---